Guide To Cardamom Essential Oil Benefits and Uses

Cardamom essential oil (Elettaria cardamomum) provides wisdom when responsibilities overburden you and when you need to tap into generosity of spirit to let your heart be open and expansive in being gracious in dealing with others, according to Aromatherapy For the Soul by aromatherapist Valerie Ann Worwood. She also says the emotional benefits of cardamom are to encourage clarity, concentration, confidence, courage, direction, motivation, enthusiasm, and straightforwardness.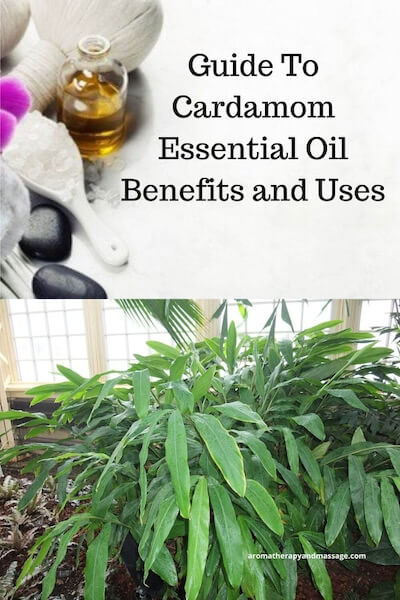 Basic Cardamom Facts
Plant family: Zingiberaceae

Production: Steam distilled from the dried ripe seeds of the perennial cardamon herb. A CO2 extract is also available.

Aroma: Spicy, woody, sweet.

Perfume/Aromatic note: Middle

Is cardamom safe to use during pregnancy? Possibly not. Consult a professional.

Is cardamom essential oil safe for children? The high 1,8 cineole content of cardamon essential oil may cause CNS (central nervous system) and breathing problems in young children, according to Essential Oil Safety, 2nd Edition. Some sources recommend using the oil only with children over age 5.

Cautions: Do not use cardamon on or near the face of infants and young children.

Main components:

1,8-cineole        26.5–44.6%
alpha-terpinyl acetate  29.2–39.7%
linalyl acetate    0.7–7.7%
(+)-limonene     1.7–6.0%

Source: Essential Oil Safety, 2nd Edition

Cardamom Essential Oil Benefits
Aromatherapy: A Complete Guide to the Healing Art: The scent of cardamom is emotionally invigorating. It eases stress and anxiety and has aphrodisiac properties.

Aromatherapy for Dummies: Cardamom is an invigorating oil and an aphrodisiac. The essential oil may help ease digestive problems, coughs, muscle spasms, and swelling caused by inflammation.

The Heart of Aromatherapy: Uses of cardamom essential oil include respiratory support, clearing mucous and congestion, reducing swelling, soothing sore muscles and joints, encouraging circulation and warmth, supporting digestion, easing nausea, and feeling confident, energized, and uplifted.

The Complete Book of Essential Oils and Aromatherapy: Cardamom may help relieve indigestion, flatulence, nausea, gastric migraine, constipation, IBS and some other digestive disorders, muscle cramps and strains, muscle spasm, bronchial congestion, exhaustion, and mental fatigue. The oil is strengthening and fortifying.

375 Essential Oils and Hydrosols: Cardamom essential oil is a tonic and stimulant beneficial for the stomach.

The Encyclopedia of Essential Oils (updated edition): Use cardamon to help relieve bad breath, colic, stomach cramps, indigestion, flatulence, heartburn, vomiting, mental fatigue, and nervous strain.
Aromatherapeutic Blending: Suggested essential oils to blend with cardamom:

For congestion and breathing problems: bay laurel, frankincense, ginger, pink pepper, plai, rose absolute, or yuzu.
For mental fatigue and anxiety: bergamot, frankincense, jasmine, golden champaca, labdanum, rose, sandalwood, or ylang ylang.
Aromatherapy For Healing the Spirit: In Traditional Chinese Medicine cardamom stimulates the flow of digestive Qi and helps relieve indigestion, nausea, abdominal distention, colic, hiccups, and flatulence. This uplifting oil can help relieve poor concentration, overthinking, and worry, especially when they are combined with nervous exhaustion.

Aromatica: A Clinical Guide to Essential Oil Therapeutics, Volume 2: Psychologically, cardamom promotes self-confidence, courage, emotional stability, and integration. Physically, the essential oil relaxes hypertonic/tense and warms cold conditions. In Traditional Chinese Medicine the essential function of the oil is to nourish the Heart Blood, regulate the Qi, and harmonize the Shen.

The Essential Guide to Aromatherapy and Vibrational Healing: Spiritually, cardamom helps in receiving channeled messages. Mentally, the oil reduces mental fatigue, improves thought processes, and offers mental clarity. Emotionally, the essential oil helps you align with the ability to integrate everything happening around you. This digestive oil assists you in digesting life and in realizing you only need keep what nourishes you emotionally and mentally and release what no longer serves your higher good.

Aromatherapy and Subtle Energy Techniques: Cardamom promotes generosity and graciousness with others. The oil is especially useful for the second chakra to promote creativity and sensuality, to warm the emotions, and to help us see the general goodness in people.

Essential Oils Handbook for Aromatherapy Practice: Ayurveda views cardamom as sweet, pungent, and hot. It decreases all three doshas.

Cardamom Essential Oil Uses and Blends
Rocky Mountain Oils suggests the following uses for cardamom essential oil:

Diffuse to inspire concentration and mental clarity or to bring balance and energy.
Use in a massage oil for a warming effect — 15 drops in 2 tablespoons (1 ounce) carrier oil.
Add to a warm compress or in a bath for joint aches and pains.

Joint Care Oil

4 tablespoons arnica oil
9 drops cardamom
9 drops rosemary ct. camphor essential oil
9 drops geranium essential oil
9 drops peppermint essential oil
Pour the arnica oil into a 2-ounce glass bottle. Add the essential oils. Close bottle and shake gently. Massage a little of the blend onto joints as needed.
Source: The Heart of Aromatherapy

Body Oil

5 drops cardamom
3 drops ylang ylang essential oil
2 drops bergamot essential oil
2 drops vetiver essential oil
2 tablespoons carrier oil
Combine ingredients in a dark glass bottle. Shake and use a little of the blend on damp skin after a shower or bath. Source: 150 Ways to Use Essential Oils from Eden's Garden

Upset Tummy Inhaler

7 drops cardamom

5 drops ginger essential oil
3 drops peppermint essential oil

Drop essential oils onto the wick of an aromatherapy inhaler. Use as needed.
Adapted from Plant Therapy.

Photo Credit: Chhe, Public domain, via Wikimedia Commons