Guide To Plai Essential Oil Benefits and Uses
"Plai is a fast mover, swooping in to cool the mind and body and eradicate pain quickly," states Working With Unusual Oils. Plai essential oil (Zingiber cassumunar or Zingiber montanum) has limited availability in the West, but massage therapists in Thailand have long used the oil, primarily for joint and muscle complaints. Plai is closely related to ginger and sometimes called Thai ginger.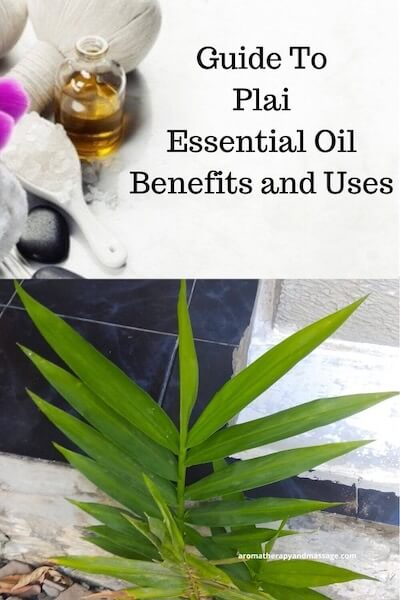 Plant family: Zingiberaceae
Production: Steam distilled from the rhizomes (roots).
Aroma: Spicy, fresh, woody, slightly green.
Perfume/Aromatic note: Top to middle.
Is plai safe to use during pregnancy? Yes, according to Plant Therapy. Consult a professional for details.

Is plai safe for children? Yes, according to Plant Therapy.
Main components:
terpinen-4-ol     41.7%
sabinene          27.0%
gamma-terpinene 6.5%
(E)-1-(3,4-Dimethoxyphenyl)butadiene 4.6%
Source: Essential Oil Safety, 2nd Edition
Plai Essential Oil Benefits
The Complete Book of Essential Oils and Aromatherapy: Plai may help relieve arthritis, muscle and joint pain, muscle injury, muscle spasm, torn ligaments, tendonitis, swelling, menstrual cramps, and abdominal spasm.

The Encyclopedia of Essential Oils (updated edition): Uses of plai essential oil in skin care include acne, cuts, stretch marks, scars, and wounds. Use the oil for all types of muscle and joint aches and pains caused by inflammation. The essential oil may help relieve digestive cramps, constipation, flatulence, indigestion, heartburn, menstrual cramps, chronic colds, congestion, fever, flu, anxiety, nervous tension, and stress. The oil stimulates the immune system and boosts vitality.

Several sub-species and chemotypes of plai are available, depending on the plant's growing location. The most common oil is from northwest Thailand and contains as much terpinen-4-ol as tea tree oil.

The Complete Aromatherapy and Essential Oils Handbook for Everyday Wellness: Use plai in massage blends to relieve aches and pains. This cooling oil may help relieve respiratory problems and digestive complaints. Use the oil to help relieve menstrual cramps, lift spirits, and calm nerves.The oil stimulates the immune system and acts as a general tonic to support the body—diffuse plai during cold and flu season.
Therapeutic Blending With Essential Oil: Use plai for muscle strains and injuries, digestive problems, cold and flu relief, and immune support.

Plant Therapy: Plai help ease discomfort and support clear airways. The essential oil can be stimulating and energizing while also helping balance emotions.

AromaWeb: Emotionally, plai energizes and is especially useful when feeling lethargic or sluggish.

Aromatherapeutic Blending: Indications for plai:

Digestive and female reproductive systems (irritable bowel, spasm, pain, menstrual cramps)
Respiratory (allergy and asthma)
Musculoskeletal (pain, inflammation, osteoarthritis, rheumatoid arthritis)
Skin (wounds, inflammation, dermatophytes)
Psyche (impaired cognition, dementia)
Energetic (support, balance, purification)

Suggested blends with plai essential oil:

For general well-being and stress reduction: combava peel, coriander seed, ginger, lemongrass, lime, palmarosa, patchouli, sandalwood, or vetiver.
To relieve digestive spasm or cramps or irritable bowel: coriander seed, clary sage,  lemon balm, lime, peppermint, or spearmint.
To relieve menstrual pain: combava peel, ginger, or black pepper.
To reduce acne: lemon myrtle, holy basil, clary sage, or white champaca.
Plai Essential Oil Uses and Blends
Circulation Blend
To improve circulation in your arms and legs, massage them twice a day with this blend:

6 drops plai
4 drops black pepper essential oil
8 drops sweet marjoram essential oil
2 tablespoons carrier oil
Source: 150 Ways to Use Essential Oils

Arthritis Pain Relief Blend

Cautions: For adult use only. Do not use during pregnancy or with individuals with known bleeding disorders or who are sensitive to salicylate.

3 drops plai essential oil
3 drops sweet birch essential oil
3 drops kunzea essential oil
3 drops sandalwood essential oil
2 tablespoons carrier oil

Combine the ingredients in a 1-ounce glass bottle. Close bottle. Shake well. Apply a small amount of the blend to the affected muscles/ joints every two hours or as needed for pain.

Source: Anna Doxie, RA. "Using Holistic Phyto-Aromatherapy to Support Lyme Disease." NAHA Aromatherapy Journal, Spring 2017.1 , p. 47
Menstrual Cramp Relief

100 ml unscented lotion
12 drops plai
12 drops cyrpess essential oil
10 drops marjoram or lavender essential oil
6 drops rose, ylang ylang, or bergamot essential oil
Source: Working With Unusual Oils
Sports Massage Blend

To a 2-ounce squeeze bottle, add:

8 drops plai
2 drops lavender essential oil
5 drops roman chamomile essential oil
5 drops of rosemary essential oil
Then fill bottle with jojoba (or other carrier) oil. Close bottle and then shake well. Massage into sore muscles.

Insect Bite Aid
 
To a one-ounce squeeze bottle, add:

5 drops plai essential oil
3 drops lavender essential oil
2 drops helichrysum essential oil
2 tablespoons aloe vera gel
Shake before use. Apply 2 to 3 times a day or as needed to help relieve insect bites.
Source: Eden's Garden

Photo Credit: Aris riyanto, CC BY-SA 4.0, via Wikimedia Commons