Guide To Ginger Essential Oil and Its Benefits and Uses

"Ginger is a fragrance of valor and courage," writes aromatherapist Valerie Ann Worwood in Aromatherapy For the Soul. She goes on to say ginger essential oil (Zingiber officinale) releases spiritual apprehension and its emotional benefits are to encourage warmth, empathy, courage, assurance, optimism, and liberation.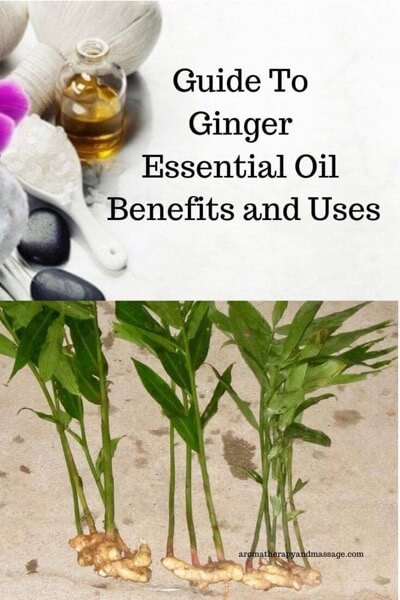 Basic Ginger Facts
Plant family: Zingiberaceae

Production: Steam distilled from the root (rhizome) of the ginger plant. A CO2 extract is also available. The CO2 extract has a stinging quality, according to The Healing Intelligence of Essential Oils, because the extract contains components not in the steam-distilled essential oil. The book recommends the steam-distilled oil for skin use.

Aroma: Spicy, warm, sharp, earthy.

Perfume/Aromatic note: Base to middle.

Is ginger safe to use during pregnancy? For inhalation only, according to the International Federation of Professional Aromatherapists (IFPA Pregnancy Guidelines).

Is ginger essential oil safe for children? Yes, properly diluted, though some sources recommend caution with very young children.

Cautions: Ginger may cause skin irritation in some people spot testing recommended. Some sources suggest people taking blood thinners use the essential oil cautiously because it has circulation-enhancing effects.

Main components:

zingiberene   
alpha-curcumene
beta-sesquiphellandrene
beta-bisabolene
camphene
beta-phellandrene

Source: Essential Oil Safety, 2nd Edition
Ginger Essential Oil Benefits
Aromatherapy: A Complete Guide to the Healing Art: Ginger can help relieve migraines, support digestion, and ease nausea. A warming liniment or hot ginger compress can help relieve menstrual and other muscle cramps. The essential oil is a stimulant and aphrodisiac.

The Heart of Aromatherapy: Ginger can help reduce swelling and soreness in muscles and joints, calm muscle spasms and cramps, encourage circulation and warmth, support digestion, ease nausea, and support energy, focus, and optimism.

The Complete Book of Essential Oils and Aromatherapy: Possible uses for ginger essential oil include rheumatism, arthritis, muscle fatigue, muscle weakness, numbness, menstrual cramps, gastrointestinal spasm, digestive problems, flatulence, IBS, nausea, sea and travel sickness, colds, chills, flu, sinus congestion, mental exhaustion, nervousness, and general debility. The oil is also a circulatory tonic and may help warm cold limbs.

375 Essential Oils and Hydrosols: Ginger is a powerful tonic for all of the digestive system. The oil is sometimes considered an aphrodisiac.

The Encyclopedia of Essential Oils (updated edition): Ginger may help relieve arthritis pain, muscle aches and pains, sprains and strains, congestion, cough, sore throat, indigestion, colic, flatulence, loss of appetite, nausea, travel sickness, chills, colds, flu, nervous exhaustion, fatigue, and poor circulation.

Aromatherapy For Healing the Spirit: In Traditional Chinese Medicine, ginger oil is warming, invigorating, and decongesting. It tonifies the yang energy of Spleen, Stomach, Heart, Lungs, and Kidneys. The oil is useful for relieving poor appetite, indigestion, abdominal distention, flatulence, nausea, cold hands and feet, white or clear mucous, and low backache associated with muscle fatigue.

Aromatica: A Clinical Guide to Essential Oil Therapeutics, Volume I: Psychologically, ginger promotes motivation, courage, and self-confidence and stimulates the mind to promote alertness. Physically, the essential oil stimulates and warms weak/cold conditions. In Traditional Chinese Medicine the essential function of the oil is to tonify the Yang and warm the interior.
Essential Oils Handbook for Aromatherapy Practice: In ayurvedic aromatherapy, ginger is pungent, sweet, and hot and used to control the three doshas, although in excess it can increase Pitta. This oil is used to increase digestive fire, relieve bloating, and promote circulation.

The Essential Guide to Aromatherapy and Vibrational Healing: Spiritually, the spicy aroma of ginger is a stimulant for awakening consciousness and clearing energetic cobwebs. Mentally, the essential oil can increase motivation, relieve apathy, and support making decisions. Emotionally, the oil can help open connections to other people, including supporting romantic relationships.

Aromatherapy and Subtle Energy Techniques: Ginger grounds, strengthens, and rejuvenates. The oil is especially useful for the third chakra to promote courage, confidence,  optimism, and a sense of freedom.
Mixing Essential Oils for Magic: Ginger aligns subtle bodies and keeps the physical body grounded, making the oil highly useful for astral work. This essential oil also purifies, increases magical power, and energizes psychic work.

Ginger Essential Oil Uses and Blends
Using ginger in an aromatherapy diffuser can support digestion, create an uplifting atmosphere, and more.

Feel Good Inhaler

Use this blend in an aromatherapy inhaler to help you feel optimistic and enthusiastic.

4 drops ginger
8 drops grapefruit essential oil
1 drop rose essential oil
Digestion and Nausea Blends
Happy Belly Butter

Use this belly butter after a big meal or to help digestion when you feel nervous or tense.

1/2 ounce (1 tablespoon) beeswax
2 tablespoons coconut oil
4.5 teaspoons jojoba oil
20 drops distilled lime essential oil
15 drops Roman chamomile essential oil
10 drops ginger essential oil

In a double boiler over low heat, melt the beeswax.
Stir in the coconut and jojoba oils.
When the oils are blended, remove the mixture from heat.
Gently stir in the essential oils.
Pour the blend into a 4-ounce (120 ml) glass jar. Let cool.

To use: Massage a little of the butter onto your belly and low back.

Source: Aromahead Newsletter

Upset Tummy Bath

Mix one drop ginger and three drops of Roman chamomile essential oil in one teaspoon carrier oil. Stir the blend into a warm bath.

Travel Ease Blend

2-ounce glass or PET plastic spray bottle
4 tablespoons jojoba oil
4–6 drops ginger
10–12 drops spearmint essential oil
10–16 drops tangerine essential oil

Add the essential oils to the spray bottle and top with the carrier.
To use before and during travel: Shake well. Spray a small amount onto your hand and then massage the oil onto your neck and chest (and the abdomen if you have an upset stomach).

If irritation occurs, discontinue use. Keep out of reach of children and pets.

Alternative: Use half the amount of the listed essential oils to make a personal inhaler or aromatherapy jewelry diffuser to use/wear during travel.

Source: Kelly Holland Azzaro, RA, CCAP, CBFP, LMT. "Autumn Recipes." NAHA Aromatherapy Journal, Autumn 2016.3, p. 73.

Face and Body Care
Note: It's always a good idea to spot test skin products before using them on a large area.

Toning, Nourishing Face Mask

5 drops ginger essential oil
2 tablespoons raw organic honey
1 teaspoon lemon juice

Combine all the ingredients in a small glass container.
Refrigerate the mixture for 30 minutes.
Apply the blend to your face. Leave the mask on for 30 minutes.
Rinse off with cool water.
Source: New Directions Aromatics

Body Oils

Simple ginger rub: Add 7 to 8 drops of ginger essential oil to one tablespoon carrier oil.

If you're feeling cold, try this warm-up rub:

3 drops ginger     
2 drops rosemary essential oil
4 drops lemon essential oil  
1 tablespoon carrier oil   

For a pre-workout warm-up:

3 drops ginger   
2 drops marjoram essential oil  
2 drops grapefruit essential oil 
1 tablespoon carrier oil   

Source: 10 Recipes with Ginger Essential Oil

Pain Relief Formula

Use this blend to help relieve body aches and pains.

To 5-ml euro-dropper bottle add:

1–2 drops ginger
1–2 drops peppermint essential oil
12–14 drops sweet marjoram essential oil

Place the cap on the bottle and then shake vigorously to blend essential oils. Let set to synergize for at least eight hours before using.

To make a ready-to-use pain relief massage oil, add 15 to 30 drops of the blend to a one-ounce bottle of carrier oil. Shake bottle well to disperse oils.

Source: KG Stiles DIY Aromatherapy Guide

Photo Credit: Sengai Podhuvan - Own work, CC BY-SA 3.0 via Wikimedia Commons