Guide To Lavender Essential Oil and Its Benefits and Uses

"Lavender embodies the warm, protective love of Mother Earth," writes Valerie Ann Worwood in Aromatherapy For the Soul. "It is caring, cherishing, and nurturing, and energetically very active in the auric field, closest to the body, incorporating heavenly energies into the physical with great efficiency."

She goes on to say the spiritual benefits of lavender essential oil (Lavandula angustfolia) are to encourage acceptance, awareness, compassion, clarity, comfort, gentleness, reconciliation, security, vitality, and emotional balance.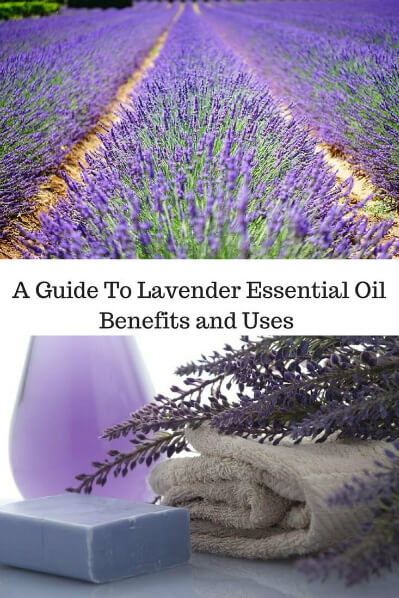 Basic Lavender Facts
Plant family: Lamiaceae/Labiatae

Production: Steam distilled from the flowers of the lavender plant.

Aroma: The scent is generally light and mild with a floral aroma and woody undertones. However, the aroma can vary greatly between different species and hybrids of plants.

Perfume/Aromatic note: Lavender is generally considered a middle note oil but you can use it as either a base or top note, depending on the blend of essential oils.
Is lavender safe to use during pregnancy? Yes, according to Aromatherapy and Massage For Mother and Baby.

Is lavender essential oil safe for children? Lavender is generally safe for children and has traditionally been used to calm small children and babies. Some years ago, a study linked lavender to possible breast enlargement in boys. Many sources, including aromatherapy expert Robert Tisserand in Lavender oil is not estrogenic, have discussed why that study was inaccurate.
Types of Lavender
It's important to understand the types of lavender oil. The three common oils you are likely to encounter in aromatherapy are:
True lavender (Lavandula angustfolia or Lavandula officinalis), also called English lavender, is generally what you want when you buy a lavender essential oil. The main chemical components are linalool and linalyl acetate. Unfortunately, some oils sold as "pure lavender" are either a different type of lavender or have been adulterated with synthetic ester linalyl acetate.
Spike lavender (Lavandula latifolia) is chemically different from true lavender. Spike lavender doesn't contain significant linalyl acetate. Instead, the two primary components after linalool are 1,8-cineole and camphor. Because of the camphor content, spike lavender has been traditionally used for colds, flu, bronchitis, aches, and pain.
Lavandin (Lavandula x intermedia) is a hybrid of true and spike lavenders and is easier and cheaper to grow than the other two. Be aware some companies sell "lavender" essential oil that's really lavandin or a blend of true lavender and lavandin. Lavandin is harsher, sharper, and contains more camphor than true lavender. Lavandin has a long-lasting scent and is often used in soaps, detergents, lotions, and hairspray.

Among the other 30+ species of lavender, not commonly used in aromatherapy, are Lavendula stoechas (also known as Spanish lavender) and Lavandula dentata (also known as French lavender).
If you want to use lavender essential oil for therapeutic purposes, especially on your skin or on burns, it's important to know the species of lavender. Although lavandin has the same calming effect as true lavender, the use for which you never want to confuse the two is burns. True lavender helps burns heal but lavandin may make burns worse.

Also, the quality of the essential oil is affected by how the lavender plant was grown and harvested. Depending on the location and the altitude where the lavender plant is grown and the way the plant was harvested, the composition of its oil varies greatly.

Look for scientific names on the label to know what you are getting. Avoid products without a scientific name on the packaging. Buy your essential oils only from reputable companies.

True Lavender Aromatherapy Benefits

"Lavender is nurturing, supportive, and uplifting," according to The Heart of Aromatherapy, and the oil's aromatherapy benefits in lavender essential oil recipes include:

Soothes skin irritations and inflammation
Supports the respiratory system
Helps relieve allergies and sinus congestion
Soothes minor burns and reduces scarring from burns
Helps bruises, cuts, bites, and stings heal faster
Relaxes the mind and body and supports emotional balance

Aromatherapy: A Complete Guide to the Healing Art: "Lavender is among the safest and most widely used oils in aromatherapy and is considered a universal first aid oil."

Aromatherapy for Dummies: The benefits of lavender oil include acting as a sedative, to relieve depression, and to reduce stress that causes asthma flare-ups.

Aromatherapy For Healing the Spirit: In Traditional Chinese Medicine lavender has cool, dispersing, and relaxing qualities that benefit heat and inflammation, spasm, and pain. Lavender works to cool an overheated liver, soothes and supports the Qi of the heart, and releases pent-up energy within the Wood Element.
Aromatica: A Clinical Guide to Essential Oil Therapeutics, Volume I: Psychologically, lavender calms the mind, encourages relaxation, and promotes emotional stability and renewal. Physically, the essential oil can relax or stimulate. In Traditional Chinese Medicine the essential function of lavender is to nourish Yin, activate Qi, clear heat, and calm the Shen.
Subtle Aromatherapy: Lavender oil helps bring the lower and upper chakras into harmony with each other. Although the oil benefits all the chakras, its strongest affinity is with the seventh chakra.

The Essential Guide to Aromatherapy and Vibrational Healing: Use lavender for meditation to attract blessings and the sweetness of love. The oil brings comfort to the heart and soothes and calms raging, chaotic emotions. The scent also clears and calms the mind and promotes mental clarity.

Aromatherapy and Subtle Energy Techniques: Lavender balances and integrates all energy centers and subtle bodies. Especially useful for the fourth chakra to calm, comfort, and steady the heart and promote compassion, forgiveness, gentleness, gratitude, and acceptance.
Mixing Essential Oils for Magic: Lavender is grounding and purifying. The oil enhances awareness and intuition for dreamwork, clairvoyance, and psychic work. This essential oil also supports concentration that brings inspiration and clarity for divination, spirit contact, and communication in general.

True Lavender Essential Oil Uses and Blends

Lavender is calming for most people, making it useful for dealing with mood swings, anger, mental stress, and anxiety. The aroma creates a balancing effect on the central nervous system. Here's how to use lavender oil for relaxation:

Diffuse lavender essential oil with an aromatherapy diffuser.
Make a massage oil with 6 to 9 drops of lavender in 1 tablespoon carrier oil.
Make a body butter containing lavender.
For sleep, rub a drop on your palm and smooth over pillow case or put a drop on a tissue and place it by your pillow.

Personal Care
For stuffiness and congestion or coughing: Use steam with lavender essential oil. Pour boiling water into a metal or glass bowl, then add a few drops of lavender. Drape a towel over your head and position your face 12–24 inches above the bowl, as the heat permits.
For headaches: Sniff lavender oil or massage it into your neck and shoulders. Often works better combined with peppermint essential oil. Combine the two essential oils with a carrier oil to use to massage your neck, shoulders, and temples.

To relieve sore muscles and help you sleep: Blend 13 drops lavender and 5 drops German chamomile essential oil into 2 tablespoons aloe vera gel. Shake well before each use. Massage a little of the blend into sore muscles before going to bed.
Aromatica suggests the following essential oils to blend with lavender:

For insomnia, anxiety, agitated depression, burnout, spasming pain (especially menstrual cramps): clary sage.
For acute stress-related tension with agitation, insomnia, or anxiety: Roman chamomile.
For acute anxiety, insomnia, and agitation: marjoram.
Skin Care
Lavender essential oil skin benefits include helping keep skin in balance, clear blemishes, and even out skin tone. The oil is helpful for all skin types. If you have any doubts about the benefits of lavender in skin care, see Lavender oil - skin savior or skin irritant? by Robert Tisserand.
Other suggestions for using lavender essential oil for skin:
For minor skin irritations, stings, insect bites, or minor burns, apply 1–2 drops (dilute if needed).
For sunburn, blend lavender in aloe vera gel and apply to skin.
Hair Care
Lavender is beneficial for all types of hair. More about essential oil hair care.

How to use lavender oil for hair growth: Dilute 1 to 2 drops lavender in a few drops carrier oil. Massage into your scalp and let rest for at least 10 minutes before shampooing your hair. Here are more hair growth essential oil blends.
Home Care
Uses for lavender essential oil around the house:

Deodorize your laundry by dropping a little lavender onto a wet cloth and placing it in the dryer.

Repel moths and insects and scent linens by placing a cotton ball with a few added drops of lavender in closets and drawers.
Make cleaning products, such as this soft scrub: Mix together 1⁄2 cup baking soda, 1 tablespoon liquid castile soap, and a few drops of lavender oil. Stir in just enough water to make a thick paste.