Guide To Tangerine Essential Oil Benefits and Uses

Tangerine has the same botanical name as mandarin—Citrus reticulata—because tangerines are a specific type of mandarin. That is, all tangerines are mandarins but not all mandarins are tangerines. So, you can buy both tangerine essential oil and mandarin essential oil.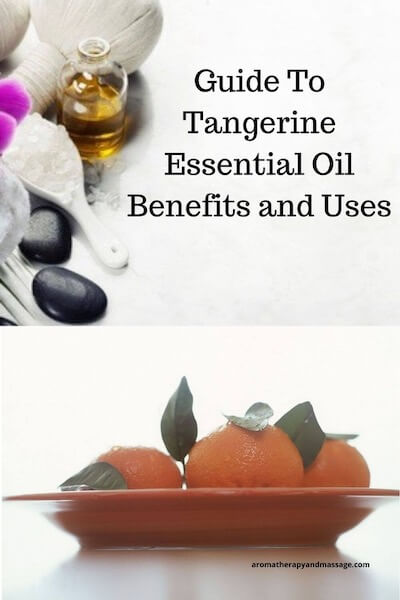 Basic Tangerine Facts
Plant family: Rutaceae

Production: Mechanically expressed from the rinds of not-fully-ripe tangerines. 
Aroma: Fresh, sweet, and citrusy.

Perfume/Aromatic note: Top

Is tangerine safe to use during pregnancy? Yes, according to Aromatherapy and Massage For Mother and Baby. You can use the oil to calm digestive upset, in body oils or lotion, or for a refreshing and calming bath.

Is tangerine essential oil safe for children? Yes.

Cautions: Tangerine can cause skin sensitization if the oil becomes oxidized. Unlike some citrus oils, tangerine oil does NOT cause photosensitivity, and you don't have to avoid the sun after using the oil.

Main components:

(+)-limonene        87.4–91.7%
gamma-terpinene  trace–4.5%
beta-myrecene      2.2–3.2%
alpha-pinene         0.8–2.0%

Source: Essential Oil Safety, 2nd Edition
Tangerine Essential Oil Benefits

Aromatherapy: A Complete Guide to the Healing Art: Tangerine may help relieve insomnia, lymph congestion, and indigestion. May help with fat loss. One of the safest citrus oils for children and pregnant women.

The Complete Book of Essential Oils and Aromatherapy: Uses of tangerine essential oil include helping relieve nervous exhaustion, insomnia caused by stress, mild muscle spasm, cellulite, digestive problems, flatulence, constipation, and bodily congestion. The oil can also help you feel better if you are constantly tired, irritable, generally dispirited, or overly anxious.

375 Essential Oils and Hydrosols: Tangerine is relaxing. Use the oil for overexcited children, insomnia, and mental distress.
The Complete Guide to Aromatherapy, Third Edition, Vol. 1: Suggested essential oils to blend with tangerine:

To relieve anxiety, nervous tension, and stress related conditions: bergamot, geranium, lavender, neroli, petitgrain, sandalwood, or ylang ylang.
To reduce depression: bergamot, geranium, jasmine, lavender, neroli, patchouli, sandalwood, or ylang ylang.
To alleviate fatigue: black pepper, ginger, grapefruit, lemon, petitgrain, or rosemary.
Tangerine Essential Oil Uses and Blends
Didn't get enough sleep last night? Use this recovery blend: Combine 2 drops tangerine and 1 drop rosemary in 1 teaspoon coconut oil. Massage onto neck, arms, etc.

Source: 150 Ways to Use Essential Oils from Eden's Garden

Baby Massage Oil
Use this massage oil with infants three months or older to support rest and relaxation.
1/2 cup sweet almond oil
1 to 2 drops rose essential oil
1 to 2 drops Roman chamomile essential oil
2 to 3 drops tangerine essential oil
Combine the oils in a clean bottle. Label the bottle for future reference.
Source: ACHS

Calming Essential Oil Blends with Tangerine
Peace and Calm Diffuser Blend

2 drops tangerine

2 drops orange essential oil
1 drop ylang ylang essential oil
1 drop patchouli essential oil
1 drop blue tansy essential oil
Blend oils and then use according to your diffuser's directions. Source: Plant Therapy

Calming Inhaler Blend for Children (ages 5 and up)

4 drops tangerine
4 drops neroli essential oil
4 drops mandarin essential oil
Place essential oils on the cotton wick of an aromatherapy inhaler. Insert the wick into the tube and seal with the bottom plug. Screw on the outer cover to keep the inhaler fresh. Remove cap and inhale deeply as needed.

Source: Cheryl Murphy, Certified Aromatherapist. "The Rutaceae Plant Family." NAHA Aromatherapy Journal, Summer 2017.2, p. 35.

Travel Ease

2-ounce PET spray bottle
4 tablespoons jojoba oil
10 to 16 drops tangerine
10 to 12 drops spearmint essential oil
4 to 6 drops ginger essential oil

Add essential oils to the spray bottle. Top with the carrier. Shake well before each use. Spray a small amount onto your hand. Massage onto your neck and chest (and the abdomen if you have an upset stomach) before and during travel. If irritation occurs, discontinue use. Keep out of reach of children and pets.

As an alternative to the topical blend during travel, use a personal inhaler or wear an aromatherapy jewelry diffuser with half the amount of the listed essential oil blend.

Source: Kelly Holland Azzaro, RA, CCAP, CBFP, LMT. "Autumn Recipes." NAHA Aromatherapy Journal, Autumn 2016.3, p. 73.
Skin Care

Oily Skin Toner

5 drops tangerine
5 drops lavender essential oil
3 drops geranium essential oil
1 tablespoon witch hazel
Distilled water

Mix the essential oils and witch hazel in an eight-ounce bottle. Add enough water to fill the bottle. Splash toner on your face after cleansing and before moisturizing.

Rejuvenating Daily Oily Skin Moisturizer

10 drops tangerine essential oil
10 drops lemon essential oil
10 drops petitgrain essential oil
2 tablespoons jojoba oil

Combine all ingredients in a small bottle. To use, first wash skin. Then massage a little of the moisturizer into your skin.

Source: Rocky Mountain Oils

Photo Credit: Darren Paquette, Public domain, via Wikimedia Commons