Guide To Mandarin Essential Oil Benefits and Uses

"The gentleness and sweetness of spirit is gathered in the arms of [the fragrance of mandarin essential oil]," writes aromatherapist Valerie Ann Worwood in Aromatherapy For the Soul. She says the emotional benefits of mandarin are to encourage calm, upliftment, inspiration, soothing, integrity, and tranquility.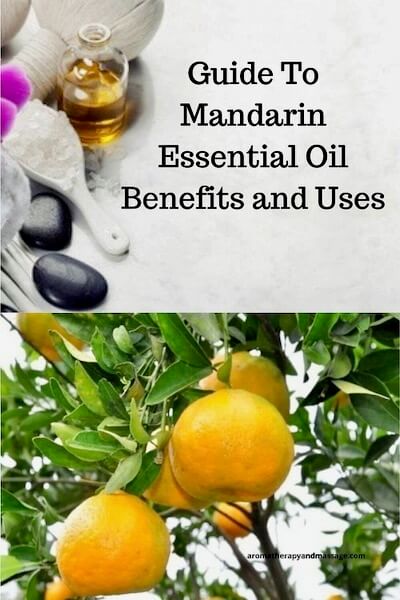 Three types of mandarin (Citrus reticulata) essential oil are available: green, yellow, and red. The color depends on how mature the fruit is when it's picked. Red mandarin is from the peel of completely ripe fruit, yellow is from partially ripe fruit, and green is from unripe fruit.

Some sources say mandarin and tangerine are the same oil—that's not strictly true, as a tangerine is a specific type of mandarin. That is, all tangerines are mandarins but not all mandarins are tangerines. Other types of mandarins include clementines and satsumas.
Basic Mandarin Facts
Plant family: Rutaceae

Production: Mechanically expressed from the peel of the mandarin fruit.

Aroma: Sweet and citrusy. May vary depending on the type of mandarin — green mandarin has a sharper scent than the red oil.

Perfume/Aromatic note: Top

Is mandarin safe to use during pregnancy? Yes, according to Aromatherapy and Massage For Mother and Baby. Use this oil for digestive upset, in body oils or lotion, and to make refreshing, calming, and fortifying baths.

Is mandarin essential oil safe for children? Yes.

Cautions: If it becomes oxidized, this oil can cause skin sensitization. Mandarin does not cause photosensitivity, and you don't have to avoid the sun after using the oil. However, an oil called petitgrain mandarin made from the leaves of the mandarin tree does cause photosensitivity.

Main components:

(+)-limonene        65.3–74.2%
gamma-terpinene  16.4–22.7%
alpha-pinene         2.0–2.7%
beta-pinene          1.4–2.1%
beta-myrecene      1.5–1.8%

Source: Essential Oil Safety, 2nd Edition

Mandarin Aromatherapy Benefits
The Complete Book of Essential Oils and Aromatherapy: Use mandarin to help relieve digestive conditions, nervous spasm, stomach ache, constipation, cellulite, insomnia, sleeping disorders, nervous tension, irritability, and stress. The oil can also help with convalescence.

The Encyclopedia of Essential Oils (updated edition): Uses of mandarin essential oil in skin care include helping reduce acne, congested and oily skin, scars, spots, or stretch marks. The oil may help relieve fluid retention and digestive problems, including flatulence, and also help relieve insomnia, nervous tension, and restlessness. This essential oil is often recommended for children and pregnant women in synergistic blends with other citrus oils.

375 Essential Oils and Hydrosols: Mandarin oil is relaxing. Use the oil to reduce mental distress, relieve insomnia, and calm overexcited children.

Essential Living: Mandarin deodorizes and cleanses and can also help relieve colds and flu.

Aromatica: A Clinical Guide to Essential Oil Therapeutics, Volume I: Psychologically, mandarin promotes emotional stability, joy, and optimism. Physically, the oil balances dysregulated conditions and calms hypertonic/tense conditions. In Traditional Chinese Medicine the essential function of this oil is regulate the Qi and harmonize the Shen. Suggested essential oil blends with mandarin:

To relieve tension, insomnia, agitation, and acute stress-related conditions: bergamot
To relieve tension, insomnia, palpitations, and chronic stress-related conditions: lavender
For relaxation during chronic stress-related conditions: petitgrain

Subtle Aromatherapy: The delicate aroma of mandarin "breathes a message of happiness, especially to children" and helps adults get in touch with their inner child.

The Essential Guide to Aromatherapy and Vibrational Healing: Spiritually, mandarin helps us connect with our guardian angels. Mentally, the essential oil is uplifting and positive. Emotionally, the oil elicits feelings of safety and is helpful in blends for young children when they feel fearful at bedtime or are afraid of the dark.

Aromatherapy and Subtle Energy Techniques: Mandarin uplifts and promotes youthful joy and happiness. The oil is especially useful for the fourth chakra to uplift and help a wounded heart joyfully engage in life.
Mixing Essential Oils for Magic: Mandarin fosters prosperity, success, and well-being. The oil clears negativity, brings inspiration and clarity.

Mandarin Essential Oil Uses and Blends
To make a nourishing body oil, blend 7 to 8 drops mandarin in 1 tablespoon carrier oil.
To help prevent stretch marks during pregnancy, starting in the fifth month, use a massage oil of mandarin, lavender essential oil, neroli essential oil, and wheatgerm oil. Generally, a 1% dilution is suggested for pregnant women — 1 drop of each essential oil blended into 1 tablespoon of the carrier oil.

Release Diffuser Blend

Diffuse this blend to let go of the day:

10 drops mandarin

8 drops cypress essential oil              

6 drops lemongrass essential oil       

1 drop sage essential oil                  

Meditation and Contemplation Diffuser Blend

8 drops mandarin          
12 drops frankincense essential oil 

5 drops lavender essential oil         

Source: 10 Recipes with Mandarin Essential Oil
Homework Helper Diffuser Blend

30 drops mandarin 
10 drops bergamot essential oil
10 drops lemon essential oil
Combine all oils in a dropper bottle. Diffuse 5 to 6 drops for 30 minutes during homework time to promote focus. Or use a few drops in a personal inhaler when on the go.
Source: Plant Therapy

Photo Credit: Citrus and Subtropics Fruit Research Center, Indonesian Ministry of Agriculture, Public domain, via Wikimedia Commons