Benefits of Pregnancy Massage Therapy

Pregnancy massage nurtures both you and your unborn baby. The benefits of pregnancy massage include reducing discomfort in your body (such as muscle cramping, tightness, stiffness, and knots). Massage reduces muscle tension and can help relieve back pain, joint pain, and headaches. Sciatic nerve pain is common in late pregnancy. Massage can help relieve the inflamed nerves by releasing the tension on nearby muscles.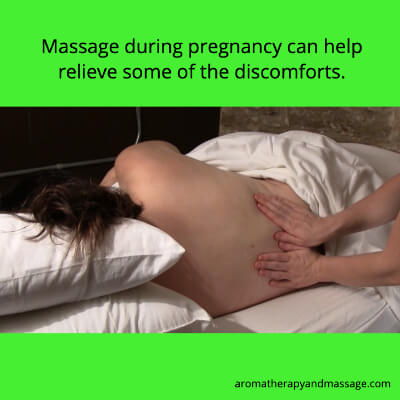 Is Massage Safe During Pregnancy?

Yes, according to the American College of Obstetricians and Gynecologists. Of course, each situation is unique and there are pregnancy massage contraindications.
Usually, you shouldn't receive massage during pregnancy if you have any of the following conditions:

Heavy watery or bloody vaginal discharge
Abdominal pain 
Contagious disease 
Diabetes 
Fever 
High blood pressure 
Malignant condition 
Pre-eclampsia 
Unusual pain 
Vomiting/diarrhea
Blood clots
Massage therapists should exercise caution around varicose veins. If you have a history of blood clots in your legs, you may want to completely avoid leg massage.

If in doubt, talk to your obstetrician. Individual massage therapists may have their own boundaries on when and when not they will massage a pregnant woman.
More Benefits of Pregnancy Massage

Massage may also improve blood circulation, which can reduce swelling and improve the oxygen supply to the baby. Improved circulation can also also help eliminate waste products, reducing fatigue and giving you more energy.

Other potential benefits of prenatal massage include reduced stress, anxiety, and depression, plus better sleep.
Pregnancy and Labor Massage by massage researcher Tiffany Field states that women who received massage therapy during pregnancy reported decreased anxiety, depression, and back and leg pain and their measured cortisol levels went down, which decreased excessive fetal activity. Women in the study's massage group were less likely to have premature babies; had much less labor pain (on average, a three-hour shorter labor); and required less medication.
Receiving Prenatal Massage

The best massage position for pregnancy is usually lying on your side. Although massage tables are available with holes to accommodate a pregnant belly with you lying face down, that position can stretch your uterine ligaments in an uncomfortable way.
Some massage therapists may use a semi-reclining position for face-up massage by propping up your upper body with bolsters or pillows. You do not want to lie flat on your back after about the 20th week of pregnancy, according to the Cleveland Clinic.

For the safest massage, look for a massage therapist with specialty training in working with pregnant women. Always tell your massage therapist about your physical condition. If you have a high-risk pregnancy, get your healthcare provider's OK before receiving massage.
Although some massage therapists will not massage a woman during the first trimester, the American Pregnancy Association (APA) indicates it's OK to have massage during that time. Consult your healthcare provider if in doubt.
The APA recommends Swedish massage during pregnancy; however, you can investigate other massage techniques, if appropriate.
Deep tissue massage therapy for pregnancy is often not recommended, especially on your legs because the pressure could dislodge blood clots. If you experience water retention or your feet or legs are swollen, consider getting a lymphatic massage during pregnancy. (See the study Lymph Drainage in Pregnant Women.)

Prenatal Massage Video Clip
The following video demonstrates a side-lying pregnancy massage.
Information about pregnancy and essential oils.

Perineal Massage During Pregnancy
The perineum is the soft tissue between the vagina and anus. This area experiences trauma during childbirth and sometimes tears. Performing perineum massage in the weeks leading up to giving birth may help prevent tears by making the tissue more flexible. For detailed instructions on how to do perineal massage, see the American Pregnancy Association or Mama Natural (has clearer instructions).

Belly Massage During Pregnancy
This video demonstrates self massage you can do your belly.

Photo Credit: Ryan Hoyme