Guide To Melissa Essential Oil Benefits and Uses

"Melissa vibrates at a very high frequency...and is a spiritual conduit," states aromatherapist Valerie Ann Worwood in Aromatherapy For the Soul. She says the emotional benefits of melissa essential oil (Melissa officinalis) are to encourage strength, revitalization, gentleness, peace, progressiveness, and cheerfulness.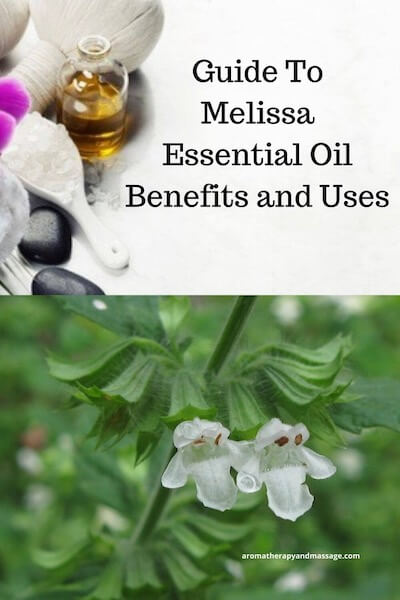 Basic Melissa Facts
Plant family: Lamiaceae/Labiatae

Production: Steam distilled from the leaves and flowering tops of the Melissa officinalis herb, which is commonly called lemon balm. Melissa/lemon balm is one of the most expensive essential oils because large amounts of plant material go into producing the oil. For this reason, many fake (less expensive) oils are on the market—buy from a trusted source to make sure you get the real thing.

Aroma: Lemony and herbaceous.

Perfume/Aromatic note: Top to middle.

Is melissa safe to use during pregnancy? Some sources say it's OK used sparingly in less than a 1% dilution. One source says not to use during the first five months, while another recommends avoiding the oil completely. Consult a professional.

Is melissa essential oil safe for children? Avoid using on the skin of children under age 2.

Cautions: This oil may cause skin irritation if not highly diluted or if oxidized. Do not use on hypersensitive or damaged skin.

Main components:

geranial      12.5–38.3%
neral           9.7–26.1%
citronellal     4.5–13.3%
beta-caryophyllene  0.3–19.1%
Source: Essential Oil Safety, 2nd Edition

Melissa Aromatherapy Benefits

Aromatherapy: A Complete Guide to the Healing Art: Melissa essential oil can help relieve menstrual pain, calm indigestion, and possibly reduce blood pressure. Use the essential oil for dermatitis, inflammation, insect bites, and cold sores. The oil's calming action may help relieve shock, distress, depression, nervousness, anger, fear, forgetfulness, and insomnia.

Aromatherapy for Dummies: Melissa has a sedating scent that helps calm the mind and reduce shock, depression, distress, nervousness, and insomnia. The oil may also help relax stiff, sore muscles and relieve indigestion, lung congestion, and menstrual irregularities. This essential oil is useful in dealing with viruses such as cold sores and fungus problems.

The Complete Book of Essential Oils and Aromatherapy: Melissa may help relieve insomnia, sleep disorders, indigestion, nausea, fungus, menopausal symptoms, nervousness, depression, and stress and anxiety related conditions.

375 Essential Oils and Hydrosols: Melissa is calming and can help relieve insomnia, hysteria, nervous crisis, irritability, and great anger. The oil may also help reduce inflammation and lower blood pressure.

The Encyclopedia of Essential Oils (updated edition): Uses of melissa essential oil include helping relieve asthma, chronic coughs, colic, indigestion, nausea, and menstrual problems. The oil may also help relieve anxiety, depression, high blood pressure, insomnia, migraine, nervous tension, shock, and vertigo.

Aromatherapy For Healing the Spirit: In Traditional Chinese Medicine melissa is energetically cool and dry. It's indicated for stagnate Qi-energy, for heat in the Liver and Heart, and for disturbance of the Mind (Shen). This essential oil may help ease digestive spasm, nervous indigestion, nausea, flatulence, nervous asthma, coughs, restlessness, insomnia, and nervous agitation. The oil may also help relieve depression, especially for people who are emotionally sensitive.

Aromatica: A Clinical Guide to Essential Oil Therapeutics, Volume 2: Psychologically, melissa promotes optimism and clarity, emotional renewal, good judgement, insight, and foresight. Physically, the essential oil relaxes hypertonic/tense and cools hot conditions. In Traditional Chinese Medicine the essential function of this oil is to  clarify the Heart, clear heat, activate the Qi, and calm the Shen.

Subtle Aromatherapy: Melissa brings comfort in times of grief. This oil has an affinity with both the solar plexus and heart chakras. It helps you align with the Divine will and expand feelings of love from the individual and personal towards total acceptance of unconditional love.

The Essential Guide to Aromatherapy and Vibrational Healing: Spiritually, melissa supports meditation and visualization and helps you open to receive messages and guidance. The oil may also promote dreaming for healing and prophecy. Mentally, this essential oil rebalances the mind when there's loss of mental functioning. Emotionally, the oil is calming, stress-relieving, and uplifting.

Aromatherapy and Subtle Energy Techniques: Melissa calms, comforts, and uplifts. The oil is especially useful the fourth (heart) chakra to promote love and compassion, encourage cheerfulness and gratitude, and gently clear emotional blocks from grief and shock.
Mixing Essential Oils for Magic: Lemon balm is an emotional healer and brings comfort and peace in times of grief. The oil awakens memory for past-life work, increases energy for psychic work, and supports focus for dreamwork and connecting with the spirits.

Melissa Essential Oil Uses and Blends
To help get rid of cold sores, add 1 drop melissa essential oil to about 10 drops of St. John's Wort oil. Dab a bit of the blend directly on the cold sore several times a day.

To possibly prevent cold sores, you can make a lip balm with this lemon balm essential oil recipe:

2 tablespoons shea butter or coconut oil
3 tablespoons beeswax
1/4 cup sweet almond oil
15 drops melissa

Over low heat, melt and combine shea butter or coconut oil with the beeswax. Remove from heat.
Stir in the almond oil and essential oil.
Pour the mixture into flat metal lip balm containers. Let cool.

Source: Dreaming Earth

Relaxing Blends
Relaxing night lotion: Combine 1/4 cup unscented lotion and 8 drops melissa oil in a small dark jar. Apply a small amount of lotion to your skin before going to bed.

Another night option is to diffuse a few drops of the essential oil for 30 minutes before bedtime.

Calming Bath

2 drops melissa essential oil

3 drops neroli essential oil
1 tablespoon jojoba oil

Blend oils. Stir blend into a warm/hot bath. Soak for 30 minutes to help ease feelings of frustration or sadness.

Adapted from Rocky Mountain Oils.

Relaxing Inhaler
Use this inhaler blend when you feel overwhelmed.

2 drops melissa
2 drops Roman chamomile essential oil
4 drops cypress essential oil
7 drops lavender essential oil
Drop the essential oils onto the wick of an aromatherapy inhaler.

Source: Aromahead Newsletter
Diffuser Blends
Diffuse this blend to help recover from a cold, flu, allergies, or congestion.

1 drop melissa

2 drops peppermint essential oil
2 drops basil essential oil
4 drops frankincense essential oil
Source: Aromahead

Comforting Diffuser Blend

2 drops melissa
2 drops lavender essential oil
3 drops frankincense essential oil
Source: Plant Therapy

Photo Credit: Cbaile19 / CC0