How to Use Essential Oils for Children

If you want to use essential oils for children, remember aromatherapy blends need to be more diluted than those for adults. The general recommendation is to reduce dosages and formulas by one-half or more, depending on the child's age, weight, and general sensitivity.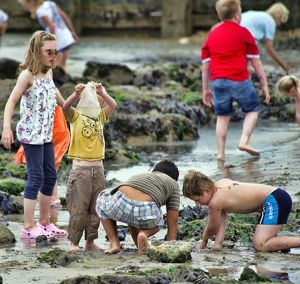 For young children, in Aromatherapy for the Healthy Child, aromatherapist Valerie Ann Worwood recommends adding the following number of drops of essential oil to one ounce (2 tablespoons) carrier oil:
Up to 1 drop for infants six months and younger (see aromatherapy for babies)

1 to 2 drops for children six to 12 months
1 to 4 drops for children one to four years old
Always spot test a new essential oil or aromatherapy blend on your child before using it extensively.
First Aid Essential Oils for Children

In Healing With Aromatherapy, aromatherapist Marlene Ericksen recommends:
Wound cleaner: Mix 1 drop tea tree oil and 10 drops water. Use to clean the wound.
Insect bites or stings: Apply 1 drop lavender essential oil directly to the bite.
Insect repellent: In a 4-ounce spray bottle, blend 3 ounces (6 tablespoons) water, 1 ounce (2 tablespoons) aloe vera juice or witch hazel, and 24 drops of tea tree oil. Shake well and spray on skin, avoiding the eyes. For older children, you can double the amount of tea tree oil.
Sunburn: Add 6 drops of lavender essential oil to a basin of cool water. Dip a flannel compress into the water, and then apply the compress to the child's skin until the skin temperature drops. Note: Make sure you use only true lavender (Lavandula angustifolia). Lavandin, which is sometimes sold as lavender or used to cut true lavender, may make burns worse.
Cut and Scrape Cleaner

1 ounce (30 ml or 2 tablespoons) aloe vera gel
2 drops tea tree essential oil
2 drops lavender essential oil
2 drops frankincense essential oil

Blend all ingredients in either a one-ounce (30-ml) spray bottle or a flip-top bottle. If you use the flip-top bottle, use a piece of cotton to  dab some the gel onto the wound. Source: Aromahead
Aromatherapy Massage for Kids

To make a soothing oil to massage your child,  (ages 2 to 12), try this blend adapted from The Complete Aromatherapy and Essential Oils Handbook for Everyday Wellness:

8 drops lavender
4 drops Roman chamomile
1/4 cup carrier oil
For under age 2, reduce the essential oils to 6 drops lavender and 3 drops Roman chamomile.

For digestive upsets, Aromatherapy: A Complete Guide to the Healing Art suggests this blend for tummy massage:
2 drops Roman chamomile essential oil
2 drops dill essential oil
1 drop fennel essential oil
1 drop melissa essential oil
2 tablespoons carrier oil
More Aromatherapy for Kids

You can also use essential oils for children to help keep them healthy.
To prevent colds, add 2 drops of eucalyptus or tea tree oil (diluted in a tablespoon of carrier oil or milk) to every bath. You can also diffuse eucalyptus during the night.
See suggestions for using essential oils for earaches.
For lymphatic swelling around the neck, including swollen tonsils and mumps, make a warm lavender compress:
Mix 8 drops of lavender into two cups of warm water.
Place a soft cloth into the water. Remove the cloth and wring it out.
Wrap the cloth around your child's neck and cover it with a towel.
Remove the cloth before it gets cold.
Repeat as often as desired.
For sleep, Aromatherapy for Natural Living suggests diffusing this blend:
3 drops cedarwood essential oil
3 drops lavender essential oil
6 drops mandarin essential oil

For a waterless hand cleanser, blend 10 drops lavender into 1 ounce (2 tablespoons) aloe vera gel in a squeeze or pump bottle.
Photo Credit: Steve Slater/Flickr/CC