Benefits of Lotus Oil in Aromatherapy

The benefits of lotus oil in aromatherapy include perfume-making, relaxation, and skin care.
Three types of lotus oil are available: pink, white, and blue. Although you sometimes see them called lotus essential oil, that's technically incorrect as they are all absolutes solvent-extracted from the fresh flowers of the plant. A high-quality absolute oil contains no traces of solvent, meaning it's important to buy your oils from a trusted source.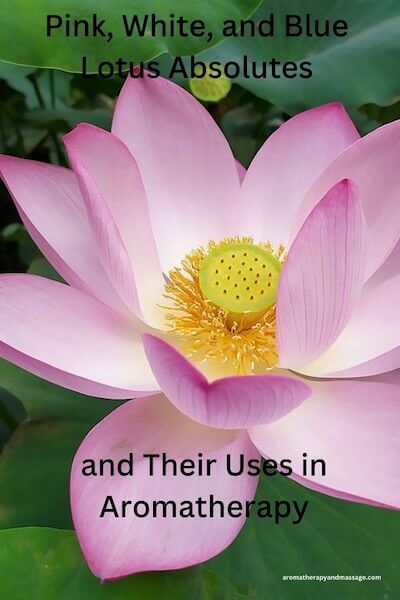 The white and pink oils come from the Nelumbo nucifera plant, an aquatic perennial in the plant family Nelumbonaceae that can have either white or pink flowers.

The blue oil is from Nymphaea caerulea, also called blue water lily or Egyptian lotus. This plant is scientifically not a lotus but a water lily in the family Nymphaeaceae.
Nelumbo lutea is the American lotus with yellow flowers, but you're unlikely to find an oil made from the plant.
This article looks at the three lotus oils separately. Most absolutes have a viscous consistency at room temperature. They are easier to work with if you first liquefy the oil by placing the bottle in warm water of about 95 degrees Fahrenheit (35 degrees Celsius).
Cautions: All absolutes are concentrated and best used sparingly. Consult a professional before using them during pregnancy and breastfeeding or with young children.
Pink Lotus Absolute
The pink lotus flower symbolizes patience, calm, and transcendence.

The most common use of the oil is in perfumes. The aroma is a middle note with a floral scent that has rich, sweet characteristics with subsidiary fruity, herbaceous, leathery, medicated, muddy, powdery, and spicy notes and nuances, according to Listening to Scent by aromatherapist Jennifer Peace Rhind.

Typical constituents of pink lotus oil include caryophyllene oxide, β-caryophyllene, cis-jasmone, and 1, 4-dimethoxybenzene, according to Listening to Scent.

The Encyclopedia of Essential Oils (updated edition) lists the benefits of lotus oil as nourishing damaged, sensitive, and mature skin, supporting the immune system, and helping relieve anxiety, depression, fear, insomnia, nervous debility and tension, mood swings, poor libido, and stress.

New Directions Aromatics states lotus pink absolute helps rejuvenate skin, reduce wrinkles and fine lines, soothe acne, and reduce blemishes, while leaving skin looking deeply moisturized. In massage oils, the absolute helps relieve body aches and pain. The oil also relaxes the mind and has spiritually uplifting qualities that help reduce negativity, anxiety, and stress while promoting a sense of harmony. Use pink lotus in meditation to encourage inner peace and tranquility. The oil blends well with all oils, though it seems to work best with other floral oils.

Aromatherapy Blending suggests the following essential oils to blend with pink lotus oil:

To help reduce stress and anxiety: angelica
For relaxation and well-being: clove
For anxiety, depression, low mood, lack of confidence, poor self-esteem: jasmine
For anxiety, depression, relaxation, stress reduction: patchouli
For apprehension, depression, nervousness: turmeric
For anxiety, depression, insomnia: vetiver
Benefits of Lotus Oil (White Lotus Absolute)

White lotus oil has a rich, sweet, floral aroma balanced by herbaceous notes. The oil is commonly used in perfumery and also in anointing oils. The aroma is a middle note.

Main constituents of white lotus absolute are linalool, linalyl acetate, and hydroxycitronellal, according to DBR Exports India.

Nature in a Bottle states white lotus oil brings freshness and vitality to skin, helping shrink pores and leaving the face feeling more fresh and vibrant. You can use the oil in facial toners for acne management and general skin rejuvenation. In massage oils, white lotus may help reduce muscle aches and pains and the symptoms of rheumatism. Energetically and emotionally, white lotus absolute calms and soothes. You can use the diluted absolute during meditation to anoint the crown and third eye chakras, promoting heightened spiritual growth. The oil is also a potent aphrodisiac.

LG Botanicals says the aroma of white lotus oil enhances love, relationship and spiritual growth. The oil is useful during meditation to encourage spiritual growth, open the mind, soothe and calm, and promote kindness, understanding, and forgiveness.

Essential Oils in Spiritual Practice explains white lotus stimulates all the chakras and has an affinity for all the elements. The oil is a powerful teacher and guide with the ultimate goal of bringing you into a state of enlightenment. White lotus oil first stimulates your unconscious, creating the desire to become self-actualized, and then supports this path as your budding unconsciousness learns the lessons offered from each chakra. This oil is an excellent choice when you cannot quite name what has you stuck, but you know you need relief.

Blue Lotus Absolute

Blue lotus (Nymphaea caerulea) has a delicate, floral scent that is a middle note. The absolute is used in perfumes, anointing blends, bath oils, shower gels, potpourri, hair treatments or masks, room fresheners, and other aromatic products.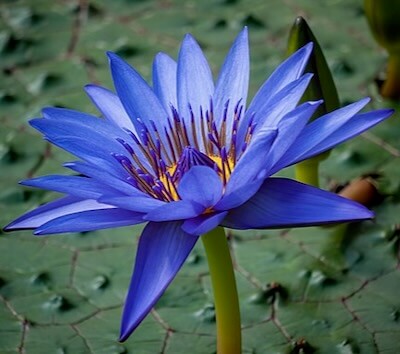 The main constituents of blue lotus oil are apomorphine and nuciferine, according to Essential Oil Wizardry. That site states blue lotus oil is an aphrodisiac that promotes sexual desire, ecstasy, and euphoria. The oil also serves as a meditation aid, opening chakras (especially the heart and third eye) and supporting inner wisdom. The calming, unifying, and centering aroma enhances mood, clears the mind, and strengths connection to source, dispelling negative emotions and thoughts.
Essential Oil Bulk explains that blue lotus oil benefits include soothing body and mind and helping relieve stress, anxiety, absent-mindedness, and mental tiredness. The absolute stimulates energy flow and supports spiritual meditation and mood upliftment. You can also use the oil as an aphrodisiac and in massage oils to relieve muscle cramps.
Nature in a Bottle says blue lotus absolute opens the third eye chakra and dispels negative emotions and thoughts during meditation. The oil is also an aphrodisiac that may promote sexual desire, ecstasy, and euphoria. Other benefits of lotus oil include promoting skin health, assisting with wound management and healing scars, and helping reduce minor pain and inflammation.

LG Botanicals states blue lotus may help promote sleep, relieve anxiety and stress, and calm muscle spasms. The oil also acts as an aphrodisiac. In skin care, blue lotus may help relieve dry, flaky, and inflamed skin, moisturizing while balancing sebum.
Photo Credits: Pink lotus by Apanasevich Maxim, CC BY 4.0, via Wikimedia Commons. Blue lotus by Reinhold Möller, CC BY-SA 4.0, via Wikimedia Commons