What are Essential Oil Spiritual Benefits?

The spiritual benefits of essential oils can strengthen your connection to the divine by helping you focus and concentrate, relaxing your mind and body, and opening your heart. Common ways to receive essential oil spiritual benefits is through diffusing or anointing.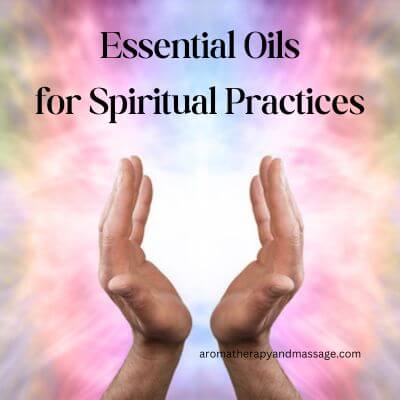 Essential oils traditionally used in spiritual practices include:

Frankincense "contains the power to focus our spiritual consciousness and imbue a potential for transcendent awareness," according to Aromatherapy For Healing the Spirit.
Myrrh supports inner stillness and peace.
Rose otto is the reminder that love is the answer, according to The Essential Guide to Aromatherapy and Vibrational Healing.
Hyssop is considered a spiritually cleansing oil. The Bible mentions it several times.
Yuzu offers you the spiritual purification and strength needed to move forward when you feel spiritually unsettled, according to Aromatherapy for the Soul.
Sandalwood clarifies and stills the mind.
Holy basil (tulsi) purifies mind, body, and spirit, according to Indian ayurveda.
Atlas cedarwood, palo santo, juniper, and white sage are all spiritually cleansing oils.
Perhaps the best book that covers spiritual essential oils for different spiritual traditions is Aromatherapy for the Soul (originally published as The Fragrant Heavens) by aromatherapist Valerie Ann Worwood.
Ways to Experience Essential Oil Spiritual Benefits

You can use essential oils for meditation or to balance chakras. Here, let's look at aromatherapy to support prayer or connect with angels.

Aromatherapy and Prayer
Another use of spiritual aromatherapy is for prayer. In Aromatherapy for the Soul, Worwood discusses the blocks that may prevent people from praying and communicating with divinity. For each of these blocks, she suggests some essential oils that may clear the block.
Fear: basil, bergamot, cedarwood, cinnamon, cypress, frankincense, ginger, Roman chamomile, sandalwood.
Guilt: clary sage, clove, jasmine, jasmine, pine, rose otto, juniper, pine, rose otto.
Inability to let go: pine, lemon, coriander, frankincense, cypress, cardamom, myrtle, juniper.
Unwillingness to receive: lavender, mandarin, neroli, orange, roman chamomile, rose otto.
Unworthiness: clove, cardamom, cedarwood, frankincense, geranium, mandarin, sandalwood, neroli, ylang ylang.
According to Worwood, you can choose the essential oils you use for spiritual purposes to suit your personal journey. A scent resonates at a different tone and rate for each person. Find the oils or blends that resonate with you.
Angel Aromatherapy
Worwood also discusses using spiritual aromatherapy to connect with your angels. She believes the vibrations of fragrance are the closest physical manifestations to the vibrations of angels. Using this connection, along with good intent and purpose, you can ask for support from your angels.
Because connecting with your angels is so personal, you need to experiment to find best essential oils for you. Here are a few suggestions from Worwood:
To relieve feelings of uncertainty or spiritual neglect: Angelica Seed.
For guidance for change: Coriander.
For harmony and compassion: Lavender.
For harmony and purpose: Clary Sage.
For protection: Black Pepper.
For understanding and compassion: Myrrh.
For uplifting and joyful appreciation: Grapefruit.
For wisdom: Cedarwood.
If you dwell on the past and want to look forward: Bay.
To bring inner peace and joy: Roman Chamomile.
To bring the joy of your angels into your heart: Orange.
To calm a troubled mind and bring self-forgiveness: Ylang Ylang.
To clear a muddled mind: Basil.
To clear foggy feelings: Bergamot.
To clear physical obstacles: Birch.
To connect the spiritual to the physical: Cardamom.
To deal with grief: Cypress.
To remove barriers: Peppermint.
To send love and prayers: Frankincense.
Books About Spiritual Essential Oils

Aromatherapy Anointing Oils by Joni Keim and Ruah Bull looks at the historical, contemporary, and sacred art of anointing using own essential oils. Aromatherapy anointing is a tool to offer healing, honor, devotion, and blessings and help strengthen and manifest the intention of the offering.

For essential oils spiritual meaning in the Bible, see Healing In The Bible With Essential Oil by Rebecca Park Totilo or Essential Oils of the Bible: Connecting God's Word to Natural Healing by Randi Minetor.

For the use of essential oils in Eastern spiritual traditions, see Essential Oils in Spiritual Practice: Working with the Chakras, Divine Archetypes, and the Five Great Elements by Candice Covington or Aromatherapy for Healing the Spirit by Gabriel Mojay.
Image Credit: nikkized / 123RF Stock Photo