Guide To Ocotea Essential Oil and Its Benefits and Uses

Ocotea essential oil (Ocotea quixos) is a relatively uncommon essential oil and not discussed in many aromatherapy books. Ocotea is steam distilled from the leaves of an evergreen tree native to South America.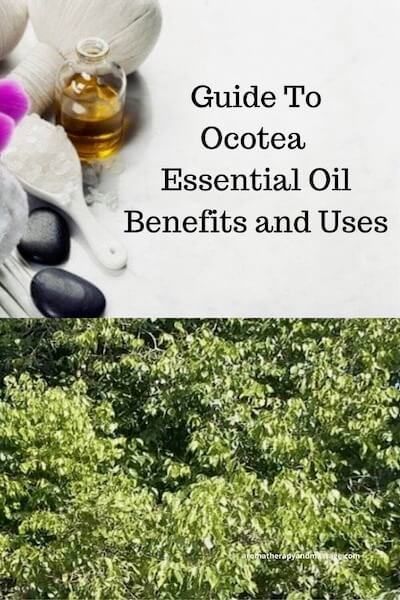 You may also hear of ishpingo or ishpink essential oil, which is sometimes said to be the same as ocotea. However, ishpingo technically refers to the flowers of the Ocotea quixos tree, and ishpingo oil is steam distilled from the flowers/fruit calices.

Whether you're looking at ocotea or ishpingo, make sure the company is telling you how the oil is produced, so you know what you're getting. Sometimes an oil contains both the leaves and flowers.

Plant family: Lauraceae

Aroma: Sweet and spicy, slightly cinnamon-like. Some sources recommend the oil as a milder substitute for cinnamon essential oil.

Perfume/Aromatic note: Middle

Is ocotea safe to use during pregnancy? Probably not. Consult a professional.

Is ocotea essential oil safe for children? Do not use with small children. Consult a professional.

Main components:

cinnamyl acetate
beta caryophyllene
methyl cinnamate
cinnamaldehyde
Source: Aromaweb

Ocotea Essential Oil Benefits and Uses
Aromaweb: Diffuse or inhale ocotea to balance emotions, help reduce anxiety and stress, and support spirituality and meditation practices. Applied to the skin, the oil may help reduce inflammation.

Eden's Garden: Use ocotea in skin care to cleanse, reduce redness, and soothe irritation. The oil also helps relieve stress.

Revive Essential Oils: Ocotea uplifts mood, calms and soothes, and helps reduce inflammation. The oil is useful for skin care. Suggested blends:

Happy and warm diffuser blend: 3 drops ocotea, 1 drop orange essential oil, and 1 drop ginger essential oil.
Calming stress relieving oil: Blend ocotea and lavender essential oils with a carrier oil. Dab on pulse points.
Face cleanser to soothe troubled skin: Add a few drops ocotea to your all-natural facial cleanser.

Inhale ocotea or apply it diluted in carrier oil to your wrists, neck, and ear lobes for meditation, prayer, or other spiritual practices.
To create a comforting, warm environment, diffuse ocotea with orange or tangerine essential oil.
Blend a few drops of the essential into skin or hair care products, such as facial moisturizers or toners, body lotions, and shampoo or hair conditioner. Make a scalp massage oil by adding a few drops to your favorite carrier oil.
Note: I have read other internet profiles that claim benefits of ocotea include promoting weight loss, maintaining normal blood sugar level, improving digestion, preventing fungus, and maintaining heart health. However, these profiles do not include sources and I have been unable to verify these claims.
Photo Credit: ResearchGate