Guide To Cinnamon Essential Oil Benefits and Uses

"Love, in all its many guises, speaks through cinnamon," writes aromatherapist Valerie Ann Worwood in Aromatherapy For the Soul. She also says that the emotional benefits of cinnamon essential oil are to encourage invigoration, benevolence, strength, energy, confidence, motivation, and generosity.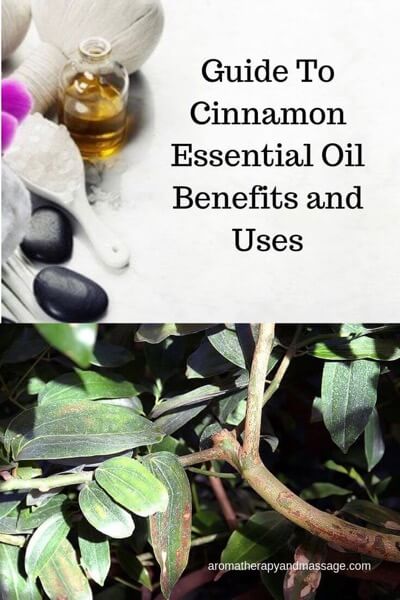 True cinnamon (Cinnamomum verum) is a shrub or small tree native to Sri Lanka (formerly known as Ceylon). This cinnamon is also called Cinnamomum zeylancium or Ceylon cinnamon.

This essential oil is distilled from both the tree bark (cinnamon bark essential oil) and the leaves (cinnamon leaf essential oil). The chemical composition of the two oils is different. The oil from the bark contains a high percentage of cinnamaldehyde and a small amount of eugenol. The oil from the leaves contains a high percentage of eugenol with a small amount of cinnamaldehyde.

Another species of cinnamon is Cinnamomum aromaticum (also called Cinnamomum cassia, cassia, or Chinese cinnamon). Like cinnamon bark, cassia essential oil contains large amounts of cinnamaldehyde. Do not confuse cassia with cinnamon.

Cinnamon bark essential oil is strong and some aromatherapy sources recommend avoiding it in favor of the leaf oil. However, other sources recommend the bark oil as more effective. Keep in mind both the bark and leaf oils can sensitize and irritate skin, so use them with care. Even a strong diffusion of cinnamon may irritate the mucous membranes of the nasal passages and eyes—for diffusion, blend cinnamon with a citrus essential oil to lower the risk of irritation.
Basic Cinnamon Facts
Plant family: Lauraceae

Production: Steam distilled from the leaves or bark of the cinnamon tree.

Aroma: Warm, pungent, earthy, spicy.

Perfume/Aromatic note: Base to middle

Is cinnamon essential oil safe to use during pregnancy? No.

Is cinnamon essential oil safe for children? Some sources recommend not using cinnamon with children under age five.

Cautions:
Cinnamon is a strong oil that can irritate skin. Essential Oil Safety suggests no stronger than a 0.07% dilution (1 drop in 7 teaspoons carrier oil) of cinnamon bark or a 0.5% dilution (1 drop in 1/2 teaspoon carrier oil) of cinnamon leaf.

Cinnamon bark oils may be adulterated with cinnamon leaf or cassia. Read labels: I saw a company on Amazon selling a product labeled as cinnamon bark, but when I read the details, I found it was actually Cinnamomum cassia. The two are not the same.

Aromatherapy for Health Professionals suggests avoiding cinnamon bark oil if you have a liver condition or alcoholism or when taking acetaminophen (the active ingredient in Tylenol). The reason for the suggestion is cinnamaldehyde may deplete glutathione, an antioxidant the liver uses to help break down toxins for removal from the body.

Main components:

Bark Oil
(E)-Cinnamaldehyde   63.1–75.7%
Eugenol                  2.0–13.3%      
(E)-Cinnamyl Acetate  0.3–10.6% 
Linalool                  0.2–7.0%                               
Leaf Oil
(E)-Cinnamaldehyde   0.6–1.1%%
Eugenol                  68.6–87.0%    
(E)-Cinnamyl Acetate  0.8–4.6%
Linalool                   2.0–5.0%
Source: Essential Oil Safety, 2nd edition

Cinnamon Essential Oil Benefits

When discussing the benefits and uses of cinnamon essential oil, some sources specify leaf or bark, while others don't. I've divided the following information into three categories: general, leaf, and bark.

General Cinnamon Benefits

Aromatherapy: A Complete Guide to the Healing Art: The scent of cinnamon relieves tension, steadies nerves, invigorates the senses, and acts as an aphrodisiac. The oil may improve appetite and aid digestion.
Aromatherapy for Dummies: Cinnamon is a "mover and shaker" that is an emotional stimulant, physical stimulant, and aphrodisiac. The scent may help reduce depression, drowsiness, irritability, pain, digestive distress, and headache pain/frequency.
The Complete Aromatherapy & Essential Oils Handbook for Everyday Wellness: Cinnamon may help heal insect bites, head lice, scabies, warts, and wasp stings. The oil eases colds, flu, and similar conditions; tones the digestive system; and is useful in massage oils for arthritis, rheumatism, and improving circulation. This essential oil increases awareness of spirituality and helps relieve stress-related weak and exhausted conditions.
The Essential Guide to Aromatherapy and Vibrational Healing: Spiritually, cinnamon essential oil increases psychic awareness. Use the oil with the intention of increasing your intuitive skills. Mentally, this essential oil supports cognitive function and wakes you up. Emotionally, cinnamon increases your confidence and self-esteem.
Cinnamon Leaf Benefits

The Complete Book of Essential Oils and Aromatherapy: Cinnamon leaf helps relieve fungus, fevers, coughs, flu, muscle injury, aches and pains, rheumatism, arthritis, cold arms and legs, general physical debility, exhaustion, and fatigue.

The Encyclopedia of Essential Oils (updated edition): Use cinnamon leaf oil for tooth and gum care, warts, nervous exhaustion, stress-related conditions, cold, and flu. The oil may also improve sluggish digestion.

Essential Oils for Immunity by KG Stiles: During the winter months enjoy cinnamon leaf's warming and elevating scent in your aromatherapy diffuser. You can also diffuse the oil to relieve brain fog and the winter blahs. The warm fragrance makes this oil excellent for warming your mind and emotions and dispersing feelings of loneliness.

Aromatherapy Bible: Use cinnamon leaf in a diffuser to prevent colds and flu.  "Psychologically, cinnamon is fortifying and reviving... warming, invigorating, restorative, and uplifting... [The aroma] restores a zest for life and restores courage."
Aromatherapy and Subtle Energy Techniques: Cinnamon leaf strengthens, invigorates, and motivates. Especially useful for the third chakra.
Cinnamon Bark Benefits

Aromatica: A Clinical Guide to Essential Oil Therapeutics, Volume 2: Psychologically, cinnamon bark promotes courage, self-confidence, disinhibition, and integration. Physically, the essential oil stimulates and warms cold conditions and restores weak conditions. In Traditional Chinese Medicine the essential function of the oil is to tonify the Yang, warm the interior, and strengthen the Shen.
Cinnamon Essential Oil Uses and Blends

Two cinnamon essential oil uses:

Include the oil in a warming liniment for tight muscles, painful joints, and menstrual cramps and to improve circulation.


Add cinnamon to your homemade cleaning products to help fight germs. To get rid of musty smells from a garbage disposal: First, run soapy water down the drain. Then add 5 drops of cinnamon bark and 3 drops of lemon essential oil and let them sit for up to an hour.

Cinnamon Bark Essential Oil Blends
Fall Diffuser Blend
2 drops cinnamon bark
2 drops clove bud
2 drops lemon
2 drops orange
Cheery Diffuser Blend
2 drops cinnamon bark
2 drops rosemary
2 drops peppermint
Sore Muscle Massage Blend
Blend the following essential oils to relieve sore muscles:
6 drops cinnamon bark
4 drops clove bud
3 drops rosemary
3 drops cedarwood
2 drops neroli
1 drop ylang-ylang
1 drop thyme
Dilute in carrier oil. Adding this blend to 1/2 cup carrier oil will give you about a 1% dilution. For a stronger massage oil, use less carrier oil but make sure the resulting blend does not irritate your skin.
Massage into stiff or sore muscles daily to help promote feelings of relaxation and comfort.
Source: New Directions Aromatics

Cinnamon and Blood Sugar
Research has suggested that cinnamon may help control blood sugar. However, the effects resulted from using whole cinnamon or its extract, not essential oil. Research from the USDA suggests using one-half teaspoon of cinnamon extract a day could dramatically improve blood sugar, cholesterol, LDL cholesterol, and triglycerides in people with type 2 diabetes.
As for the essential oil, the 2022 meta-analysis, Antidiabetic Potential of Volatile Cinnamon Oil, found that cinnamon essential oil studies show the oil improves "fasting blood glucose, fasting insulin, and improvement in both anatomy and function of kidney and liver cells." However, many studies were on animals, and more research with humans is needed.
Photo Credit: David J. Stang [CC BY-SA 4.0], via Wikimedia Commons