Natural Nail Care Using Essential Oils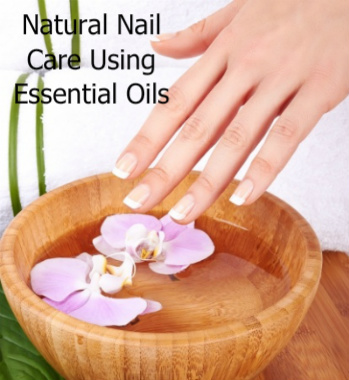 You can use essential oils for natural nail care to condition or strengthen your nails and to fight fungus. Enjoy these aromatherapy nail care recipes.
Nail Conditioning Soak
Use this soak for dry or torn cuticles.
Blend oils. Soak nails in the mixture for 10 minutes. Optionally, buff your nails after the soak to improve circulation and create a healthy shine.
Essential Oils For Nail Fungus

To make an anti-fungal nail oil, blend the following ingredients in a small, dark bottle:
Apply the oil blend around and under nails 2 or 3 times a day.
Note: As an alternative, you can use 6 drops of tea tree oil in the carrier oil. Most people can also apply undiluted tea tree oil to their skin.
Source: Aromatherapy: A Complete Guide to the Healing Art
Nail Growth Oil
Combine the following ingredients in a small, dark bottle:
Rub a little of the oil blend into bare nails twice a day.
Natural Nail Care Butter
Combine grapeseed oil, jojoba oil, beeswax, and cocoa butter in a double boiler. 
Heat on low setting, stirring until beeswax and cocoa butter melt. 
Remove the double boiler from the heat.
Stir in the essential oils. 
Let the mixture cool slightly.
Pour the mixture into a dark glass jar. Let cool. Place lid on jar.
To use: Using a cotton swab, remove a small amount of nail butter from the jar. Use the swab to apply the butter to your nails, and then use your fingers to massage the butter into the nails.
Source: The Very Essence
Nail Strengthening Blend

To strengthen nails and help prevent splitting or flaking, use this blend:
Puncture lecithin capsules and squeeze contents into a bowl.
Add the other oils and stir.
Pour mixture into a small, dark glass jar.
To use: Massage a few drops into clean nails twice a day. Then to add shine and improve circulation, buff nails.
Source: Massage & Aromatherapy
Also see DIY hand care products.

Photo Credit: Acnaleksy/123RF Stock Photo