Guide To Myrrh Essential Oil Benefits and Uses

"It would be so easy to walk down the roads hanging on to our wounds, but myrrh helps us to realize the need to let go, to forgive, and to move forward," writes aromatherapist Valerie Ann Worwood in Aromatherapy For the Soul. She also states the emotional benefits of myrrh essential oil (Commiphora myrrha) are to encourage fortitude, courage, peace, calm, sympathy, acceptance, and mastery.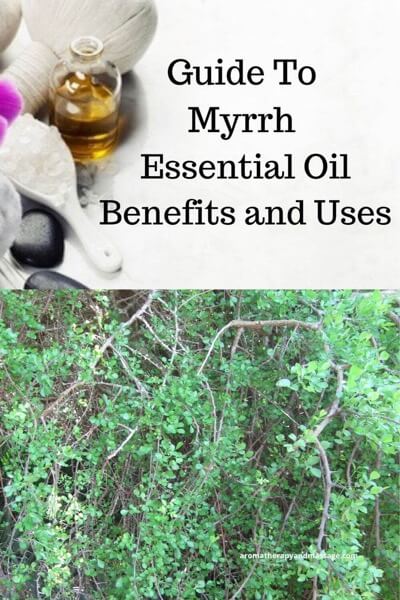 Basic Myrrh Facts
Plant family: Burseraceae

Production: Steam distilled from the gum resin of the tree.

Aroma: Warm, earthy, woody.

Perfume/Aromatic note: Base

Is myrrh safe to use during pregnancy? No, according to Aromatherapy and Massage For Mother and Baby. Also, do not use while breastfeeding.

Is myrrh essential oil safe for children? Most sources say do not use this oil with children under age 2.

Cautions: Myrrh is frequently adulterated. Buy from a trusted source.

Main components:

furanoeudesma-1,3-diene 34.0%
furanodiene         19.7%
lindestrene          12.0%
beta-elemene       8.7%

Source: Essential Oil Safety, 2nd Edition

Myrrh Aromatherapy Benefits
Aromatherapy: A Complete Guide to the Healing Art: Myrrh essential oil skin benefits include helping relieve chapped, cracked, sensitive, dry, or aged skin. This essential oil may reduce dermatitis, warts, eczema, bruises, varicose veins, and ringworm. Myrrh is beneficial for the digestive and immune systems. The oil also inspires prayer and meditation.

Aromatherapy for Dummies: Use myrrh to help relieve varicose veins, candidia, herpes blisters, dry hair, chapped/cracked/aged skin, and mouth and gum diseases. This oil supports the immune system.

The Heart of Aromatherapy: Use myrrh in daily skin care to help rejuvenate damaged skin, soothe skin irritation, and calm inflammation and redness. The essential oil provides respiratory support and helps clear mucous and congestion. The oil promotes emotional peace and tranquility and is useful for meditation and contemplation.

The Healing Intelligence of Essential Oils: Myrrh can help relieve gum inflammation and is useful in a mouthwash or mouth rinse.

The Complete Book of Essential Oils and Aromatherapy: Myrrh essential oil uses include helping relieve coughs, excess mucous, and bronchial congestion. For the skin, use the oil for wounds, sores, ulcerations, eczema, skin infection, ringworm, scabies, and insect bites. Other uses include gum disease, mouth ulcers, and nail fungus.

The Encyclopedia of Essential Oils (updated edition): In skin and body care, uses of myrrh essential oil include athlete's foot, chapped and cracked skin, eczema, mature complexions and wrinkles, ringworm, and wounds. The essential oil may help relieve arthritis pain, gingivitis, mouth ulcers, sore throat, voice loss, mucous, coughs, colds, indigestion, flatulence, and appetite loss.

Aromatherapy For Healing the Spirit: In Traditional Chinese Medicine, the energy of myrrh is warm and dry, making the oil useful for those who are lethargic, cold, and congested due to weakness of the Spleen-pancreas and accumulated dampness. The essential oil calms the nervous system and soothes, clarifies, and grounds the Intellect (Yi).

Aromatica: A Clinical Guide to Essential Oil Therapeutics, Volume 2: Psychologically, myrrh stabilizes the mind and promotes integration, stability and strength, and cognitive flexibility. Physically, the essential oil restores hypotonic/weak conditions and dries congestive/damp conditions. In Traditional Chinese Medicine the essential function of the oil is to constrict fluids, resolve damp, and stop leakage and discharge.
The Complete Guide to Aromatherapy, Third Edition, Vol. 1: In TCM, myrrh is warming and drying and recommended for conditions with excess damp. In ayurvedic aromatherapy, myrrh can aggravate Pitta and help balance excess Kapha. Suggested essential oil blends with myrrh:
To promote wound healing: German chamomile, helichrysum, frankincense, or lavender.
To balance the first chakra and strengthen its connection to the crown chakra: frankincense, patchouli, sandalwood, or atlas cedarwood.

Subtle Aromatherapy: Use myrrh in meditation and before healing sessions. The oil is especially useful for people who feel emotionally or spiritually stuck and want to move forward.

The Essential Guide to Aromatherapy and Vibrational Healing: Spiritually, myrrh essential oil is beneficial for grounding and protection in spiritual ceremonies and rituals. Mentally, the essential oil can stabilize thoughts and help you align with the vibration of safety. Emotionally, the oil helps heal, stabilize, and sedate rampant emotions and heal energetic wounds from trauma.

Aromatherapy and Subtle Energy Techniques: Myrrh grounds, warms, calms, protects, and strengthens. It helps us let go of the past and move forward. The oil is especially useful for the seventh chakra to strengthen spirituality, promote spiritual calmness, and assist moving forward on a spiritual journey.
Mixing Essential Oils for Magic: Myrrh is a powerful purifying scent. The oil enhances awareness and focus for divination, past-life work, psychic work, and spirit communication. This essential oil releases emotional and spiritual blockages and supports balance and well-being.
Myrrh Essential Oil Uses and Blends
Reduce the appearance stretch marks: Mix 5 drops each of myrrh, frankincense, and grapefruit essential oils with 1 tablespoon coconut oil. Rub onto stretch marks twice a day.

Soften lines, scars, and other adhesions: Blend 3 drops myrrh essential oil and 3 drops helichrysum in 1 tablespoon carrier oil.
Strengthen nails: Mix 10 drops each of myrrh, frankincense, and lemon essential oils into 2 tablespoons of vitamin E oil. Rub on cuticles once or twice a day.

Men's aftershave splash: Combine 3 drops frankincense and 3 drops myrrh in 1 ounce (2 tablespoons) jojoba oil. Apply after shaving.

Diffuser blend: 2 drops frankincense, 2 drops myrrh, and 1 drop sweet orange.

Aromatherapy inhaler to help clear the congestion of colds: Add 7 drops myrrh and 7 drops eucalyptus globulus essential oil to the inhaler.

Sources: 101 Ways to Use Essential Oils from Dr. Axe, 18 Best Immunity Oils by aromatherapist KG Stiles, 150 Ways to Use Essential Oils from Edens Garden, and Aromahead.

Warming Massage Oil for Pain Relief
Use this massage oil for tight, tense muscle aches. This warming oil works best on areas of the body experiencing stiff, stagnant pain. Great for arthritis.

1 ounce (2 tablespoons) Trauma Oil
8 drops myrrh essential oil

6 drops ginger essential oil
6 drops elemi essential oil
One 1-ounce PET plastic or glass bottle
Fill the empty bottle with jojoba oil. Add the essential oils, screw cap on tightly, and shake.
Source: Essential Living

Massage Oil for Immune Support
10 drops myrrh essential oil

10 drops tea tree essential oil
8 drops lemon essential oil
8 drops thyme essential oil
6 drops geranium essential oil
5 drops elemi essential oil
4 ounces (1/2 cup) carrier oil
Source: New Directions Aromatics
Lip Balm
Use this balm for severely dry, cracked, chapped lips. This recipe fills four to five 1/8-ounce (4-ml) containers.
2 tablespoons light coconut oil
1.5 heaping teaspoons beeswax (use more for a firmer balm or less for a softer balm)
25 drops myrrh
15 drops patchouli essential oil
10 drops helichrysum essential oil
Use a double boiler over low heat to melt and combine the coconut oil and beeswax.
Remove the mixture from the heat and let cool slightly.
Stir in the essential oils.
Pour the blend into lip balm containers. Refrigerate to cool.
Adapted from The Essential Oils Complete Reference Guide
Myrrh Tree Photo Credit: Joel Abroad / Flickr CC BY-NC-SA 2.0