A Guide To Lime Essential Oil and Its Benefits and Uses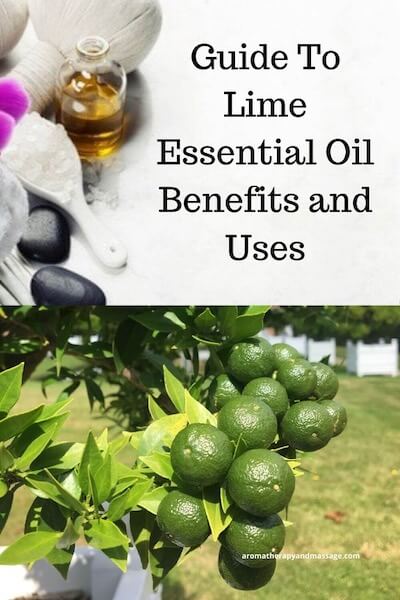 Lime essential oil (Citrus aurantiifolia) is a citrus oil with refreshing and uplifting qualities. The oil is available from two production methods: Mechanically expressed from the rinds of unripe limes or steam distilled from the whole ripe crushed fruit.
Expressed lime oil is phototoxic, meaning you need to avoid the sun after using the oil on your skin. The steam-distilled oil is not phototoxic.

Basic Lime Facts
Plant family: Rutaceae

Production: Mechanically expressed from the rinds of unripe limes or steam distilled from either the whole ripe crushed fruit.

Aroma: Citrusy, sweet, slightly tart.

Perfume/Aromatic note: Top

Is lime safe to use during pregnancy? Generally considered safe. Consult a professional.

Is lime essential oil safe for children? Generally considered safe.

Cautions: Expressed lime oil causes photosensitivity; the steam-distilled essential oil does not. Know what you are buying, and avoid the sun after using the expressed oil. If this essential oil becomes oxidized, it can cause skin sensitization.

Main components:
Distilled Lime

(+)-limonene + 1,8 cineole
alpha-terpineol
gamma-terpinene
terpinolene
Expressed Lime

(+)-limonene
beta-pinene
gamma-terpinene
sabinene
alpha-pinene
Note: There are several types of limes, and oil composition varies by type.
Source: Essential Oil Safety, 2nd Edition

Lime Aromatherapy Benefits
Lime has many of the same benefits as lemon essential oil.

The Complete Book of Essential Oils and Aromatherapy: Lime may help relieve digestive problems, loss of appetite, cellulite, sore throat, flu, lethargy, chronic fatigue, and mental exhaustion.

The Fragrant Mind: Lime promotes alertness and assertiveness.

The Aromatherapy Bible: Lime is refreshing and uplifting. It helps relieve fatigue, apathy, and depression.

Aromatica: A Clinical Guide to Essential Oil Therapeutics, Volume 2: Psychologically, lime promotes emotional renewal, optimism and clarity, good judgement, insight, and foresight. Physically, the essential oil relaxes hypertonic/tense and cools hot conditions.
In Traditional Chinese Medicine (TCM) the essential function of this oil is to clear heat, clarify the Heart, activate the Qi, and calm the Shen. Suggested blends:

To calm stress-related agitation, insomnia, anxiety, and headaches, blend lime with mandarin or bergamot.
To relieve agitation, acute anxiety, or insomnia, blend lime with marjoram.

The Complete Guide to Aromatherapy, Third Edition, Vol. 1 – Foundations & Materia Medica: Lime oil reduces mental fogginess and mental fatigue accompanied by poor concentration. The oil helps those who wake up in the morning feeling low energy and also helps gets rid of negative thinking, pessimism, and depression.
In TCM, lime oil is cooling and drying and recommended to help eliminate, heat, damp, and phlegm. In ayurveda, the oil strengthens Vatta and Pitta and helps reduce Kapha.
Suggested blends:

To relieve stress, anxiety, and nervous tension, blend lime with bergamot, geranium, lavender, frankincense, neroli, sweet orange, sandalwood, or ylang-ylang.
To reduce mental fatigue, combine lime with basil, ginger, lemon, rosemary, or peppermint.
To relieve indigestion, blend lime with black pepper, cardamom, coriander, fennel, ginger, sweet orange, or peppermint.

The Essential Guide to Aromatherapy and Vibrational Healing: Spiritually, lime helps you connect with higher spiritual guides and angels. Mentally, the essential oil brings mental clarity and alertness. Emotionally, the oil helps you feel joy and find inner peace.

Aromatherapy and Subtle Energy Techniques: Lime clears, cleanses, revitalizes, and uplifts. The oil is especially useful for the sixth chakra to promote mental clarity, to uplift and refresh the conscious mind, and to help release unpleasant memories.
Essential Oils Handbook for Aromatherapy Practice: In ayurveda aromatherapy, lime is sour, bitter, astringent, and cooling. The oil does not aggravate normal Pitta but might aggravate elevated Pitta.

Lime Essential Oil Uses and Blends
Cleaning Products
In general, lime is a good addition to homemade cleaning products.

Kitchen Sink Scrub

5 drops lime essential oil

5 drops bergamot essential oil
1/2 cup baking soda
1/4 cup hydrogen peroxide
Combine ingredients in a small bowl and stir. Apply all of the mixture to the inside of the sink and scrub. Rinse with warm water.
Caution: Do not store this scrub in a closed container.
Source: 150 Ways to Use Essential Oils from Eden's Garden

All-Purpose Cleaner

10 drops lime
10 drops tea tree essential oil
1/2 cup water
1/2 cup white vinegar
Add all ingredients to a spray bottle. Shake well before each use. Use this spray cleaner on non-delicate surfaces.

Body Care Recipes
Lime can be useful for dealing with oily hair and skin.
Hair and Scalp Conditioner

1 teaspoon coconut oil
2 drops lime
2 drops cedarwood essential oil
Combine ingredients in a small bowl. Massage the blend into your scalp for 3 to 5 minutes. Wash your hair as usual.
Source: Young Living Blog

Body Scrub
Note: Use only distilled lime in this recipe, as expressed lime can make your skin more sensitive to the sun.

5 tablespoons sugar
2 tablespoons apricot kernel oil
1 teaspoon jojoba oil
16 drops peppermint essential oil  
32 drops distilled lime essential oil

Combine ingredients in a 4-ounce wide mouth jar. Stir until well mixed.
To use, apply a small amount of scrub in shower or bath. Rinse with warm water. Pat dry with a towel.
Store the scrub in a cool, dark place.

Adapted from Aura Cacia.

Diffuser Blends
Use these blends in your diffuser according to manufacturer instructions.

Energizing Diffuser Blend

Makes one 5-ml stock blend for use in a diffuser.

15 drops lime essential oil
15 drops rosemary ct. camphor essential oil
15 drops grapefruit essential oil
One 5-ml glass bottle with orifice reducer cap
Add the three essential oils to the glass bottle. Label and store this stock blend in a cool, dark place.

Source: Essential Living

Kid's Fun Diffuser Blend

7 drops lime
6 drops mandarin essential oil     
6 drops spearmint essential oil
6 drops marjoram essential oil
Source: 10 Recipes with Lime Essential Oil from aromatherapist Suzanne Banks