Guide To Lemon Myrtle Essential Oil and Its Benefits and Uses

Lemon myrtle essential oil (Backhousia citriodora) has an emotionally uplifting scent and is a mild mental stimulant. The aroma can help relieve stuck emotions, especially negative thoughts and pessimism, according to Aromatica: A Clinical Guide to Essential Oil Therapeutics, Vol. 2.

The book notes the essential oil is relaxing and cooling physically, making it useful for relieving tense and hot conditions with spasms, pain, and inflammation. The oil may also help fight colds, flu, and fungus.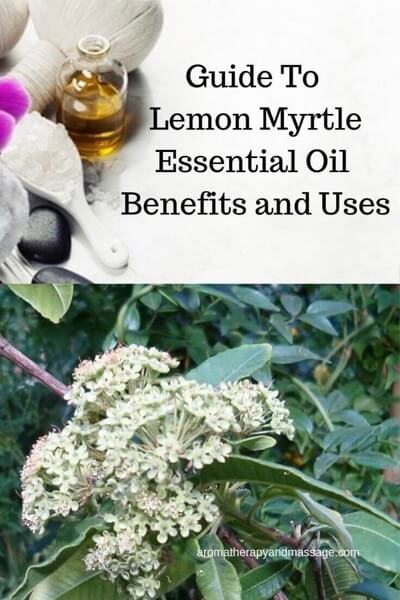 Basic Lemon Myrtle Facts
Note: Lemon myrtle is NOT the same as myrtle (Myrtus communis). Although lemon myrtle is sometimes called lemon ironbark, real lemon ironbark is a different species—Eucalyptus staigeriana.
Plant family: Myrtaceae

Production: Steam distilled from the leaves of Backhousia citriodora, which is an evergreen tree native to Queensland, Australia.

Aroma: Clear, strong lemon scent.

Perfume/Aromatic note: Middle to top.

Main components: The two main components of lemon myrtle are geranial (46.1–60.7%) and neral (32.0–40.9%), according to Essential Oil Safety, 2nd Edition. You will also see these two components together referred to as citral.

Is lemon myrtle safe to use during pregnancy? No, according to Working With Unusal Oils.

Is lemon myrtle essential oil safe for children? Do not use with children under age 2, according to Essential Oil Safety.

Cautions: Essential Oil Safety recommends diluting this oil no stronger than 0.7% (1 drop in just under 1.5 teaspoon carrier oil) for skin use to avoid skin sensitization. Also, be cautious using the oil on hypersensitive, diseased, or damaged skin.

Lemon Myrtle Aromatherapy Benefits
The Complete Guide to Aromatherapy, Third Edition, Vol. 1: Lemon myrtle may support the immune system and help relieve flu and related conditions. Psychologically, the scent is relaxing and emotionally uplifting. The oil also may help improve concentration and work as a mental stimulant.

Plant Therapy: Lemon myrtle can help deodorize the air, support the respiratory system, and prevent seasonal illness. The clean, uplifting scent, makes the essential oil a great addition to household cleaners and natural air fresheners.
Working With Unusual Oils: "Lemon myrtle is unexpected optimism and cheer." The oil brings an element of light, even joy and resilience during tough times. Suggested essential oils to blend with lemon myrtle:

For colds, flu, coughs: eucalyptus, pine, rosemary, tea tree, or thyme.
For cleaning: peppermint.
For emotional balance: lavender or geranium.
Lemon Myrtle Essential Oil Uses and Blends

Diffuse the essential oil for an uplifting effect or to relieve mental fatigue.

Diffuser Blend for Energy

Start your day with this blend or use it as an afternoon pick-me-up:

3 drops lemon myrtle essential oil

3 drops peppermint essential oil
3 drops rosemary essential oil
Alternately, for an on-the-go energy boost, use this blend to make a personal aromatherapy inhaler.

Source: Plant Therapy

Here are two other inhaler blends:

For an uplifting personal inhaler, use 5 drops each of lemon myrtle, tea tree, and lemon essential oils.
For an inhaler to relieve mental fatigue, use 5 drops each of lemon myrtle, rosemary, and peppermint essential oils.
Source: Eden's Garden

Steam Inhalation
For immune support or to clear up congestion:
Place 2 drops of lemon myrtle in a large bowl of hot (not boiling) water.

Inhale for five minutes.
Important: This method is not safe for small children.

Alternatively, mix 1 drop essential oil in 2 teaspoons carrier oil. Use the blend as a chest rub to help promote clear breathing and break up congestion.

All-Purpose Cleaning Spray
Here's a cleaning spray for bathroom surfaces, kitchen counters, and glass surfaces. Do NOT use on granite countertops.

1/2 cup witch hazel
1/2 cup white vinegar
10 drops lemon myrtle
10 drops pine essential oil

Combine ingredients in an 8-ounce spray bottle. Shake well before using. Use within a month.
Source: Best Essential Oils For Spring Cleaning

Photo Credit: BotBin, CC BY-SA 3.0