Holiday Essential Oils For Halloween, Thanksgiving, and Christmas

Spicy, warm holiday essential oils can add fragrant scents to your home for the Halloween–Thanksgiving–Christmas season. Cinnamon, nutmeg, clove, and ginger are natural choices during this time of the year, as are many of the citrus essential oils.
Holiday essential oils can be a fun way to create atmosphere during the holiday season. Look for creative ways to use aromatherapy and have fun!
Here's a holiday essential oil blend you can diffuse in your home throughout the season: 
12 drops orange 
3 drops clove 
3 drops cinnamon 
2 drops nutmeg
Halloween Essential Oil Blends
Diffuse some spicy or citrus essential oils while you're handing out treats. Indulging a bit too much in the treats? Grapefruit essential oil may promote weight loss. Peppermint can help settle an upset stomach.
Here's a spicy diffuser blend:

3 drops cardamom essential oil
2 drops cassia or cinnamon essential oil
2 drops clove essential oil
1 drop ginger essential oil

Source: Prairie Homestead

Holiday Essential Oils For Thanksgiving
Thanksgiving is a time of gratitude. Here's an essential oil blend for thankfulness:
2 drops basil 
3 drops rosemary
3 drops sage
4 drops lavender
6 drops grapefruit 
Diffuse the blend or add a few drops to a bath or a massage oil.
You can also cook with essential oils. Replace the powdered spice in your recipes with the same essential oil. Careful! Some oils are strong and all you need is a little on the end of a toothpick to stir into the recipe. Be sure to use only authentic, genuine essential oils produced for internal consumption.
Source: West Coast Aromatherapy
Holiday Essential Oils for Christmas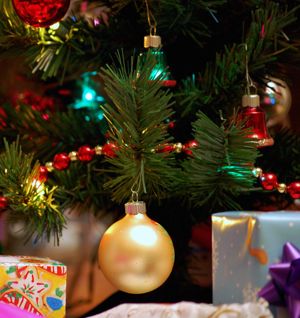 Do you associate Christmas with peppermint candy canes? Diffuse some peppermint essential oil! It has beneficial effects on digestion. If your tummy aches after too much to eat, dilute a few drops of peppermint in a teaspoon of vegetable oil and gently massage your abdomen.
Need a little help getting ready for the upcoming holiday social gatherings and parties? Enliven yourself with this Christmas essential oil blend developed by aromatherapist Francoise Rapp:
3 drops peppermint
3 drops basil 
6 drops grapefruit
2 teaspoons carrier oil
Use the blend in one of these ways:
Rub a few drops on the palms of your hands and inhale deeply. 
Massage your neck, shoulders, solar plexus, and abdomen. 
Add 20 drops to a warm bath and soak for at least 15 minutes.
Spiritual Essential Oils for Christmas
To promote the spiritual aspects of Christmas, use frankincense and myrrh essential oils. Myrrh and frankincense have rich, meditative scents and have been a part of religious ceremonies for centuries. Diffuse one or both of these oils to promote spiritual awareness and meditation. 
The Scent of Trees
Another scent associated with Christmas is the earthy, green smell of trees. Reproduce these scents in your home by diffusing an essential oil such as pine, spruce, cedarwood, or balsam fir. You can even add a few drops to the water in the tree stand of your live Christmas tree. 
Another option is to make a room air freshener by blending 30 drops of any of the oils in one-half cup distilled water in a spray bottle. Shake well before each use to thoroughly mix the water and oils.
Photo Credits: MorgueFile