Essential Oils for Sensitive Skin Care
Calming and soothing essential oils for sensitive skin care help relieve irritation, redness, rashes, or itching. Recommended oils include:
German chamomile
Roman chamomile
Helichrysum
Jasmine
Lavender
Neroli
Rose
Sandalwood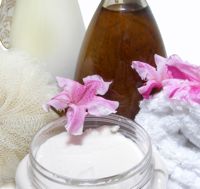 The four main types of sensitive skin are acne, rosacea, contact dermatitis caused by allergies and irritants, and burning and stinging, usually for unknown reasons.

To care for sensitive skin:
Use only a gentle cleanser, once or twice a day.

Avoid harsh soaps, avoid scrubbing your skin, and avoid exfoliation, all of which can make skin more sensitive.

After cleansing, pat dry, leaving the skin slightly moist. Moisturize immediately.
Important: Always spot test any any blend containing essential oils for sensitive skin before using it on a large area. If a blend irritates your skin, test each essential oil alone to find the problematic oil. Put a drop of the essential oil in 10 to 20 drops of a carrier oil and test it. You may also need to test carrier oils alone to make they aren't causing the problem.

Cleansers for Sensitive Skin Care

Cleansing Oil
Use a circular motion to apply a small amount of the following cleanser to moist skin. Rinse with warm water. Pat dry.
1 tablespoon argan oil
3 tablespoons jojoba oil
3 tablespoons liquid unscented castile soap
6 drops helichrysum essential oil
6 drops German chamomile essential oil
10 drops neroli essential oil
Combine the ingredients in a clean bowl.
Pour the blend into a dark glass bottle.
Place cap on bottle.
Shake for two minutes.
Cleansing Cream
In a small, non-reactive bowl set over a pan of hot water, melt the coconut oil.
Stir in the olive oil. Remove the bowl from the heat.
Let the mixture cool to room temperature.
Stir in the essential oils.
Place the mixture in a clean 4-ounce glass jar. Store in a dark, cool place for up to 2 weeks. (Do not refrigerate.)
Use a small amount of the cream to wash your face.

Source: The Complete Aromatherapy & Essential Oils Handbook for Everyday Wellness
Face Wash
Here's a gentle soap-free face wash for sensitive skin.
4 tablespoons argan oil
1 drop geranium essential oil
1 drop cedarwood essential oil
1 drop opopanax essential oil
Make the blend in a 2-ounce glass bottle. Add the argan oil first and then the essential oils. Close bottle and shake gently. Use a small amount to wash you face.
Source: Heart of Aromatherapy

Moisturizers With Essential Oils for Sensitive Skin

Moisturizer #1

Mix the following ingredients in a dark container with a cap. Use this moisturizer as needed.
3 drops Roman chamomile essential oil
6 drops German chamomile essential oil
2 drops yarrow essential oil
1 drop rosemary essential oil (preferably verbenone type)
2 tablespoons hazelnut oil
2 teaspoons wheat germ oil
Source: Healing With Aromatherapy
Moisturizer #2

This formula tones and balances sensitive skin cells.
Add the following essential oils to a 5-ml dark-colored dropper bottle:
40 drops German chamomile
30 drops palmarosa
10 drops rose
10 drops carrot seed
10 drops helichrysum
1 to 2 drops galbanum
Blend 12 to 15 drops in 2 tablespoons carrier oil. Apply 1 to 3 drops of the blend to your face once a day.
Source: The Best Natural Cures Using Essential Oils
Hydrosol Toner

Aromatherapy hydrosols are very gentle, even for the most sensitive skin. Try this simple blend:

Mix hydrosols in a small, dark spray bottle. Use to lightly mist face.
You can keep the toner on the bathroom counter, out of direct sunlight, for one to two months. Otherwise, store in refrigerator.
Source: The Essential Guide to Natural Skin Care
Face Mask for Sensitive Skin
Use this face mask immediately.
1 egg yolk, beaten
1 teaspoon jojoba oil
1/2 teaspoon liquid honey
1 drop roman chamomile essential oil
1 drop carrot seed essential oil
1 teaspoon milk powder or cornstarch
Filtered or distilled water or rose water
In a small glass bowl, combine all ingredients except the water. Stir in just enough water to make a smooth paste.

Source: The Complete Aromatherapy & Essential Oils Handbook for Everyday Wellness
Photo Credit: Volff/123RF Stock Photo