Essential Oils for Rosacea Skin Care

Using essential oils for rosacea skin care can help control the redness and pimples of this skin condition. Most importantly, avoid any potentially skin-irritating oils.

Skin with rosacea is already sensitive, and some sources recommend using essential oil in a one percent or less dilution (that is, 1 drop of essential oil in 99 drops of carrier oil or 6 drops essential oil in 2 tablespoons carrier oil). But you can experiment, testing what works best for you without causing irritation.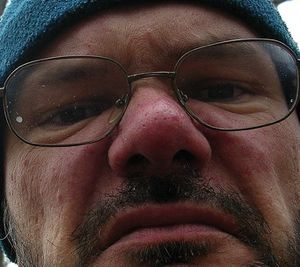 Don't use alcohol or soap on skin affected by rosacea, and don't exfoliate.
Caution: Skin test both essential oils and carrier oils on a small area before using them on a large area to make sure they don't trigger an adverse reaction. Use only genuine, authentic essential oils, as low-quality oils are more likely to cause a bad reaction or be ineffective.
Calming Inflammation
Because rosacea is an inflammatory skin condition, look for essential oils that calm inflammation. The Complete Aromatherapy & Essential Oils Handbook for Everyday Wellness recommends the following essential oils:

German and Roman Chamomile
Helichrysum (may also help rejuvenate damaged skin)
Lavender
Neroli (may help regenerate skin cells and tone sensitive skin)
Palmarosa
Rose
The Complete Book of Essential Oils and Aromatherapy recommends the following carrier oils for rosacea:

Apricot kernel
Calendula
Gotu kola
Hazelnut
Jojoba
Tamanu
The book offers a two-stage treatment program, each of which uses different essential oils, that's too detailed to go into here (see pages 378–379).
This rosacea article at the New York Institute of Aromatic Studies discusses the benefits of aloe vera gel and offers several blends.
Other essential oils for rosacea that might help include:

Cistus (also known as rock rose) may help regenerate skin cells.
Rosewood may improve skin elasticity.
Frankincense
Myrrh
Patchouli
Sandalwood
Relief Spray Using Essential Oils for Rosacea

Combine ingredients in a two-ounce spray bottle:
3 drops sandalwood essential oil
3 drops frankincense essential oil
3 drops lavender essential oil
2 drops helichrysum essential oil
1/4 cup distilled water

Shake well. Lightly mist affected areas on your face several times a day, avoiding eyes and mouth.

Source: Essential Oils For Healing
You can also blend a similar oil-based version:

20 drops sandalwood essential oil
20 drops frankincense essential oil
20 drops helichrysum essential oil
5 drops rosemary essential oil
60 drops fractionated coconut oil or grapeseed oil
Light Moisturizing Lotion for Rosacea Skin
Blend the following ingredients in a glass container:

100 ml (about 7-3/4 tablespoons) organic unscented moisturizing lotion
10 drops lavender essential oil
6 drops cypress essential oil
4 drops frankincense essential oil
2 drops neroli essential oil
2 drops rose essential oil
Use the lotion as desired. Store it in a tightly closed container.
Source: Base Formula

Face Mask for Rosacea
You can use this mask once a week.
2 teaspoons plain greek yogurt
1 teaspoon honey (preferably, raw and organic)
3 drops lavender essential oil
3 drops helichrysum essential oil
3 drops german or roman chamomile essential oil
Blend all ingredients. Apply mask to face and relax fo 10 to 20 minutes.
Source: Essential Oil Haven

Hydrosols for Rosacea

If your skin is too sensitive for even highly diluted essential oils, consider using aromatherapy hydrosols. Hydrosols are the by-product of steam distilling plant materials to make essential oils. Hydrosols are very gentle and can provide some relief.

Try one of these hydrosols: German chamomile, geranium, lavender, neroli (orange blossom), or rose. Simply splash the hydrosol on your face as a toner.
Photo Credit: hr.icio/Flickr CC2