How To Use Essential Oils For Gums and Gingivitis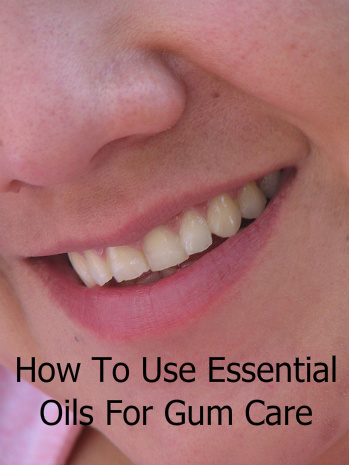 Using essential oils for gums to help keep your mouth healthy is an alternative to buying pre-made mouth care products. Even many toothpastes and mouthwashes on the market contain essential oils such as myrrh, eucalyptus, peppermint, and thyme, which studies have shown help fight bacteria.
One study concluded that evidence indicates using essential oils, in addition to standard oral care, helps reduce plaque and gingivitis compared to placebo or control.
Mouth Rinse
Here's an all-purpose mouth rinse:
20 drops tea tree oil (Melaleuca alternifolia)
8 drops myrrh essential oil
1 ounce (2 tablespoons) echinacea tincture
Mix the ingredients in a dark bottle.
To use, shake the bottle well and put 1/4 teaspoon of the blend in 1/8 cup water. Swish in your mouth for at least one minute. Do not swallow.
Source: Aromatherapy for Dummies
Essential Oil Toothpaste and Mouthwash

See 11 Ways To Make Toothpaste and How to Make Homemade Mouthwash. In particular, a toothpaste or mouthwash containing clove or tea tree essential oil may help prevent gingivitis.

Essential Oils For Bleeding Gums

For bleeding gums, the Essential Oils Desk Reference recommends clove, geranium, wintergreen, cinnamon, peppermint, mountain savory, or myrrh essential oil.
Dilute one of the oils at least 50/50 with a carrier oil (more if you find the blend too strong). Apply 1 to 2 drops of the blend to your gums 2 to 3 times a day.
Essential Oils For Gums With Gingivitis

For gingivitis, use the following mouth rinse:
3 drops thyme essential oil

3 drops mandarin essential oil
3 drops myrrh essential oil
1 drop lemon essential oil
3 tablespoons vodka (or substitute echinacea tincture)
6 tablespoons + 2 teaspoons warm water
After cleaning your teeth, rinse your mouth with 1 to 2 tablespoons of the blend. Do not swallow.
Source: Massage & Aromatherapy: Simple Techniques at Home
Dental Abscess
Blend the following oils:

3 drops lavender essential oil
2 drops tea tree essential oil
1 teaspoon olive or other edible oil
Apply a little to the abscess two or three times a day.
Source: The Complete Book of Aromatherapy and Essential Oils

Essential Oils For Oil Pulling

If you use oil pulling as part of your dental care routine, you can add essential oils to the oil. Here are two options:

3 drops myrrh essential oil
1 drop peppermint essential oil
1 tablespoon carrier oil

or

1 drop lavender essential oil
1 drop tea tree essential oil
1 drop peppermint essential oil
1 tablespoon carrier oil
Source: Essential Oils For Healing
Photo Credit: Eperales/Flickr/CC