Guide To Thyme Essential Oil Benefits and Uses

"There is fire within the soul of thyme, the fire to summon the most mighty angels to our assistance," writes aromatherapist Valerie Ann Worwood in Aromatherapy For the Soul.  She also says the emotional benefits of thyme essential oil (Thymus vulgaris) are to encourage alertness, balance, courage, tolerance, supportedness, and warmth.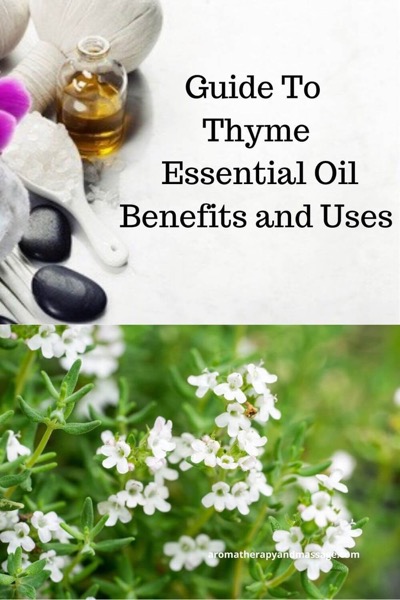 Thyme Chemotypes
The same species of plant can produce essential oils with different chemical components when the plant grows under different conditions, such as variations in soil type, climate, and altitude. These variations are called chemotypes.

Thyme has a number of different chemotypes. One of the most commonly recommended in aromatherapy is thyme ct. linalol (also spelled linalool). The chemical component linalol makes up 70–80% of the oil. This chemotype, along with thyme ct. geraniol (containing about 37% geranyl acetate and 25% geraniol), are considered the mildest and safest of the thyme oils.

Other thyme chemotypes include:

Thujanol – generally mild

Thymol – an especially strong oil

Borneol (moroccan thyme – Thymus satureioides cosson)
Carvacrol
Cineole
Citral

See Essential Oil Safety, 2nd Edition, for detailed breakdowns of some of the chemotypes. Another reference: Essential Oil Characterization of Thymus vulgaris from Various Geographical Locations.

Basic Thyme Facts
Plant family: Labiatae/Lamiaceae

Production: Steam distilled from leaves and flowers/buds.

Aroma: Fresh, herbaceous.

Perfume/Aromatic note: Middle

Is thyme safe to use during pregnancy? Most sources say no.

Is thyme essential oil safe for children? Recommendations vary. Do not use any of the chemotypes with babies or children under age 2 (some sources say under age 5 or 7). For older children, thyme linalol is generally recommended, highly diluted.

Cautions: Risk of skin sensitization ranges from low with the mild chemotypes to high with the stronger ones. Know which chemotype you are buying and use appropriate precautions.

Thyme Essential Oil Benefits

Aromatherapy: A Complete Guide to the Healing Art: Thyme may help relieve infections. Emotionally, use the oil to help reduce mental instability, fear, melancholy, and nightmares and to help prevent memory loss. Spiritually fortifying.

The Heart of Aromatherapy: Use thyme ct. linalol for respiratory support, soothing allergies and clearing sinus congestion, easing sore throats and coughs, helping reduce infection, reducing swelling, relieving sore muscles and joints, and promoting energy, focus, and optimism.

The Complete Book of Essential Oils and Aromatherapy: Use thyme ct. linalol to help relieve colds, flu, coughs, sinusitis, laryngitis, sore throat, congestion, poor circulation, cold limbs, numbness, muscle pain, tendonitis, arthritis, rheumatism, chronic fatigue, general debility, acne, warts, lethargy, and inability to concentrate.

The Encyclopedia of Essential Oils (updated edition): Skin care uses for thyme essential oil include abscesses, acne, bruises, cuts, dermatitis, eczema, insect bites, lice, gum infections, oily skin, and scabies. The essential oil is also useful for relieving arthritis, cellulitis, gout, muscle aches and pains, poor circulation, rheumatism, sprains, and sports injuries. The oil may also help relieve asthma, coughs, mucous, laryngitis, sore throat, colds, flu, headaches, insomnia, nervous debility, and stress-related conditions.

Aromatherapy For Healing the Spirit: In Traditional Chinese Medicine thyme is a powerful tonic of the body's yang energy and supports the functions of the Lungs, Heart, Kidneys, and nervous system. The oil's energy is hot and dry, and its main elements are water and metal.

Aromatica: A Clinical Guide to Essential Oil Therapeutics, Volume I: Psychologically, thyme ct. linalol promotes emotional stability and renewal. Physically, the essential oil restores hypotonic/weak conditions. In Traditional Chinese Medicine the essential function of the oil is to tonify the Qi, resolve damp, and harmonize the Shen. You can use thyme ct. geraniol interchangeably with thyme ct. linalol.

Subtle Aromatherapy: Thyme essential oil is strengthening and energizing at every level of being. The oil supports the conscious mind and is useful if you tend to be dreamy and detached and need to deal with the mundane tasks of living.

The Essential Guide to Aromatherapy and Vibrational Healing: Spiritually, thyme fortifies and increases courage, helping you live your life in alignment with your soul. Mentally, the essential oil supports better memory, concentration, and focus. The oil can also help release emotional blocks.

Aromatherapy and Subtle Energy Techniques: Thyme clears energy blocks, strengthens, and energizes. The oil is especially useful for the third chakra to promote self-confidence, personal strength, self-control, courage, and motivation.
Mixing Essential Oils for Magic: Thyme purifies—use it to prepare ritual space. The oil stimulates energy for divination and psychic work, clears negative energy, enhances awareness for clairvoyance, and boosts strength and courage.

Thyme Essential Oil Uses and Blends

Thyme is often used in blends to get rid of head lice. Here's one option:

Mix 3 drops each of thyme, lavender, and eucalyptus essential oils with one tablespoon carrier oil.
Apply blend to scalp.
Cover head with a shower cap and leave on for 30 minutes.
Shampoo your hair.
Use a nit comb.
You'll probably need to repeat for several days in a row.
Source: 101 Ways To Use Essential Oils by Dr. Axe

Athlete's Foot Blend
Blend 1 drop of thyme oil with 1 drop each of tea tree and clove essential oils in a 1/2 teaspoon of carrier oil.
Clean and dry the area around the athlete's foot.
Apply the blend.
Wash your hands to avoid spreading the fungus.
Repeat 2 to 3 times daily for up to 3 weeks.
Adapted from 18 Best Immunity Oils by aromatherapist KG Stiles.

Travel Size Foaming Hand Soap
5 drops thyme ct. linalool essential oil

5 drops lemon essential oil
5 drops lavender essential oil
40 ml (about 2 tablespoons + 2 teaspoons) castile soap
Add the castile soap and essential oils to the bottle. Tighten the top. Shake gently. Use as desired. Source: Aromahead

Household Cleaning Blends

Thyme is a popular ingredient in household cleaners to help get rid of germs.

Surface Disinfectant

2 cups hot water
10 drops thyme essential oil
1/4 cup washing soda
Combine all ingredients in a spray bottle and shake well. Spray on surfaces and wipe clean with a damp cloth or sponge.

Oven Cleaner
This formula is great for neglected ovens. For baked-on grease or food splatters, use fine steel wool to scrub those areas. Use a little more salt if needed.

1 box (16 ounces) baking soda
1/2 cup salt
1/4 cup washing soda
1/4 cup water
3/4 cup white vinegar
10 drops lemon essential oil
10 drops thyme essential oil
Combine baking soda, salt, and washing soda in a glass bowl.
Stir in only enough water to make a paste.
Remove the racks from the oven.
Heat the oven to 250 degrees F for 15 minutes.
Turn oven off and open the door.
Use a cloth or sponge to spread the paste on oven walls.
Leave for 20 to 30 minutes.
Mix the essential oils and vinegar in a spray bottle. Shake well.
Spray the oven walls. Wipe clean. Rinse well.
Source: Natural Cleaning and Recipe Book

All-Purpose Spray Cleaner
A great cleaner to use on kitchen countertops and bathroom surfaces.

16 drops thyme essential oil
48 drops tea tree essential oil
56 drops lemon essential oil
1/2 cup white distilled vinegar
1/2 cup distilled water
8-ounce spray bottle
Add essential oils to the spray bottle.
Add the vinegar and water.
Shake to mix well.
Spray on surfaces. Wipe clean. Shake before each use.
Source: Nikki Loscocco-VanZandt. "Spring Cleaning with Essential Oils." NAHA Aromatherapy Journal, Spring 2013.1, p. 38.

Photo Credit: 123rf.com