How to Use Essential Oils for Couperose Skin
Couperose skin is indicated by redness of the face as a result of dilated, and sometimes broken, capillaries near the surface of the skin. Essential oils for couperose relief may help you control the redness and nourish sensitive skin. Suggested oils include: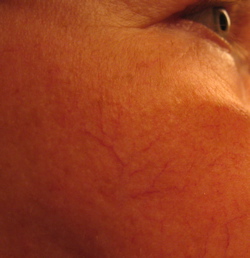 Helichrysum
Roman or german chamomile
Rose
Orange
Neroli
Lavender
Carrot seed

Couperose Skin vs. Rosacea

What is couperose skin? It looks similar to rosacea but doesn't include the acne-like bumps and pustules you usually get with rosacea. Couperose mostly affects the skin's surface layers and may be caused by aging, genetics, hormone changes, or sunlight exposure or other environmental circumstance.
Rosacea is a chronic skin condition that includes facial redness, visible blood vessels, and often acne-like breakouts, thickened skin, eye irritation, and itchy, dry burning sensations. The exact cause is unknown but is generally thought to include a combination of lifestyle, genetic, and environmental factors, such as sun exposure, wind, and cold weather.
Creams and lotions are available for couperose skin treatment, though their effectiveness varies widely. According to Top Doctors UK, the best option is intense pulsed light (IPL). Also used for treating rosacea and removing hair, IPL involves applying a gel to the skin and then moving the IPL machine over the treatment area. Laser light passes through the skin without damaging it so that heat reaches the broken capillaries, causing blood to clot, gradually getting rid of the dilated blood vessels.

Couperose Essential Oil Blends

Gently apply one of the following blends for couperose to your face two or three times a day.
Aromatherapy Beauty Blend 1
1 teaspoon tamanu oil 
1 teaspoon musk rose oil (Rosa Mosqueta)
5 drops helichrysum essential oil 
5 drops cypress essential oil
Aromatherapy Beauty Blend 2
3 drops roman chamomile essential oil
6 drops german chamomile essential oil
2 drops yarrow essential oil
1 drop rosemary verbenone essential oil
2 tablespoons hazelnut oil
2 teaspoons wheat germ oil
Sources: The Essential Guide to Natural Skin Care and Healing With Aromatherapy
Redness Calming Oil
2 tablespoons argan oil
2 drops carrot seed essential oil
1 drop helichrysum italicum essential oil
1 drop rose essential oil or rose absolute
Blend all the oils in a 1-ounce (30 ml) glass bottle. Shake gently. Apply a few drops to your face once or twice a day.
Source: Aromahead

More Couperose Aromatherapy Recipes
Make sure any product you use on couperose skin is gentle.

Toner With Essential Oils for Couperose

1/4 cup rosewater
1/4 cup aloe vera juice
1/4 teaspoon glycerin
1 drop rose essential oil
1 drop neroli essential oil
Blend the ingredients in a glass bottle. Either use a spray bottle or use cotton swabs to apply the toner to your face.
Shake well before using. 
Source: Aromatherapy: A Complete Guide to the Healing Art
The book also offers the following tips for couperose skin:
Never use a cold water splash.


Generally, avoid steaming your face, except for very short periods using only moderate heat.


Exfoliate gently. Avoid facial scrubs, which can lead to more broken capillaries.


Use gentle facial masks made from fruit, yogurt, or honey. If you use clay masks, make sure they contain soothing ingredients such as hydrosols or oils. Blue clay is the best choice.
Couperose Facial Mask

Stir together the following ingredients:
1/4 cup plain whole yogurt or sour cream
2 tablespoons honey
2 to 3 drops of your choice of essential oils for couperose

Apply the mixture to your clean face. Leave the mask on for 15 minutes, and then rinse it off using warm water. Pat dry.
Source: EcoBeauty: Scrubs, Rubs, Masks, and Bath Bombs

For Broken Capillaries
10 teaspoons apricot kernel oil
10 teaspoons jojoba oil
8 drops rose essential oil
6 drops roman or german chamomile essential oil
6 cypress essential oil
Source: Feeding Your Skin