How To Use Essential Oils For Couperose Skin
Couperose is redness of the face caused by dilated, and sometimes broken, capillaries near the surface of the skin. Couperose looks similar to rosacea but doesn't include the acne-like bumps and pustules you usually get with rosacea. 
Essential oils for couperose relief may help you control the redness and nourish sensitive skin. Suggested oils include: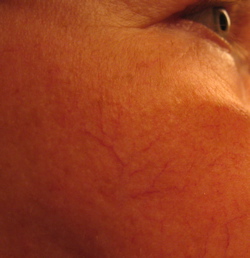 Helichrysum
Roman or German chamomile
Rose
Orange
Neroli
Lavender
Couperose Beauty Blends

Gently apply either of the following beauty blends for couperose to your face two or three times a day.
Aromatherapy Beauty Blend 1
1 teaspoon tamanu oil 
1 teaspoon musk rose oil (Rosa Mosqueta)
5 drops helichrysum essential oil 
5 drops cypress essential oil
Aromatherapy Beauty Blend 2
3 drops Roman chamomile essential oil
6 drops German chamomile essential oil
2 drops yarrow essential oil
1 drop rosemary verbenone essential oil
2 tablespoons hazelnut oil
2 teaspoons wheat germ oil
Sources: The Essential Guide to Natural Skin Care and Healing With Aromatherapy
More Couperose Aromatherapy Recipes
Make sure any product you use on couperose skin is gentle.

Toner With Essential Oils For Couperose

1/4 cup rosewater
1/4 cup aloe vera juice
1/4 teaspoon glycerin
1 drop rose essential oil
1 drop neroli essential oil
Blend the ingredients in a glass bottle. Either use a spray bottle or use cotton swabs to apply the toner to your face.
Shake well before using. 
Source: Aromatherapy: A Complete Guide to the Healing Art
The book also offers the following tips for couperose skin:
Never use a cold water splash.


Generally, avoid steaming your face, except for very short periods using only moderate heat.


Exfoliate gently. Avoid facial scrubs, which can lead to more broken capillaries.


Use gentle facial masks made from fruit, yogurt, or honey. If you use clay masks, make sure they contain soothing ingredients such as hydrosols or oils. Blue clay is the best choice.
Couperose Facial Mask

Stir together the following ingredients:
1/4 cup plain whole yogurt or sour cream
2 tablespoons honey
2 to 3 drops of your choice of essential oils for couperose

Apply the mixture to your clean face. Leave the mask on for 15 minutes, and then rinse it off using warm water. Pat dry.