What is a Hydrosol in Aromatherapy?

An essential oil hydrosol is scented water produced during the process of steam-distilling plant material to make essential oils. What is a hydrosol used for? These aromatherapy waters have some of the same benefits as essential oils but are more gentle, and you can sometimes use them when essential oils aren't advisable.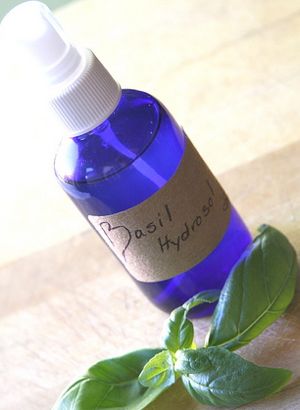 Also, some distillers focus only on producing plant waters (also called hydrolates, hydrolats, or distillates) without producing essential oils. These distillates are not the same thing as floral waters or flower waters (such as the popular rose water), which are made in a different way and do not have the same benefits as distillates.
Possibly the most definite book available on this topic is Suzanne Catty's Hydrosols: The Next Aromatherapy.
Aromatherapy Hydrosol Quality
Just as you want to use the best quality essential oils for maximum benefit, you also want to use the best quality distillates. Aromatherapy waters are more easily contaminated in the production and shipping process than essential oils, so finding reputable suppliers is important.
Another important thing to know is that mixing essential oils and water together doesn't create a distillate, even though some websites claim to tell you how to make a hydrosol by adding essential oils to water. To make a hydrosol, you need the same type of distillation equipment required to make essential oils. For distillers, Ann Harman's Harvest To Hydrosol is a great reference.

So, if you are looking at a floral water, for example, rose water, and the ingredient list is purified water and natural rose oil, it's not a hydrosol and doesn't have the same properties. Other products on the market that may not be real distillates are fruit-scented waters (orange, lemon, and so forth). Fruit essential oils are most often cold-pressed (with a few exceptions) from fruit skins, not distilled, so no aromatherapy water is produced. Another example is jasmine—this oil is solvent-extracted, not distilled, so, again, no hydrolat.
What Are Hydrosols Used For?

Uses for hydrosols include:
In place of water for making lotions, creams, and room, body, and nasal sprays
As an aftershave
For skin application to help relieve conditions such as burns, rashes, and sores
In a steamer for inhalation or a neti pot for a nasal wash
For first aid such as cleaning wounds
In compresses and poultices
In hydrotherapy applications such as a sitz bath or foot soak
In cooking
Source: The Complete Aromatherapy & Essential Oils Handbook for Everyday Wellness
Best Hydrosols for Face Care
One use of aromatherapy waters is in making natural lotions, creams, and other skin care products. The following list shows some of the best hydrosols for skin:

Cornflower (Centaurea cyanus) – Baby, delicate skin


Cypress (Cupressus sempervirens) – Oily skin


Geranium (Pelargonium graveolens) – Inflammation


Helichrysum (Helichrysum italicum) – Eczema and other inflammation


Melissa (Melissa officinalis) – All skin types; also for inflammation


Neroli (Citrus aurantium) – Baby, delicate, and mature skin


Roman chamomile (Chamaemelum nobilis) – Baby, delicate skin and inflammation


Rose (Rosa spp.) – Balancing and for dry skin


Rosemary (Rosmarinus officinalis) verbernone – Balancing and for oily skin


Sandalwood (Santalum album) – Helps skin cells regenerate


Yarrow (Achillea millefolium) – To balance & calm for inflammation


Ylang ylang (Cananga odorata) –

Oily skin
Source: Making Aromatherapy Creams and Lotions
What is a Hydrosol FAQs
Can you drink hydrosol?
Yes, according to Catty, as long as it's therapeutic-grade. Although she provides many suggestions for internal use, the topic is too big to get into in this article. Here's a recipe she recommends for headaches:

50 ml (about 10 teaspoons) peppermint hydrolat
50 ml roman chamomile hydrolat
100 ml (about 6 tablespoons + 2 teaspoons) water
Mix together the peppermint and roman chamomile. 
Take 2 teaspoons of the mixture internally.
Add the water to the remaining hydrolat mixture.
Dip two compresses into the water-hydrolat blend.
Place one compress on the nape of your neck and the other on your forehead.
Lie down for 15 to 20 minutes.
Hydrolats are also commonly used in cooking.

How Long Do Hydrosols Last?
How long a distillate will last depends on the specific hydrosol, its pH level, where and how it was distilled, and how it was bottled, handled, and stored after distillation, according to AromaWeb.
Hydrolats are more fragile than essential oils and don't last as long. Storing the waters in the refrigerator or a dark, cool place will prolong their life. Although some plant waters contain preservatives to lengthen shelf life, purists believe these lower quality.
When you buy, check the label for a distillation date and country of origin. The fresher, the better. The less distance a product has traveled, the less likely it has been handled or stored improperly. Organic is best.
Where to Buy Hydrosols?
Many companies that sell essential oils also sell distillates, and they are also available from some artisan makers.

Photo Credit: Latisha (herbmother) CC