Guide To Birch Essential Oil and Its Benefits and Uses

The two types of birch essential oil are sweet birch (Betula lenta) and white (or silver) birch (Betula pendula or Betula alba). The two have different chemical compositions and uses.

Some aromatherapy sources recommend not using sweet birch at home, while others say you can use it at a dermal maximum of 2.4%, following all the cautions.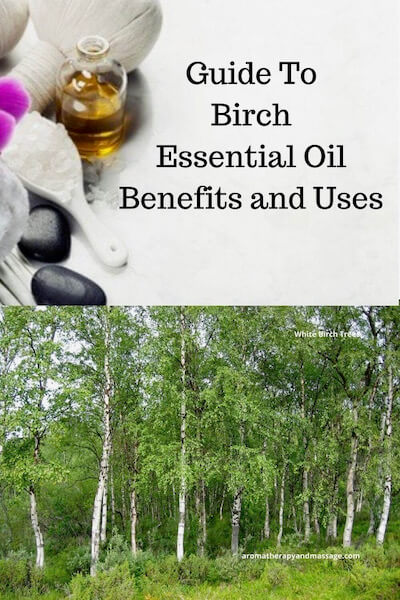 Basic Birch Facts
Plant family: Betulaceae

Production: Sweet birch is steam distilled from the tree's bark. White birch is steam distilled from the tree's leaf buds (the oil is also referred to birch bud) or made by extracting crude birch tar from the bark and then stream distilling the tar (birch tar oil).

Aroma: Sweet birch is sweet and sharp, similar to wintergreen essential oil. White birch has a refreshing, woody-green balsamic scent.

Is birch essential oil safe to use during pregnancy? No, and do not use while breastfeeding.

Is birch safe for children? Do not use sweet birch with young children because methyl salicylate increases the risk of developing Reye's syndrome.

Cautions: Do not use sweet birch if you take anticoagulant medication, are planning surgery, have hemophilia or another bleeding disorder, or are sensitive to salicylate. The essential oil is a potential skin irritant. High methyl salicylate content makes sweet birch oil potentially harmful in high concentrations.

Main components:
Sweet birch:

methyl salicylate 90.4%
ethyl salicylate   5.5%
linlyl acetate      1.1%
Caution: This oil is often adulterated with either wintergreen essential oil or synthetic methyl salicylate.

White birch (birch tar): cresol and guaiacol.
Source: Essential Oil Safety, 2nd Edition
Sweet Birch Essential Oil Benefits and Blends
Aromatherapy: A Complete Guide to the Healing Art: Sweet birch helps relieve muscle and arthritis pain, reduce water retention, and stimulate circulation.

The Complete Book of Essential Oils and Aromatherapy: Sweet birch may help relive muscle aches and pains, rheumatism, arthritis, muscle injury, back pain, neuralgia, edema, heavy limbs, and circulatory problems.

375 Essential Oils and Hydrosols: Use sweet birch sparingly in massage oil blends to help relieve rheumatism, muscle aches and strains, and water retention. The scent may also help reduce high blood pressure.

The Essential Guide to Aromatherapy and Vibrational Healing: Spiritually, sweet birch is a good addition to diffuser blends for cleansing the aura and releasing toxic energy. Mentally, the oil fosters mental clarity and increases your ability to act on your dreams and construct your reality. Emotionally, the essential oil helps reduce inflamed states of consciousness, improves your mood, and relieves tension.

Stillpoint Aromatics: Sweet birch grounds and centers, working on the third chakra to renew a sense of strength and power, helping us remember our true and authentic self.

KG Stiles Chinese Medicine Guidebook: Sweet birch decreases the earth element.

Massage Oil for Sore Muscles

6 drops sweet birch essential oil
6 drops spearmint essential oil
6 drops black pepper essential oil
6 drops helichrysum essential oil
4 tablespoons jojoba oil
Source: Eden's Garden

Uplifting Diffuser Blend

3 drops sweet birch
2 drops copaiba essential oil
1 drop cedarwood essential oil
1 drop Roman chamomile essential oil
Source: Loving Essentials

White Birch Aromatherapy Benefits and Uses
Aromatherapy For the Soul: White birch essential oil "is a protective spirit that guards and guides, clearing away thought pollution or debris that may be lingering in the mind." The emotional benefits of the oil are to encourage protection, focus, and concentration.

The Encyclopedia of Essential Oils (updated edition): Use white birch in skin care to relieve dermatitis, dull or congested skin, eczema, psoriasis, and similar skin problems and also for conditions such as arthritis, rheumatism, muscle pain, edema, and poor circulation.

The Complete Aromatherapy and Essential Oils Handbook for Everyday Wellness: White birch cleanses and purifies. It's useful in compresses, creams, and ointments for inflamed skin conditions. The oil also helps relieve rheumatic and arthritic conditions.

Aromatherapy and Subtle Energy Techniques: White birch clears and cleanses. It promotes courage and integrity for the third chakra and focus and concentration for the sixth chakra.

Esoteric Oils: Used in a diffuser or diluted in the bath, white birch oil can help relieve muscle aches and pains, rheumatism, and arthritis.
Mixing Essential Oils for Magic: Use white birch to clear negativity before ritual, for protection when doing magic, for purification and attracting abundance, and to open the mind and expand awareness for receiving blessings, inspiration, and wisdom. The oil also supports creativity, intuition, personal growth, healing, and general well-being.

Photo Credit: White birch Percita at Flickr, CC BY-SA 2.0, via Wikimedia Commons