Guide To Elemi Essential Oil Benefits and Uses

"Elemi awakens the knowing that is hushed in the waking dream of reality," writes aromatherapist Valerie Ann Worwood in Aromatherapy For the Soul. "It speaks to the inner being, lulling the quickened heart and mind, steadying us so that we can complete what we have begun." She also says the emotional benefits of elemi essential oil (Canarium luzonicum) are to encourage calm, stillness, contentment, compassion, and peace.
Aromatherapist Helen Nagle-Smith calls elemi a "shining light" in Working With Unusual Oils. "A candle in dark times to guide your forwards to where you need to go."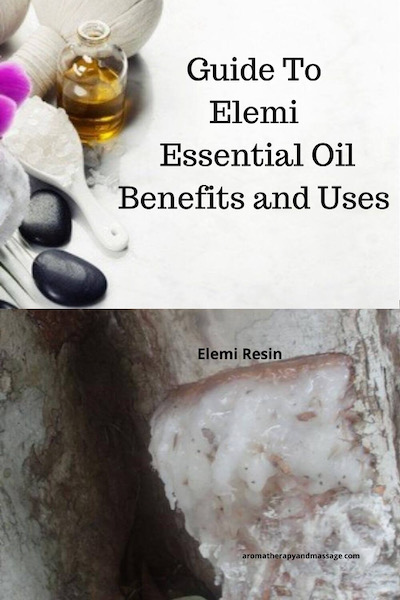 Basic Elemi Facts
Plant family: Burseraceae.

Production: Steam distilled from the resin of the Canarium luzonicum tree, a large evergreen native to the Philippines.

Aroma: Resinous, citrusy, peppery.

Perfume/Aromatic note: Middle.

Is elemi safe to use during pregnancy? Conflicting information found. Consult a professional.

Is elemi essential oil safe for children? For ages 10+, according to Revive Essential Oils. Consult a professional for details.

Cautions: Old or oxidized oils may cause skin sensitization. Avoid using them.

Main components:

(+)-limonene         26.9–65%
elemol                 2.8–17.3%
alpha-phellandrene  4.3–15.1%
elemicin               1.8–10.6%

Source: Essential Oil Safety, 2nd Edition

Elemi Essential Oil Benefits
Aromatherapy: A Complete Guide to the Healing Art: Elemi is useful for nourishing mature complexions and helping reduce stress and nervousness.

The Complete Book of Essential Oils and Aromatherapy: Elemi is calming and soothing. It may help relieve chronic coughs, mucous, muscle fatigue, wounds, cuts, inflamed skin conditions, and tiredness.

The Encyclopedia of Essential Oils (updated edition): Uses for elemi essential oil in skin care include aged skin and wrinkles, infected cuts and wounds, and inflamed skin conditions. The oil may also help reduce excess nasal mucous, unproductive coughs, nervous exhaustion, and stress-related conditions.

Subtle Aromatherapy: Elemi has an unifying effect, helping balance the upper and lower chakras, and also helps balance spiritual practices with worldly responsibilities. The aroma enhances meditation and visualization.

The Essential Guide to Aromatherapy and Vibrational Healing: Spiritually, use elemi for meditation, to activate intuition, to promote assuredness, and to enhance psychic abilities. Mentally, the oil improves your connection to your inner genius and promotes good thoughts and positive thinking. Emotionally, this essential oil can help during times of change.

Aromatherapy and Subtle Energy Techniques: Elemi grounds and helps calm, strengthen, and balance. The oil is especially useful for the sixth and seventh chakras to open the mind to mystical experiences, promote mental peace and clarity, and balance the spiritual and worldly life.
Mixing Essential Oils for Magic: Elemi promotes clarity and focus, balances the mundane and spiritual, and supports spiritual development.

Elemi Essential Oil Uses and Blends
The Complete Guide to Aromatherap Third Ed., Vol. 1 suggests the following essential oils blends with elemi:

To alleviate stress associated with fatigue and exhaustion: basil, bergamot, geranium, ginger, lemon, or rosemary.
To support meditation: frankincense, lemon, patchouli, or sandalwood.
To reduce mucous: cajeput, eucalyptus, frankincense, or ginger.
Inhalation Blends

Diffuser Blend For Boosting Immunity

3 drops elemi

3 drops frankincense essential oil  
2 drops tea tree essential oil
4 drops lemon essential oil

Meditative Aromatherapy Inhaler

Add the following essential oils to the wick of an aromatherapy inhaler:

5 drops elemi
7 drops lemon essential oil
3 drops patchouli essential oil

You could also make a blend and use a few drops in a diffuser.
Source: Base Formula

Body Care Blends

For a simple bath salts, combine 6 drops elemi with 2 tablespoons castile soap and 1 cup Epsom salt.
Bath Salts to Relieve Body Aches
1 tablespoon castile soap
1 tablespoon jojoba oil
1 ounce (2 tablespoons) Epsom or Himalayan salt
2 drops elemi essential oil
2 drops clary sage essential oil
2 drops lavender essential oil
2 drops rose geranium essential oil
Blend together castile soap, jojoba, and essential oils in glass bowl.
Mix in salt.
Stir salts into a bath of desired temperature
Soak and enjoy.
Caution: Do not use during pregnancy. Source: Melissa Clymer CCAP, CFAP, "Summer Recipes," NAHA Aromatherapy Journal, Summer 2017.2, p. 74.
Face Care Blends
Evening Face Moisturizer

3 drops elemi
3 drops frankincense essential oil  
3 drops lavender essential oil   
1 tablespoon carrier
Combine oils. Apply a few drops to your face before bed.
Source: 150 Ways to Use Essential Oils from Eden's Garden

Anti-Aging Skin Blend
2 drops elemi
2 drops lavender essential oil

2 drops neroli essential oil
4 teaspoons carrier oil
Source: Plant Therapy
Resin Photo Credit: Alma Gamil,