Guide To Yuzu Essential Oil and Its Benefits and Uses

The emotional benefits of yuzu essential oil (Citrus junos) are to encourage focus, concentration, strength, courage, and centering, according to aromatherapist Valerie Ann Worwood in Aromatherapy For the Soul. "If feeling spiritually unsettled, yuzu gives the spiritual purification and strength needed to move forward, and the focus required as we take in new thoughts and feelings."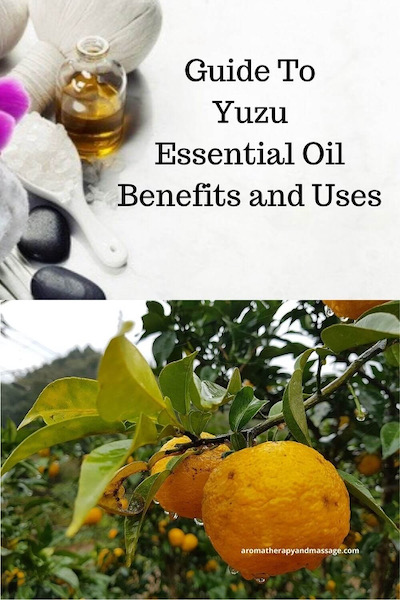 Basic Yuzu Facts
Plant family: Rutaceae

Production: The highest quality oil is mechanically expressed from the rind (peel) of the yuzu fruit, which resembles a less-smooth small orange. The fruit grows primarily in Japan and Korea.

However, Salvatore Battaglia notes most commercial-grade yuzu oil is now steam distilled from the whole left-over fruit after juice extraction. Less reputable companies may mix expressed yuzu oil with the lower quality steam-distilled oil and other citrus oils. Aromaweb also points out some producers have passed off a citrus oil blend off as yuzu. Buy this essential oil from only from reputable companies.

Aroma: Citrusy with floral notes

Perfume/Aromatic note: Top

Is yuzu safe to use during pregnancy? Probably, yes. Citrus oils are generally safe during pregnancy. Always a good idea to consult a professional.

Is yuzu essential oil safe for children? Yes, for children 2+. For younger children, consult a professional.

Cautions: If the oil becomes oxidized, it may cause skin sensitization.

Main components of expressed yuzu:

(+)-limonene        63.1%
gamma-terpinene  12.5%
beta-phellandrene  5.4%
beta-myrcene        3.2%

Yuzu does not cause photosensitivity.

Source: Essential Oil Safety, 2nd Edition

Yuzu Aromatherapy Benefits
The Heart of Aromatherapy: You can use yuzu for respiratory support, clearing mucous and congestion, calming inflammation, supporting digestion, reducing nausea, soothing sore muscles, and feeling relaxed and uplifted.

The Complete Book of Essential Oils and Aromatherapy: Use yuzu to calm nervous stomach cramps, help reduce cellulite, help relieve neuralgia, relieve symptoms of flu and colds, help heal stress-induced skin conditions, and help relieve nervous tension, nervous exhaustion, and chronic fatigue. The essential oil is also a general tonic and can be used for spiritual practices.

Aromatherapeutic Blending: Use yuzu to help relieve musculoskeletal pain, inflammation, and tension, for overall well-being, to support the respiratory system, and to help relieve depression, anxiety, and stress.

Jeanne Rose: The refreshing scent of yuzu makes it a good addition to perfumes. In skin care, the essential oil in a blend helps smooth rough skin and warm the body. In diffuser blends the oil is invigorating and emotionally uplifting.

Salvatore Battaglia: Yuzu uplifts, revives, energizes, and enlivens and can reconnect the mind, body, and soul. Use the oil when you feel drained and depressed to lift your spirits, create optimism, and focus your thoughts on the positive.

This essential oil cools, cleanses, and decongests. It may help relieve constipation, abdominal distension, nausea, and general irritability.

In ayurvedic aromatherapy, yuzu strengthens vata and pitta and helps reduce kapha.

In Traditional Chinese Medicine, yuzu oil smooths the flow of stagnant Qi, helping reduce stress, tension, and irritability. The oil also helps reduce excess damp, which is often related to abdominal bloating, chronic indigestion, heaviness of the body, lethargy, and water retention.

Suggested essential oils to blend with yuzu:

To relieve stress, anxiety, and nervous tension: Atlas cedarwood, bergamot, geranium, grapefruit, lavender, lemon, neroli, sweet orange, or sandalwood.
To reduce fatigue and feelings of apathy: sweet orange or rosemary.
Yuzu Essential Oil Uses and Blends

Refreshing Diffuser Blend

4 drops yuzu essential oil

2 drops rosemary essential oil
1 drop frankincense essential oil
Source: Loving Essentials

Bath Salts

1/4 cup epsom salt
1 teaspoon jojoba oil
3 drops Roman chamomile essential oil
2 drops yuzu essential oil

Add the salt to a clean 4-ounce jar.
Mix in the jojoba oil.
Drop in the essential oils and blend well.
For a bath, use 1 to 2 teaspoons.

Yuzu and Neroli Shower Gel

1/4 cup aloe vera gel
16 drops yuzu
4 drops neroli essential oil
Blend ingredients in a 2-ounce (60-ml) PET plastic bottle.

Foaming Hand Soap

8 teaspoons (about 40 ml) castile soap
1 teaspoon aloe vera gel
8 drops yuzu
7 drops lime essential oil
5 drops peppermint essential oil
Add all ingredients to a 50-ml foam soap pump bottle. Close bottle and shake gently. Use as you would any other hand soap.

Source: The Heart of Aromatherapy

Vitality and Inspiration Body Butter

3.5 oz (98 gm) coconut oil
1.5 oz (42 gm) cocoa butter
1 oz (28 gm) beeswax
16 drops yuzu essential oil

8 drops neroli essential oil
8 drops distilled lime essential oil
8 drops of either vetiver or patchouli essential oil

Melt beeswax, cocoa butter, and coconut oil in a double boiler, stirring gently.
Remove from heat.
Add essential oils and stir gently.
Pour the blend into a 8-ounce glass jar and let cool.

Source: Aromahead Newsletter

Photo Credit: Asiainfocenter, CC BY-SA 4.0, via Wikimedia Commons