Guide To Yarrow Essential Oil Benefits and Uses

Yarrow essential oil (Achillea millefolium) is a "fragrance for dreaming, for visionary experiences, for traveling on the energy of the universe, while being protected and nurtured," writes aromatherapist Valerie Ann Worwood in Aromatherapy For the Soul. She says yarrow encourages harmony, equilibrium, intuition, and centering.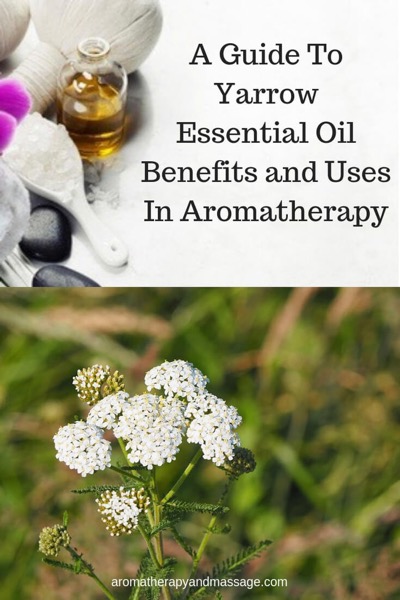 Basic Yarrow Facts
Plant family: Asteraceae/Compositae (daisy)

Production: Steam distilled from the leaves and flowers/buds of the plant

Aroma: Herbaceous and slightly spicy or sweet.

Perfume/Aromatic note: Middle

Is yarrow safe to use during pregnancy? No

Is yarrow essential oil safe for children? Some sources recommend not using on children under age 2 because of the thujone content.

Cautions: This profile describes the chamazulene chemotype (also called blue yarrow). Also available is green yarrow (Achillea nobilis), which is different.

Main components:
sabinene         26.2%  
chamazulene    19.7%
beta-myrcene   7.0%
germacrene D   6.2%
beta-pinene      4.5%
Source: Essential Oil Safety, 2nd Ed.
Yarrow Essential Oil Benefits

Aromatherapy: A Complete Guide to the Healing Art: You can use yarrow hydrosol as an astringent for problem or oily skin.

The Encyclopedia of Essential Oils (updated edition): Yarrow may help relieve some digestive complaints, colds, flu, insomnia, acne, stress-related conditions, and menstrual cramps.
375 Essential Oils and Hydrosols: Uses of yarrow essential oil in skin care include reducing acne, eczema, inflammation, and the appearance of varicose veins and scars.
The Complete Aromatherapy & Essential Oils Handbook for Everyday Wellness: Use yarrow in creams to reduce inflammation and itching from eczema, rashes, and hemorrhoids. For a chest rub to soothe inflamed mucous membranes and sinuses, blend yarrow with manuka, lemon, and cypress essential oils in a carrier oil.
Complete Aromatherapy Handbook: Essential Oils for Radiant Health: Yarrow balances the mind and spirit, supports intuitive energies, and opens awareness to cosmic energies. The essential oil helps relieve red, inflamed, or blemished skin, acne, cellulite, or sunburn. Other conditions that may benefit from this essential oil include menstrual pain, menopausal problems, headaches, and varicose veins.

Aromatherapy For Healing the Spirit: In Traditional Chinese Medicine, yarrow is cool and dry and believed to have properties that reduce inflammation. Yarrow stimulates the Liver and regulates Qi-energy, offering relief of indigestion and some other digestive problems. The essential oil may reduce menstrual pain and help relieve neuritis and arthritis. Yarrow oil especially helps people who have anger or rage linked subconsciously to emotional wounding and vulnerability.
Aromatica: A Clinical Guide to Essential Oil Therapeutics, Volume 2: Psychologically, yarrow promotes emotional stability, flexibility, and renewal. The oil also promotes good judgement, insight, and alertness. Physically, the essential oil stimulates congestive/damp conditions and cools hot conditions. In Traditional Chinese Medicine the essential function of yarrow is to invigorate the Blood, reduce stagnation, and resolve damp.

Essential Oils Desk Reference: The fragrance balances highs and lows. It inspires and grounds at the same time and is useful during meditation and to support intuition.
Aromatherapy and Subtle Energy Techniques: Yarrow calms and protects.
Mixing Essential Oils for Magic: Yarrow's grounding energy clears negativity. The oil stimulates intuition and psychic abilities by opening awareness to higher universal energies and also assists in dreamwork and divination.

Yarrow Essential Oil Uses and Blends

To make a massage oil, add 5 drops of yarrow to one teaspoon of carrier oil. You can massage the blend onto your abdomen for digestive complaints or to help relieve menstrual cramps. This massage oil may also help relieve varicose veins.
Relief For Menstrual Problems

To relieve PMS and menstrual cramps:

15 drops yarrow
20 drops clary sage essential oil
10 drops vetiver essential oil
1/4 cup sesame or other carrier oil

Drop essential oils into a amber glass bottle. Cap and shake.
Add the carrier oil.
Replace cap and shake vigorously for one to two minutes.
Massage the blend onto your abdomen and lower back one to two times a day, as needed.

Source: Aromatic Studies

For missing periods (amenorrhea):
Caution: Make sure your are not pregnant and do not have a medical condition before using this blend.

4 drops yarrow essential oil

15 drops Roman chamomile essential oil
11 drops geranium essential oil
2 tablespoons carrier oil

Massage the blend over your abdomen and lower back twice a day for at least two weeks.

Source: The Complete Book of Essential Oils and Aromatherapy

Skin Toner
This blend is especially good for oily skin.

4 drops yarrow
4 drops rose otto essential oil
2 tablespoons argan oil
Blend ingredients in a small, dark bottle. Apply to clean, damp skin.
Source: Miracle Botanicals

Pain Relief
To relieve joint pain:

5 drops yarrow
5 drops German chamomile essential oil
5 drops blue cypress essential oil
5 drops blue tansy essential oil
2 tablespoons trauma oil

Blend all oils into a small dark bottle. Gently massage a little of the blend onto painful joints, as needed.

Source: Aromahead
Photo Credit: Florian Fournier, Cerema NP [CC BY-SA 4.0], from Wikimedia Commons