Guide To Rose Essential Oil Benefits and Uses

Rose essential oil evokes an aura of love.

"Rose otto vibrates with the energy of universal love, operating in the light of unconditional love and giving," writes aromatherapist Valerie Ann Worwood in Aromatherapy For the Soul. She also states rose otto encourages contentment, devotion, inner vision, happiness, inner freedom, acceptance, completeness, patience, love, sensuality, and purity.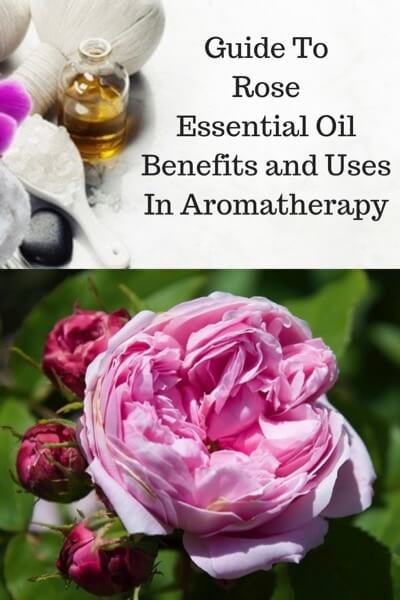 Three types of rose oil are available:

Rose otto, which is the distilled essential oil
Rose absolute, a solvent-extracted oil
Rose CO2 extract, produced using the supercritical carbon dioxide extraction method.

The scent of rose absolute touches and stirs the spirit, according to Worwood. She says rose absolute encourages motivation, inner vitality, confidence, passion, cooperation, fulfillment, forgiveness, and a sense of freedom.

The focus of this profile is Rosa damascena, although rose oil comes in other varieties, including Rosa centifolia, Rosa gallica, and Rosa rugosa.

Basic Rose Facts

Plant family: Rosaceae

Production: Steam distilled from the flowers—producing one drop of oil takes many, many roses, and rose otto is one of the most expensive essential oils. Making the absolute is more efficient, so it usually costs less, but it may not have as much therapeutic value and may contain traces of solvent.

Aroma: Floral and sweet.

Perfume/Aromatic note: Middle to base.

Is rose safe to use during pregnancy? No, according to Aromatherapy and Massage For Mother and Baby.

Is rose essential oil safe for children? Yes.

Cautions: Because rose is expensive, adulteration is common, according to several sources. Make sure you buy a pure, authentic essential oil—there's no such thing as a cheap real rose oil.

Main components:

Bulgarian
rose otto
(–)-citronellol
     16.0–35.9%
geraniol 
     15.7–25.7%
alkenes & alkanes
     19.0–24.5%

Turkish
rose otto
(–)-citronellol  
     24.5–43.5%
nonadecane  
     6.4–20.6%
geraniol 
     15.7–25.7%
Rose absolute
(Rosa centifolia)
2-phenylethanol
     64.8–73.0%
(–)-citronellol 
     8.8–12.0%
alkenes & alkanes 
     1.1–8.5%
geraniol  
     4.9–6.4%

Source: Essential Oil Safety, 2nd Edition
Rose Aromatherapy Benefits

Aromatherapy: A Complete Guide to the Healing Art: Rose is a go-to remedy for women's problems, especially menstrual irregularities caused by congested circulation. Rose may also help rejuvenate cells and is useful for all skin and hair types, varicose veins, burns, and rashes.
Aromatherapy for Dummies: Rose can reduce moodiness during menopause. The scent is an aphrodisiac and stress reliever and can help keep the mind focused and alert.

The Heart of Aromatherapy: Rose is good for daily skin care, rejuvenating damaged skin, soothing skin irritation, calming inflammation and redness, and comforting and uplifting the heart.
The Essential Oils Complete Reference Guide: Rose essential oil skin benefits include a nourishing action that is harmonizing for all skin types, making the oil beneficial in most facial and skin care formulas. The oil soothes sensitive or inflamed skin and may promote cellular regeneration.

The Complete Book of Essential Oils and Aromatherapy: Use rose for menstrual problems, abdominal cramps, circulatory problems, depression, anxiety, tension, phobias, and stress-related conditions.

Aromatherapy For Healing the Spirit: In Traditional Chinese Medicine, rose is considered cool and moist, helping clear heat and inflammation and restore the body's yin energy.  Rose oil cools and regulates the liver, and used for stagnant heat that leads to tension, irritability, headache, and constipation. Rose is a uterine tonic and great for the skin.
Aromatica: A Clinical Guide to Essential Oil Therapeutics, Volume 2: Psychologically, rose promotes emotional security, strength, stability, and integration. Physically, the oil balances and also relaxes hypertonic/tense conditions.  In Traditional Chinese Medicine the essential function of the essential oil is to nourish Blood, Yin, and Essence and to harmonized the Heart and Shen.
Essential Oils Handbook for Aromatherapy Practice: In ayurvedic aromatherapy, rose is bitter, pungent and astringent, sweet and cool. Use the oil to cool and soothe, balance all three doshas, and eliminate pitta from the mind and eyes.
Subtle Aromatherapy: Rose is the flower of love and the oil is the supreme oil of the fourth (heart) chakra. The essential oil also has a strong affinity for the first (sacral) chakra, supporting creativity, sex, and conception.

The Essential Guide to Aromatherapy and Vibrational Healing: Spiritually, rose is the reminder that love is the answer. The oil helps you keep your focus and attention on your heart chakra and love. Emotionally, the oil helps you attract healthy, supportive relationships.

Aromatherapy and Subtle Energy Techniques: Rose brings in positive energy, especially love and compassion. The oil is especially useful for the fourth chakra. The book offers this diffuser blend for positive energy:
3 drops rose essential oil

3 drops lavender essential oil
4 drops orange essential oil
Mixing Essential Oils for Magic: Rose attracts love, heightens passion and desire, and increases fidelity and fertility. Spiritually, this essential oil instills deep devotion, brings wisdom and inspiration, and is a powerful divination aid. The oil also brings peace, happiness, friendship, and luck to the home.

Rose Essential Oil Uses and Blends

To boost mood and help ease depression, add rose oil to baths, inhalations, and diffusers. You can also wear one drop of the oil as a perfume.

Massage Oils
Rose essential oil was traditionally considered useful for gynecological and women's hormonal problems, including PMS and menstrual cramps. The oil may help reduce moodiness in menopausal women.
To make a rose massage oil, add 10 drops essential oil to 1/4 cup carrier oil. Use a little of the blend to massage your abdomen and lower back a few times a day.
Revitalizing Massage Oil

6 drops rose essential oil
9 drops lavender essential oil
5 drops frankincense essential oil
1/4 cup carrier oil

Baby Massage Oil

Use the massage oil on infants three months or older to support rest and relaxation.

1/2 cup sweet almond oil
1 to 2 drops rose otto
1 to 2 drops Roman chamomile essential oil
2 to 3 drops tangerine essential oil

Mix all of the oils together in a clean glass or PET plastic bottle and label.
Source: ACHS

Rose Essential Oil Blends for Skin Care
For a basic anti-aging blend, combine 2 drops rose in 2 teaspoons carrier oil in a small dark bottle. Apply as desired.

Skin Repair Blend

2 drops rose essential oil
4 drops helichrysum essential oil
4 drops lavender essential oil
1 tablespoon aloe vera gel
Blend ingredients in a small glass jar. Shake before use. Use as desired.

Exfoliating Face Cleanser

1 ounce white clay
2 tablespoons avocado oil
1 drop rose otto
2-ounce glass jar

Blend the white clay and avocado oil in the jar. Stir in the drop of essential oil. Source: The Heart of Aromatherapy

Facial Cream For Sensitive Skin

1⁄2 ounce (1 tablespoon) beeswax
1/2 cup jojoba oil
3 ounces (6 tablespoons) distilled water
20 drops rose oil (absolute or otto)
15 drops lavender essential oil

In a double boiler, melt beeswax in jojoba oil.
Add a thin stream of water, using a wire whisk to stir vigorously.
Remove mixture from heat and continue to stir while adding essential oils.
Pour cream into a glass container.
Let cool before using. Store in a cool, dark place.

Adapted from Misty Rae Cech, ND

Photo Credit: Patrick Nouhailler / Flickr (CC BY-SA 2.0)