Guide To Patchouli Essential Oil and Its Benefits and Uses

"Patchouli brings with it the sense of the sacredness in life," writes aromatherapist Valerie Ann Worwood in Aromatherapy For the Soul. "It is also a fragrance of action." She also says the emotional benefits of patchouli essential oil (Pogostemon cablin) are to encourage farsightedness, rapport, invigoration, reasonableness, lucidity, astuteness, and stimulation.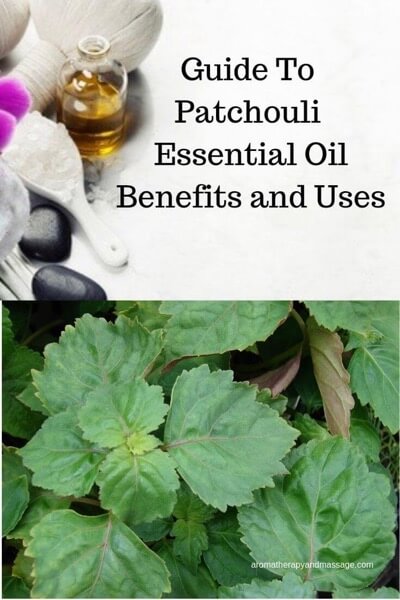 Basic Patchouli Facts
Patchouli is one of the few essential oils that improves with age. A properly aged oil is more desirable than a fresh one. Aging causes the oil to become less harsh and adds a sweet top ote. As the oil ages, it turns from light yellow to a deep amber, and the aroma becomes smoother and richer.
Plant family: Lamiaceae/Labiatae
Production: Steam distilled from the leaves (usually dried) of the plant, which is an herb native to Southeast Asia.

Aroma: Musky, herbaceous, earthy — not everyone likes the scent.

Perfume/Aromatic note: Base

Is patchouli safe to use during pregnancy? Baby Belly lists the oil as pregnancy friendly, as do Mom Prepares and Mommypotamus. I couldn't find an explicit answer in my reference books.

Is patchouli essential oil safe for children? Some sources suggest not using the oil with children under age 2, but Essential Oil Safety does not give this caution.

Fun fact: Patchouli is a natural fixative and used extensively in the perfume industry.

Main components:
Patchouli alcohol  17.5–32.3%
alpha-bulnesene  8.7–20.7%
alpha-guaiene     8.8–15.3%
Source: Essential Oil Safety, 2nd Ed.
Patchouli Aromatherapy Benefits

Aromatherapy: A Complete Guide to the Healing Art: Patchouli keeps moths and mold out of woolen items. This essential oil helps reduce appetite, water retention, exhaustion, and inflammation and works against fungus. Patchouli essential oil skin benefits include helping relieve acne, eczema, and skin growths. Use the oil for dandruff and cracked, sensitive, dry, or mature skin. The oil also helps relieve nervousness, anxiety, oversensitivity, depression, and insomnia, plus acts as an aphrodisiac.

The Heart of Aromatherapy: Use patchouli for natural perfumes and deodorants, daily skin care, rejuvenating damaged skin, soothing skin irritation, inflammation, bug bites and stings, repelling insects, meditating and contemplation, and feeling deeply relaxed and peaceful.

The Complete Book of Essential Oils and Aromatherapy: Use patchouli for cuts, sores, abscesses, mites, fungus, and problematic skin conditions. The essential oil can also help repel insects and relieve bug bites and stings. The oil may help relieve PMS, moodiness, depression, and irritability.

The Encyclopedia of Essential Oils (updated edition): Uses for patchouli essential oil include skin care for acne, athlete's foot, cracked and chapped skin, oily skin, dermatitis, weeping eczema, sores, wounds, and wrinkles. Use the oil in hair care, especially for dandruff and oily hair. The essential oil is also useful for relieving nervous exhaustion and stress-related complaints.

Aromatherapy For Healing the Spirit: In Traditional Chinese Medicine patchouli is warm in nature yet helps reduce inflammation. The oil is useful for restoring deficient Qi-energy in the Spleen-pancreas. "Psychologically, patchouli oil works through harmonizing the Element Earth and the Intellect (Yi), grounding and stabilizing the mind when overthinking and worry develop."

Aromatica: A Clinical Guide to Essential Oil Therapeutics, Volume I: Psychologically, patchouli stabilizes the mind and promotes realism and emotional security. The oil also promotes cognitive flexibility and sensory integration. Physically, the essential oil is a relaxant and restorative. In Traditional Chinese Medicine the essential function of patchouli is to nourish the Yin, resolve damp, and calm the Shen. Suggested blends:
For chronic stress-related conditions with anxiety, insomnia, debility, or burnout: patchouli + atlas cedarwood.
For chronic stress-related conditions with digestive symptoms: patchouli + petitgrain.
For varicose veins, including hemorrhoids: patchouli + geranium.
Subtle Aromatherapy: Patchouli has a strengthening and grounding effect on the first chakra while also affecting the second chakra as an aphrodisiac.

The Essential Guide to Aromatherapy and Vibrational Healing: Spiritually, patchouli helps you raise your consciousness and be more aware and present in the moment. Mentally, the essential oil brings focus and promotes action. Emotionally, the oil is uplifting.

Aromatherapy and Subtle Energy Techniques: Patchouli grounds and stabilizes, calms, and promotes creativity and sensuality. The oil is especially useful for the first chakra and promotes a strong connection with the physical body.
Mixing Essential Oils for Magic: Patchouli is both grounding and enlightening, helping transcend boundaries and connect with the Otherworld. The oil fosters growth, dispels negativity, and is especially supportive for divination and clairvoyance.

Patchouli Essential Oil Uses and Blends

For an uplifting blend that you can use as a perfume or in a diffuser, mix 3 drops patchouli and 1 drop rosemary.
Note: Patchouli is a thick oil and my clog some types of diffusers.

Aphrodisiac Blend
Diffuse this blend or add it to 1 tablespoon of carrier oil for a massage:

1 drop sandalwood essential oil
1 drop patchouli essential oil
1 drop jasmine essential oil
Source: Astrological Aromatherapy

Another Diffuser Blend

6 drops orange essential oil
3 drops patchouli
1 drop jasmine absolute
Source: Aromaweb Diffuser Recipes

Bath Salts

Makes four baths.

4 ounces (1/2 cup) Epsom salt
2 drops patchouli
2 drops copaiba essential oil

1 drop vetiver essential oil

Add the salt to a wide-mouth jar that holds four ounces (120 ml). Stir the essential oils into the salt. 

Source: Aromahead Newsletter

Woodsy Perfume Balm
Makes four 1-ounce tins of hard perfume balm

1 ounce (about 2 tablespoons) beeswax
6 tablespoons jojoba oil
5 drops cypress essential oil
6 drops juniper essential oil
6 drops patchouli essential oil
4 one-ounce tins with lids

Using a double boiler over low heat, melt and combine the beeswax and jojoba oil.
Remove the mixture from the heat.
Stir in the essential oils.
Pour the mixture into tins. Add lids. Let fully cool and harden before using (at least an hour).
Source: Essential Living

Body Butter
For a quick body butter, blend the following ingredients:

2 drops patchouli
2 drops myrrh essential oil

4 drops frankincense essential oil

1 tablespoon shea butter (You may need to soften the butter in a double boiler or microwave.)
Apply to skin as desired.
Source: Rocky Mountain Oils

Facial Scrub

Combine the following ingredients:
1/4 cup plain yogurt
1/4 cup cornmeal
5 drops patchouli essential oil

5 drops grapefruit essential oil

5 drops lavender essential oil
Apply a little of the scrub to your face and wash off.
Source: Dr. Axe 101 Ways to Use Essential Oils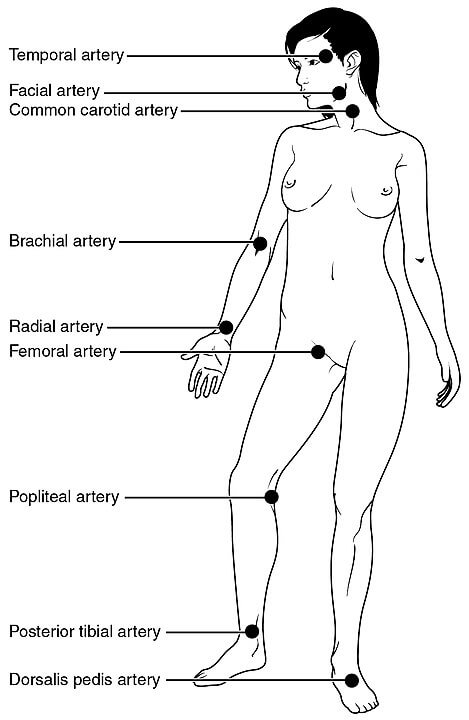 Pulse Points
(Source: OpenStax CNS - Anatomy & Physiology, CC BY 4.0)
Sleep Blend
Try this blend for a good night's sleep:
Combine 1 drop each of patchouli, lavender, and marjoram essential oils.
Dilute the essential oil blend with a few drops of carrier oil.
Apply the blend to your pulse points (see diagram).
Source: 10 Recipes with Patchouli Essential Oil — Suzanne Banks
Photo Credit: Forest & Kim Starr, Starr Environmental, [CC BY 3.0], via Wikimedia Commons