Guide To Oregano Essential Oil and Its Benefits and Uses

Oregano essential oil (Origanum vulgare) is a strong oil that may have many benefits but also needs to be used cautiously. The fragrance creates a feeling of security, according to the Essential Oils Desk Reference.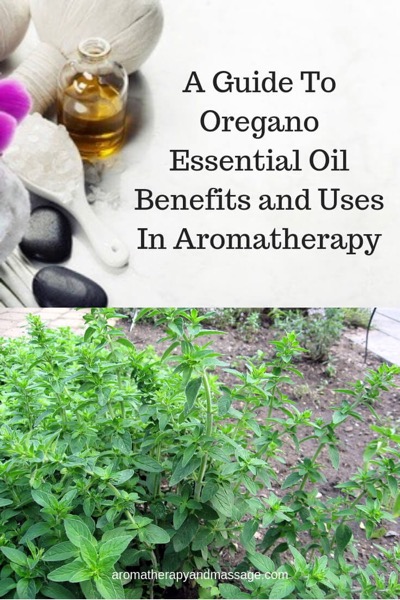 Basic Oregano Facts
Plant family: Lamiaceae/Labiatae

Production: Steam distilled from the whole plant.

Aroma: Herbaceous, sharp

Perfume/Aromatic note: Middle

Is oregano safe to use during pregnancy? No.

Is oregano essential oil safe for children? Do not use with children under age 2, according to Essential Oil Safety. Some sources suggest caution for children under the age of 10.

Cautions: Oregano can irritate skin and even burn if used improperly.  Do not use on hypersensitive, diseased, or damaged skin. Some sources recommend avoiding skin application, though Essential Oil Safety states up to 1.1% concentration is OK for non-sensitive skin.
The most commonly available oregano oil is the carvacrol/thymol chemotype. However, the oil also has two other chemotypes: thymol/alpha-terpineol and linalyl acetate/linalool. Know what you are buying.

Main components vary depending on the source and chemotype of the oil. For Origanum vulgare subsp. hirtum:

Carvacrol                  61.6–83.4%
p-Cymene                 4.9–9.7%   
Gamma-Terpinene  3.8–8.2%

Source: Essential Oil Safety, 2nd Edition

Oregano Aromatherapy Benefits

The Essential Guide to Aromatherapy and Vibrational Healing: Spiritually, use oregano in a synergistic blend to open and clear the throat chakra. The essential oil is helpful for creating mental balance and a tonic for the nerves. Emotionally, the oil helps clear feelings of weakness and hopelessness.
Aromatica: A Clinical Guide to Essential Oil Therapeutics, Volume 2: Psychologically, oregano promotes willpower, courage, and self-confidence. The oil also simulates the mind and promotes alertness. Physically, the essential oil stimulates hypotonic/weak conditions and warms weak/cold conditions. In Traditional Chinese Medicine the essential function of the oil is to tonify the Yang, warm the interior, and strengthen the Shen.
The Complete Book of Essential Oils and Aromatherapy: Oregano is useful to help relieve infections and muscle pain.
Oregano Essential Oil Uses and Blends

Safe uses for oregano essential oil include diffusion and in cleaning products.

Use oregano oil in an essential oil diffuser during the winter to strengthen your respiratory system.
Blend for diffusing if you have the flu:

5 drops oregano
5 drops eucalyptus radiata essential oil
5 drops ravensara essential oil
2 drops clove bud essential oil
2 drops cinnamon leaf essential oil

Blend to use on ringworm (fungus):

5 drops oregano
10 drops palmarosa essential oil
6 drops geranium essential oil
5 drops tea tree essential oil
3 drops thyme linalol essential oil
2 tablespoons tamanu oil

Cleaning:
Add oregano essential oil to cleaning blends to disinfect and help prevent mold/mildew. Here's one blend:

5 drops oregano
5 drops lemon essential oil
5 drops orange essential oil
5 drops frankincense essential oil
1/2 tablespoon apple cider vinegar
1 cup distilled water

Mix all ingredients together in an eight-ounce glass spray bottle. Shake well before each use.
Source: Loving Essential Oils
Steam inhalation and gargle:
Use a few drops in a steam inhalation or diffuser to help clear sinuses and loosen phlegm, according to Essential Oils: All-Natural Remedies.
The book also suggests this gargle to reduce bad breath:

1 tablespoon sunflower oil
1 drop peppermint essential oil
1 drop oregano

Add a few drops of this blend to about a teaspoon of cold water. Swish around in your mouth for 3 to 5 minutes. Spit out the blend and then rinse your mouth.
Warts:
To get rid of a wart, Advanced Aromatherapy: The Science of Essential Oil Therapy suggests dabbing a small drop of oregano directly on the wart, making sure not to get the essential oil on surrounding skin.
Keep Out Bugs!

10 drops oregano essential oil
10 drops citronella essential oil
10 drops peppermint essential oil
2 tablespoons witch hazel
2 tablespoons distilled water
1 teaspoon jojoba oil

Blend all ingredients in a four-ounce spray bottle. Shake gently. Spray where bugs are a problem. Shake before each use. Adapted from Rocky Mountain Oils.

Photo Credit: Dezidor [CC BY 3.0], from Wikimedia Commons