Using Antiviral Essential Oils for Herpes and Cold Sores

Antiviral essential oils may offer a way to help deal with some viruses, including colds and flu.
This article looks at the herpes virus. Herpes simplex is responsible for cold sores around the mouth (herpes simplex type 1) and genital herpes (herpes simplex type 2). Herpes zoster is responsible for causing chicken pox and shingles.
Click here for studies that support the effects of antiviral essential oils.
Always consult a healthcare provider as appropriate.

Essential Oils for Herpes of the Genitals

Advanced Aromatherapy describes the effectiveness of essential oils against herpes and recommends the following blend:
1 drop geranium essential oil

1 drop melissa essential oil

1 drop lavender essential oil
10 drops tea tree (Melaleuca alternifolia) essential oil
Start by applying the blend undiluted to the affected area several times a day. As your skin starts to dry out, switch to using a mixture of 90 percent carrier oil and 10 percent of the essential oil blend. If you touch the blisters with your hands, make sure you wash them thoroughly afterward to avoid spreading the virus.
You'll get the best results if your start using the oils at the first sign of an outbreak.
Essential Oils for Cold Sores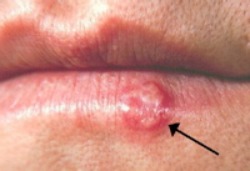 If you are looking for an essential oil found effective in medical studies for healing cold sores, the answer is melissa (lemon balm). However, melissa is quite expensive. Less costly essential oils for cold sores that also may help them heal include:
Bergamot 
Geranium 
Myrrh 
Niaouli 
Peppermint 
Ravensara 
Tea tree 
Dilute the essential oil in a carrier oil and apply to the cold sore several times a day. 
To get the synergistic effects of several oils, try one of the following aromatherapy blends. For all of the blends, combine the ingredients in a small, dark glass bottle. Apply to cold sore two or three times a day with a swab or cotton ball.
Blend 1

2 drops melissa essential oil

2 drops Eucalyptus globulus essential oil

2 drops tea tree essential oil

1 tablespoon vodka (you could probably also use a carrier oil)
Source: Massage & Aromatherapy: Simple Techniques for Home
Blend 2

1 drop geranium essential oil
2 drops bergamot essential oil
2 drops tea tree essential oil
4 drops Eucalyptus citriodora essential oil
4 drops niaouli essential oil
2 tablespoons carrier oil (calendula-infused oil is most effective)
Note: You can also use this aromatherapy blend for shingles.
Blend 3

Source: Aromatherapy: A Complete Guide to the Healing Art
20 drops tea tree essential oil
10 drops myrrh essential oil
10 drops geranium essential oil
4 drops peppermint essential oil
1 teaspoon echinacea tincture (or calendula-infused oil, if the tincture stings too much)
Source: Aromatherapy for Dummies
Essential Oils for Shingles

Caution: If shingles develop on your forehead or around your eyes, see an eye doctor immediately, because shingles can cause blindness.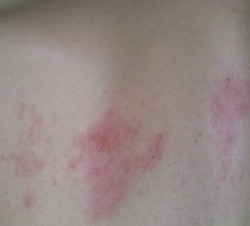 For shingles, The Healing Intelligence of Essential Oils recommends an equal blend of Ravintsara (Cinnamomum camphora) essential oil and Calophyllum inophyllum oil (also called Foraha, Tamanu, or Kamani oil). Apply the blend frequently to the lesions (four or five times the first day, decreasing frequency as the lesions start to heal).
Here's another way to use essential oils for shingles from Massage & Aromatherapy: 
3 drops lavender essential oil
3 drops bergamot essential oil
2 drops patchouli essential oil

1 drop Eucalyptus globulus essential oil
3 tablespoons aloe vera gel
One 1000-IU vitamin E capsule
Puncture the vitamin E capsule and squeeze out the oil. Mix all ingredients together. Apply with cotton ball.
From the Essential Oils Desk Reference:
10 drops German chamomile essential oil
5 drops lavender essential oil
4 drops sandalwood essential oil
2 drops geranium essential oil
1/4 teaspoon carrier oil
Apply 6 to 10 drops on affected area, back of neck, and down the spine one to three times a day.
Antiviral Essential Oils and Their Components

Antiviral essential oils contain specific components. According to Kurt Schnaubelt, Ph.D., in Advanced Aromatherapy, the following components can fight viruses:

Linalyl acetate
Linalol
Gamma-terpinene
Eugenol
Citronellol
Citral
Cinnamic aldehyde
Carvone
Beta-caryophyllene
Anethol
Alpha-sabines
Essential oils with possible antiviral effects include:

Thyme
Tea tree
Sage
Rosemary
Rose
Oregano
Myrrh
Melissa
Marjoram
Lemongrass
Lemon
Lavender
Juniper
Hyssop decumbens
Geranium
Eucalyptus
Clove
Cinnamon bark
Cardamom
Black pepper
Bergamot
Photo Credits: Herpes visualization photo from 123RF. Other photos Public Domain via Wikimedia Commons.