Guide To Lemongrass Essential Oil Benefits and Uses

"With the utter simplicity of truth, and in understanding gentleness, [lemongrass] reminds us that we are who we are, and that all life's experiences make the whole," writes aromatherapist Valerie Ann Worwood in Aromatherapy For the Soul. She says the emotional benefits of lemongrass essential oil are to encourage upliftment, calm, balance, and integration.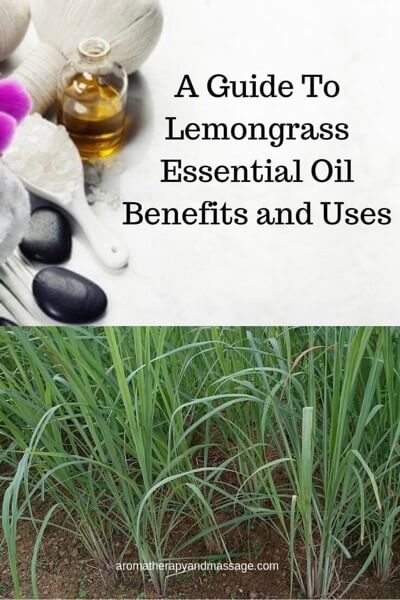 Basic Lemongrass Facts
Plant family: Poaceae/Gramineae (a family of tropical grasses that also includes citronella, palmarosa, and vetiver)

Production: Steam distilled from from fresh or partly dried leaves of the lemongrass plant.

Aroma: Citrus/lemony, fresh, earthy

Perfume/Aromatic note: Top

Is lemongrass safe to use during pregnancy? None of my aromatherapy books gave a definitive answer. Some online sources say to avoid lemongrass while others suggest a small amount of highly diluted essential oil may be OK. Consult a professional.

Is lemongrass essential oil safe for children? Do not use on the skin of children under age 2, according to Essential Oil Safety.

Cautions: For a few people, lemongrass may cause skin irritation or sensitization. Test on a small patch of skin before using on larger areas. Do not use this essential oil on hypersensitive, diseased, or damaged skin. Generally not recommended for use in baths due to possible skin irritation/sensitization.
This essential oil is available in two varieties: West Indian lemongrass (Cymbopogon citratus DC) and East Indian lemongrass (Cymbopogon flexuosus Nees ex Steud). Their properties are similar.

Main components:

East Indian

geranial         45.1–54.5%
neral             30.1–36.1%
geranyl acetate 0.1–4.0%
geraniol          0.2–3.8%
Source: Essential Oil Safety, 2nd Ed.
West Indian
geranial       36.7–55.9%
neral           25.0–35,2%
beta-myrcene  5.6–19.2%
geraniol          0–6.7%
Lemongrass Aromatherapy Benefits
Aromatherapy: A Complete Guide to the Healing Art: Lemongrass eases pain from indigestion, muscle cramps, rheumatism, nerve conditions, and headaches. Use lemongrass essential oil for skin infections, acne, and oily hair. The oil also helps relieve stress and nervous exhaustion.

Aromatherapy for Dummies: Lemongrass repels insects and discourages the growth of fungus.

The Complete Book of Essential Oils and Aromatherapy: Uses for lemongrass essential oil include relieving muscle aches and pains, gastrointestinal disorders, indigestion, cellulite, fever, physical and mental exhaustion, acne, pimples, and insect bites. The oil is also an insect repellent.

The Encyclopedia of Essential Oils (updated edition): Uses of lemongrass essential oil include helping relieve acne, athlete's foot, scabies, excessive perspiration, flatulence, muscle aches, indigestion, nervous exhaustion, and stress-related conditions. The oil is also an insect repellent.

Aromatherapy Bible: Lemongrass is cooling, refreshing, stimulating, energizing, and uplifting. The oil deodorizes and is also an insect repellent. The toning and tightening actions of lemongrass essential oil benefits skin and connective tissue—use the oil in massage blends and compresses for strains, sprains, and sports injuries.
Aromatica: A Clinical Guide to Essential Oil Therapeutics, Volume I: Psychologically, lemongrass promotes emotional renewal, discernment, insight, foresight, alertness, and optimism. Physically, the essential oil cools and calms hypertonic/tense and hot/excessively strong conditions. It also decongests congestive/damp conditions. In Traditional Chinese Medicine, the essential function of lemongrass is to regulate the Qi, clear heat, and harmonize the Shen.
The Essential Guide to Aromatherapy and Vibrational Healing: Spiritually, use lemongrass to clear your mind and space before contemplation, meditation, or prayer. The essential oil also promotes mental clarity, joy, and enthusiasm. Emotionally, use the oil to improve feelings of belonging and working well with other people.

Aromatherapy and Subtle Energy Techniques: Lemongrass clears and cleanses. It also calms while uplifting. The oil is especially useful for the sixth chakra to promote mental clarity and flexibility and support intuition.
Mixing Essential Oils for Magic: West Indian lemongrass brings clarity to prepare for divination and psychic work, aids in contacting spirits, supports clairvoyance, and helps open up intuition.

Lemongrass Essential Oil Uses and Blends

 Aromatica suggests the following blends with lemongrass essential oil:

Blend with lemon eucalyptus essential oil for acute arthritis.
Blend with may chang essential oil to relieve indigestion with pain and bloating.
Blend with marjoram essential oil for relieving muscle cramps and pain.
Blend with atlas cedarwood essential oil to make a lymphatic decongestant for swollen glands.
Blend with geranium and tea tree essential oils to get rid of fungus.
Lemongrass Essential Oil Blends for Cleaning
To make a deodorizing room spray: Add 30+ drops of lemongrass and 30+ drops of bergamot essential oil to a 2-ounce dark-colored glass misting bottle of distilled or purified water. Shake well and spray into the air as desired.

Grout Scrub

1 cup baking soda
3 tablespoons castile soap
1 tablespoon white vinegar
10 drops pine essential oil
10 drops tea tree essential oil
10 drops lemongrass

Wide-mouth plastic container/tub with fitted top that holds minimum of 10 ounces
Pour the baking soda into the container.
Mix in the castile soap.
Mix in the white vinegar (it will bubble a little).
Add all the essential oils and mix.

Store covered. To use, place a small handful of the scrub on an abrasive sponge and clean the grout. Wear gloves to avoid irritating your hands.

Source: Essential Living

Bug/Insect Sprays

Mosquito Repellent Spray

100 drops (1 teaspoon) lemongrass essential oil
100 drops eucalyptus citriodora essential oil
100 drops citronella essential oil

1 tablespoon coconut emulsifier or other emulsifier of choice
4-ounce spray bottle
Distilled water

Add essential oils and emulsifier to the spray bottle.
Fill the bottle with distilled water.
Shake well before use. Apply every 1 to 2 hours.

Source: Annette Davis et al. "Natural Bug Repellent And Bug Bite Relief Blends." NAHA Aromatherapy Journal, Summer 2013, p. 59.
 
Homemade Bug Spray

1/2 cup witch hazel
1/2 cup apple cider vinegar
40 drops lemongrass essential oil (or 20 drops each of lemongrass and citronella)
8-ounce glass spray bottle

Add all the ingredients to the spray bottle. Shake well.
To use, shake and then spray your body, avoiding your eyes and mouth.

Adapted from Essential Oil DIY Recipes by Dr. Axe
Body and Hair Care

Here are two body oil blends from aromatherapist Suzanne Banks:

Before-exercise motivational massage oil: Blend 2 drops lemongrass, 2 drops rosemary, and 4 drops orange in one tablespoon carrier oil.       
After-exercise massage oil: Blend 3 drops lemongrass, 2 drops marjoram, and 2 drops lavender in one tablespoon carrier oil.
Lemongrass essential oil may help get rid of dandruff. You can add 10 drops to an 8-ounce bottle of shampoo or conditioner. To make a hair conditioning oil, blend 3 drops lemongrass into one tablespoon jojoba oil. Massage the blend into your hair, wait 10 to 20 minutes, and then shampoo as usual.

Photo Credit: Mokkie [CC BY-SA 4.0], via Wikimedia Commons