Guide To Kunzea Essential Oil Benefits and Uses

Kunzea essential oil (Kunzea ambigua), also called white cloud, has properties similar to tea tree oil.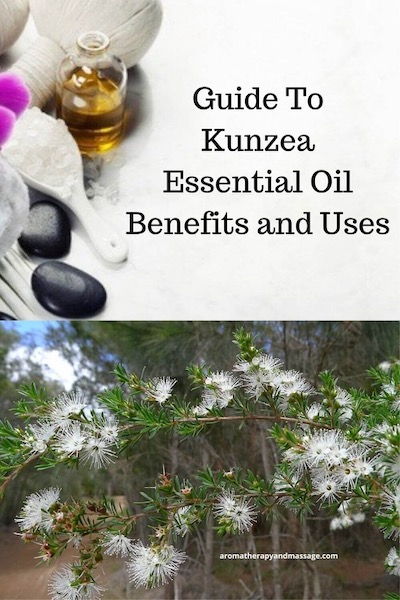 Plant family: Myrtaceae

Production: Steam distilled from the leaves of a plant native to the coasts of Australia and Tasmania.

Aroma: Woody, eucalyptus-like

Perfume/Aromatic note: Top to Middle

Is kunzea safe to use during pregnancy? Consult a professional.

Is kunzea essential oil safe for children? Yes, for children age 2+, according to Revive Essential Oils.

Cautions: The oil can cause skin sensitization if it becomes oxidized. Do not use old and oxidized oils.

Main components:

alpha-pinene 33.2%
1,8-cineole    14.8%
viridiflorol      11.5%
globulol         11.2%

Source: Essential Oil Safety, 2nd Edition
Kunzea Essential Oil Benefits
The Heart of Aromatherapy: Uses of kunzea essential oil include supporting the respiratory system, clearing mucous and congestion, relieving sinus headaches, calming inflammation, soothing sore muscles, promoting relaxation and inspiration, and repelling insects.

Aromatica: A Clinical Guide to Essential Oil Therapeutics, Volume 2: Kunzea may help relieve painful arthritic and rheumatic conditions involving muscle and tissue tension and is useful for mild-to-moderate stress-related problems, including insomnia relief and mild anxiety relief. The essential oil may also help heal wounds, scars, ulcers, cuts, abrasions, insect bites, acne, and minor burns.

Psychologically, the oil acts as a gentle stimulant in hypotonic/weak conditions involving mental fatigue with loss of concentration, lethargy, low self-confidence, or loss of motivation.

The Complete Guide to Aromatherapy, Third Edition, Vol. 1: Kunzea eases muscle pain and pain from insect bites, minor burns, recurring headaches, arthritis, and soft tissue injuries. The oil can also help reduce nervous tension, stress, and mild anxiety and help alleviate deep emotional pain caused by suppression. Energetically, the oil is cooling and indicated for hot/inflamed conditions. Suggested essential oil blends with kunzea:

To relieve anxiety, stress, or nervous tension: bergamot, geranium, lavender, lemon, grapefruit, neroli, sweet orange, or sandalwood.
To relieve muscle aches and pains: black pepper, ginger, lavender, lemongrass, pine, rosemary, or peppermint.
To alleviate sensitive and inflamed skin: German chamomile, helichrysum, lavender, neroli, or sandalwood.

Stillpoint Aromatics: Energetically, use kunzea to support the second chakra (relationships, creation energy), fourth chakra (unconditional love), and fifth chakra (speaking truth).

Kunzea Essential Oil Uses and Blends
Diffuse kunzea to purify the air and support the respiratory system.

Note: Before using the essential oil on large areas of skin, do a small patch test.

Relieve Bug Bites

Combine 30 drops kunzea with 2 tablespoons tamanu carrier oil.
Source: Eden's Garden

Face Cleanser

Add 1 or 2 drops kunzea to 12 drops of carrier oil. Rub the blend onto your face with a cotton makeup pad, and then rinse face.
Source: Young Living

Foot Bath

2 tablespoons small grain salt of choice (such as Pink Himalayan or Epsom)
2 tablespoons jojoba oil
2 drops kunzea essential oil
2 drops ylang ylang essential oil
2 drops sandalwood essential oil
Place the salt in a small glass bowl or jar.
Add the jojoba.
Drop in the essential oils.
Stir gently.
Add salt blend to your foot bath.
Adapted from Aromahead

Post-Workout Massage Oil

5 drops kunzea
3 drops black pepper essential oil   
2 drops pine essential oil   
2 drops sweet orange essential oil   
2 teaspoons carrier oil

This is an adult-strength massage oil. For children, add another teaspoon of carrier oil. Adapted from Plant Therapy.

Photo Credit: John Tann from Sydney, Australia, CC BY 2.0, via Wikimedia Commons