Some links on this site are affiliate links. As an Amazon Associate and affiliate with other programs, I may earn revenue from qualifying purchases. This does not affect the price you pay. Privacy Policy / Disclosures

A Guide To Jasmine Essential Oil and Its Benefits and Uses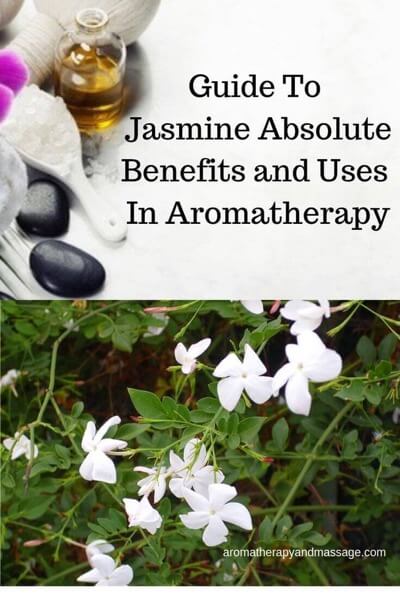 Although people commonly refer to jasmine essential oil, jasmine oil is technically an absolute. Essential oils are extracted from plants using distillation, which is not possible with the fragile jasmine flowers. Instead, the process of extracting the oil from the flowers involves using a solvent.

"Jasmine softly embraces the spirit and heart, bringing greater understanding of the conscious mind and all its foibles," writes aromatherapist Valerie Ann Worwood in Aromatherapy For the Soul.

Worwood says the emotional benefits of jasmine (Jasminum officinale or Jasminum grandiflorum) are to encourage upliftment, optimism, openness, sensitivity, harmony, awareness, inspiration, and joy.
Basic Jasmine Absolute Facts
Plant family: Oleaceae

Production: Most commonly, solvent extraction of the flowers produces an absolute. A CO2 extract is also available.  

Aroma: Sweet, rich, floral. Some people find the undiluted scent overpowering, but the aroma is more subtle when the oil is diluted.

Perfume/Aromatic note: Middle

Is jasmine safe to use during pregnancy? No, according to Aromatherapy and Massage For Mother and Baby, but the oil is safe for labor and postpartum care. Frequently recommended in a massage oil to take the edge off labor pains.

Is jasmine safe for children? Do not use with babies.

Cautions: Moderate risk of skin sensitization. A few people with dermatitis have had allergic reactions to the oil.

Main components:
Benzyl acetate       15.0–24.5%
Benzyl benzoate     8.0–20.0%
Phytol                    7.0–12.5%
Squalene 2,3-oxide  5.8–12.0%
Isophytol                5.0–8.0%
Source: Essential Oil Safety, 2nd Ed.
Jasmine Aromatherapy Benefits
Aromatherapy: A Complete Guide to the Healing Art: Jasmine reduces menstrual and other muscle cramps. In skin care, the essential oil is good for dry, sensitive, or mature skin. The aroma soothes headaches, insomnia, depression, anger, fear, grief, and worry. Aphrodisiac.

The Complete Book of Essential Oils and Aromatherapy: Use jasmine for menstrual cramps, abdominal spasm, nervous tension, nervousness, stress-related conditions, lethargy, apathy, low self-esteem, anxiety, and depression.

The Encyclopedia of Essential Oils (updated edition): Use in skin care for dry, greasy, irritated, or sensitive skin. May help reduce catarrh, coughs, hoarseness, and laryngitis. The oil can help relieve menstrual cramps, lack of sexual desire, labor pains, depression, nervous exhaustion, and stress-related conditions.

Aromatherapy For Healing the Spirit: In Traditional Chinese Medicine jasmine relaxes and supports Qi-energy of the heart, calming nerves, releasing tension, and uplifting the Mind (Shen). The oil is one of the most effective for relieving depression, nervous anxiety, and restlessness. Jasmine is a renowned aphrodisiac for both women and men and can reawaken passion and reunite it with love.
Aromatica: A Clinical Guide to Essential Oil Therapeutics, Volume 2: Psychologically, jasmine promotes emotional security and strength and also promotes disinhibition and integration. Physically, the oil restores hypotonic/weak conditions. In Traditional Chinese Medicine the essential function of this oil is to nourish the Blood, animate the Heart, and strengthen the Shen.

Subtle Aromatherapy: Jasmine brings spirituality to sexuality. "With jasmine we are helped to understand that there is no division between physical and Divine love."

The Essential Guide to Aromatherapy and Vibrational Healing: Spiritually, jasmine can help realign you with the Divine feminine and lessen subconscious fears. Mentally, the oil can help boost your self-confidence and give you the courage to put good thoughts into action. Emotionally, jasmine increases the courage you need to embrace your magnificence.

Aromatherapy and Subtle Energy Techniques: Jasmine calms, uplifts, harmonizes, and promotes creativity and a sense of wholeness. Especially useful for the second chakra.
Astrological Aromatherapy: Jasmine's calming and sedative properties make it a great choice when Leo needs to unwind.

Jasmine can diminish fear, help you accept yourself, and boost your self-esteem. "It helps us to release our inhibitions," according to clinical aromatherapist Amy Emnett. "It is powerful in times of grief." ("Conquering the Fear Within." NAHA Aromatherapy Journal, Summer 2017.2, p. 19.)

Jasmine Oil Uses and Blends

Here are four suggestions for using jasmine:
Make a perfume by blending the oil in a some carrier oil.
Diffuse the oil to relax or create a romantic atmosphere.
Add a few drops of the oil to your hair conditioner to nourish your hair and scalp.
Make a massage oil for a general anxiety-reducing massage or to use for specific abdominal/lower back massage to reduce nervous tension, anxiety, and depression during PMS.

Linen Spray For Sleep

2 tablespoons distilled water
2 drops jasmine oil
5 drops frankincense essential oil
5 drops cypress essential oil
Add all ingredients to a one-ounce (30 ml) spray bottle. Close the bottle and shake gently. Spray the blend on your sheets and under your pillow. You can also use as a room spray.

Source: Aromahead Newsletter

Scar-Reducing Body Butter

4 tablespoons shea butter or coconut oil
10 drops jasmine oil
10 drops frankincense essential oil
small glass container or jar
In a double boiler melt the shea butter or coconut oil.
Remove from heat and let cool slightly.
Stir in the essential oils.
Place the mixture in the refrigerator until cooled.
Remove from fridge. Use a hand mixer on high speed to whip the oils into a white cream.
Pour the body butter into the glass container and keep it at room temperature to use as desired on scars.
Adapted from Dr. Axe Essential Oils Guide

Buy Jasmine Essential Oil
I recommend jasmine essential oil from Young Living.
Photo Credit: Javier martin - Own work, Public Domain via Wikimedia Commons