Guide To Grapefruit Essential Oil Benefits and Uses

"Grapefruit rouses the human spirit from slumber," writes aromatherapist Valerie Ann Worwood in Aromatherapy For the Soul. She says the emotional benefits of grapefruit essential oil (Citrus x paradisi) are to encourage joy, positivity, confidence, attunement, generosity, spontaneity, cooperation, and upliftment.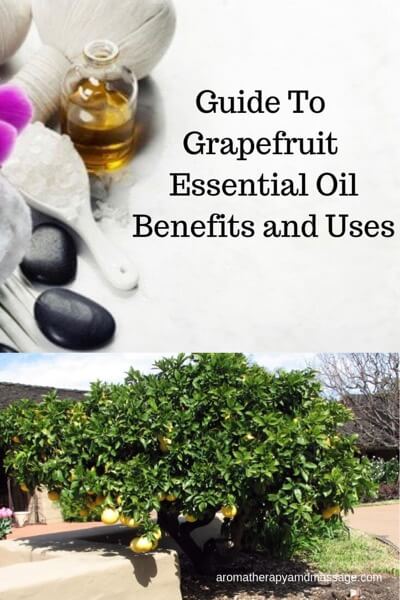 Basic Grapefruit Facts
Plant family: Rutaceae

Production: Mechanically expressed from the peels of grapefruits.

Aroma: Citrus, fresh

Perfume/Aromatic note: Top

Is grapefruit safe to use during pregnancy? Yes, according to IFPA Pregnancy Guidelines.

Is grapefruit essential oil safe for children? Yes. See caution about photosensitivity.

Cautions: Grapefruit essential oil can cause skin to become photosensitive. That means your skin is more likely to burn when exposed to UV light from the sun or tanning beds. The risk is low if you use less than a four percent dilution (4 drops in a teaspoon of carrier oil). Otherwise, avoid direct sun and tanning beds for at least 12 hours after applying grapefruit to your skin.

Avoid old or oxidized grapefruit oils, as they may cause skin sensitization.

Main components:
(+)-limonene  84.8–95.4%
beta-myrcene 1.4–3.6%
bergapten      0.012–0.19% (the compound that causes photosensitivity)
Source: Essential Oil Safety, 2nd Ed.
Grapefruit Aromatherapy Benefits

Aromatherapy: A Complete Guide to the Healing Art: Children enjoy the scent of grapefruit and it may be useful for adults doing inner child work. The essential oil is cleansing and may promote weight loss.

The Complete Book of Essential Oils and Aromatherapy: Grapefruit may help relieve muscle fatigue, muscle weakness, cellulite, migraine, headaches, fluid retention, IBS, physical exhaustion, mental exhaustion, depression, and stress. May aid with weight loss.

The Encyclopedia of Essential Oils (updated edition): Grapefruit essential oil for skin may help tone the skin and relieve acne, oily skin, or congested skin, as well as promote hair growth. The oil is also useful as part of a muscle rub before exercise and can help relieve muscle fatigue. Other uses include help with relief from depression, headaches, nervous exhaustion, and performance stress, plus the promotion of weight loss.

Aromatherapy Bible: Uses of grapefruit essential oil include adding it to blends for lymphatic drainage massage to help reduce water retention and cellulite. Physically, the oil is uplifting, cleansing, and stimulating. Psychologically, grapefruit is refreshing and reviving and can help relieve depression, stress, nervous exhaustion, and tension.

Aromatherapy For Healing the Spirit: In Traditional Chinese Medicine grapefruit oil is cooling, cleansing, and decongesting and may help relieved an overheated Liver and sluggish lymphatic system. The oil helps the body get rid of excess fluids and break down fats. Grapefruit essential oil skin benefits include helping improve oily skin, acne, and stretch marks. Grapefruit smooths the flow of stagnant Qi-energy, which can help relieve tension, frustration, irritability, and moodiness. The oil's energy is cool and dry and its main element is Wood.
The Essential Guide to Aromatherapy and Vibrational Healing: The high vibration of grapefruit helps you raise your consciousness and awareness to receive spiritual messages. The essential oil sharpens memory and mental clarity and also opens your heart to receive blessings, joy, and happiness.

Aromatherapy and Subtle Energy Techniques: Grapefruit clears energy blocks, uplifts, and promotes optimism. Especially use for the sixth chakra to clear the mind, promote mental clarity, and support intuition.
Mixing Essential Oils for Magic: Grapefruit heightens clairaudience and other psychic skills. The oil supports inspiration and the ability to connect with your inner child. Use this essential oil to increase overall strength, enhance spirituality, and manifest abundance.
Grapefruit Essential Oil Uses and Blends

To relieve a hangover, blend grapefruit and rosemary essential oils into a morning bath, according to The Aromatherapy Bible.

Grapefruit Bath Salts
Use a two-ounce glass jar.
4 tablespoons pink Himalayan salt
1 teaspoon jojoba oil
1 drop vetiver essential oil
4 drops grapefruit essential oil

Put the salt into the jar. Add the jojoba and essential oils. Stir gently with a glass stirring stick or the handle of a stainless steel spoon. Use the entire jar for one bath.

Source: Aromahead

Soothing Salt Scrub
This body scrub soothes sore muscles after a workout.

4 tablespoons salt
2 tablespoons jojoba oil
5 drops grapefruit
10 drops frankincense essential oil
One 4-ounce PET plastic jar

Combine the salt and carrier oil in the jar.
Add the essential oils and stir vigorously with a spoon.
Use a small handful while you're in the shower or bath to scrub away dead skin and soothe muscle aches. Do no use on your face. Rinse well.

Source: Essential Living

Feel-Better Bathing Salts
These bath salts have a strong aroma designed to sooth tired and sore bodies.
40 drops grapefruit

25 drops lavender essential oil
12 drops black pepper essential oil
10 drops basil essential oil
1.5 cups Epsom salt
1.5 cups coarse sea salt
Add all ingredients to a glass jar. Blend thoroughly. Store away from light and heat.

To use: Draw your bath. As you are ready to get in the tub, stir in 1 to 3 cups of the salts. Soak until you feel soothed.

Source: Katie Vie. "Seasonal Self Care." NAHA Aromatherapy Journal, Spring 2013.1, p. 7.

Deodorizing Room Spray
Almost fill a two-ounce spray bottle with distilled water and add the following essential oils:

8 drops grapefruit
7 drops lemon
5 drops orange
Shake vigorously before spraying. Especially good for bathrooms. Source: Essential Living

Insomnia Diffuser Blend
Diffuse this aromatherapy blend in the bedroom for up to 30 minutes before you go to bed.

2 drops grapefruit essential oil
4 drops ho wood (Cinnamomum camphora) essential oil
3 drops may chang (Litsea cubeba) essential oil
2 drops ylang-ylang essential oil
1 drop vetiver essential oil

Combine the oils in a small bottle. Shake well. Add 2–3 drops of the blend
to an aromatherapy diffuser, according to the manufacturer's guidelines.

Source: Anna Doxie, RA. "Using Holistic Phyto-Aromatherapy to Support Lyme Disease." NAHA Aromatherapy Journal, Spring 2017.1, p. 48.

Possible Appetite Suppressant
To a 5-ml colored glass euro-dropper bottle add the following essential oils:
35 drops grapefruit
35 drops lemon
30 drops orange
1 drop patchouli
Close cap tightly and shake bottle vigorously to blend essential oils. Let the oils  synergize for eight or more hours before using.

To use: Put 1 to 3 drops of the blend on a cotton ball, on a smell strip, or in a small 1-dram colored glass vial of Celtic salt (cap tightly and shake to disperse oils). Inhale the aroma for 10 to 15 seconds. Repeat as needed.
This blend is also effective diffused into the air.

Source: "Aromatherapy DIY Guide" by KG Stiles, Certified Clinical Aromatherapist

Grapefruit Tree Photo Credit: Jean/Flickr CC BY 2.0