How to Use Essential Oils Based on
the Five Chinese Elements

The five Chinese elements of life — earth, metal, water, wood, and fire — are phases or movements of yin and yang energy. Yin
represents condensing energy, the material and substantial. Yang represents expanding energy, the immaterial and non-substantial.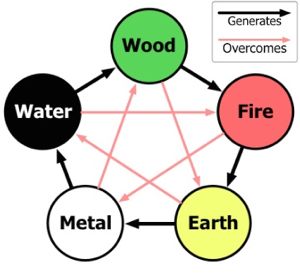 When the five elements flow in balance, yin and yang are balanced, and you are healthy. Imbalances lead to problems.
Here's someinformation about the five Chinese elements, potential imbalances, and essential oils to help correct imbalances. Primary sources are Aromatherapy for Healing the Spirit, aromatherapist KG Stiles, and The Healing Intelligence of Essential Oils.
You can diffuse the essential oils or dilute some of them in carrier oil for a massage.

Earth
Earth is energy in its descending yin stage. Balance in the earth element supports healthy survival instincts and a grounded and connected feeling. This element's associated organ meridians are Stomach (yang) and Spleen (yin).
Imbalances may lead to:
Sluggish digestion. The essential oils of cardamom, fennel, and thyme may help.
Continually worrying about your children and neglecting yourself. Try lemon essential oil.
Excessive need for sympathy and support. Use marjoram or vetiver essential oil.
Overthinking and mentally going over and over things. Frankincense or lemon essential oil may help.
To balance earth deficiency: caraway, coriander.
To balance earth excess: cardamon, patchouli, petitgrain.
Metal
Metal is energy in a gathering and synthesizing yin phase of transformation. The element's power is movement and integration. A balanced metal element supports compassion and generosity for yourself and others. Metal's organ meridians are Large Intestine (Yang) and Lung (Yin).
Imbalance in metal can lead to frequent colds. Use eucalyptus or tea tree oil.
To balance metal deficiency: fir, niaouli, pine, thyme ct. linalool.
To balance metal excess: citronella, eucalyptus, myrtle, ravintsara.
Water
Water is condensed energy in a static yin phase. It's a dormant state filled with latent power. A balanced water element supports your trust in the natural flow of life. Water's organ meridians are Bladder (Yang) and Kidney (Yin).
Imbalances in water can lead to:
Edema (swelling). Juniper or fennel essential oils may help.
A feeling of apprehension and overwhelm. Try juniper.
Hyperactivity and feeling unsettled. Try geranium essential oil.

To balance water deficiency: basil, clary sage, geranium.
To balance water excess: cedarwood, juniper.
Wood
Wood is rising energy in an accelerating yang phase. Wood is about motivation, growth, and harmony in the flow of life. A balanced wood element supports your trust in the life process. Wood's organ meridians are Gall Bladder (Yang) and Liver (Yin).

If energy isn't flowing, essential oils with relaxing properties, such as lavender, may help.

To balance wood deficiency: carrot seed, chamomile, rose, vetiver.
To balance wood excess: chamomile, lavender, lemon, spikenard.
Fire
Fire is expansive, radiant energy of yang at its peak. The element's power is transformation. Imbalanced fire leads to poor appetite and digestion. Fire's organ meridians are Small Intestines (Yang) and Heart (Yin), and also includes Triple Warmer (Yang) and Pericardium (Yin).
Imbalances may lead to:
Nervous exhaustion and insomnia. Use cooling, calming essential oils, such as lavender, neroli, and melissa.
Apathy. Try jasmine and oils with similar properties.
Poor self-image and low self-esteem. Use rose essential oil.
To balance fire deficiency: frankincense, sage, sandalwood.
To balance fire excess: lemon verbena, marjoram, neroli, orange, valerian.
Essential Oils Classified By the Five Chinese Elements
Note that some oils are associated with more than one element.

Water
cedarwood geranium
ginger
juniper
thyme
Wood
bergamot
chamomile
helichrysum
grapefruit
orange
peppermint
yarrow

Metal
clary sage
cypress
eucalyptus
hyssop
pine
tea tree
thyme

Fire
jasmine
laurel
lavender
melissa
neroli
palmarosa
rose
rosemary
spikenard
ylang ylang

Earth
benzoin
caraway
coriander
fennel
frankincense
lemon
marjoram
myrrh
patchouli
peppermint
sandalwood
vetiver