DIY Essential Oil Body Lotion

Making essential oil body lotion lets you choose the specific essential oils you want in the lotion. You can also know you are buying and using high-quality oils. Unfortunately, many so-called aromatherapy products on the market use low-quality essential oils. They might smell good but have little or no beneficial effect.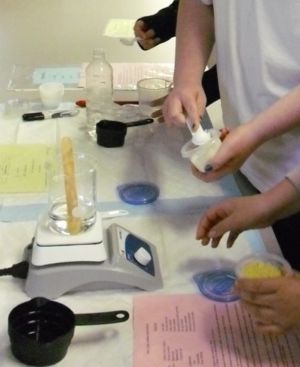 Essential Oil Lotion Making
Simple Aromatherapy Body Lotion
If you want to keep things simple, you can make aromatherapy lotion without making lotion. Just add your choice of essential oils to any unscented high-quality lotion you can buy.

How do you know which essential oils to use? Choose ones good for your skin type or choose a scent you enjoy. Avoid skin-irritating oils. Making Aromatherapy Creams and Lotions suggests the following essential oils as a starting point:
For oily skin: cypress, lemon, tea tree
For dry skin: carrot seed, helichrysum, rose
For normal skin: geranium, lavender, myrtle
For sensitive skin: German chamomile, lavender, neroli
Note: Lemon and some other citrus oils may increase your skin's sensitivity to UV light. After applying these oils, avoid the sun for at least a few hours.
You can also choose essential oils by aromatic note. Therapeutic Blending With Essential Oils suggests the following for 4 ounces (1/2 cup) lotion:

18 drops top note
12 drops middle note
6 drops base note
How much essential oil can you add to a lotion? Generally, a one to three percent dilution is safe, depending on the essential oils you use, your sensitivity to them, and how strong you want the scent. Guidelines:
1% = 6 drops essential oil in 2 tablespoons (one ounce) lotion
2% = 12 drops essential oil in 2 tablespoons lotion
3% = 18 drops essential oil in 2 tablespoons lotion
Example: If a recipe contains 1/2 cup (4 ounces or 8 tablespoons) lotion, and you want a 2% dilution, you can add up to 48 drops essential oil.
Essential Oil Blends for Body Lotion
Loving Essential Oils suggest the following blends for use in 2 ounces (4 tablespoons or 1/4 cup) unscented lotion at a 2% dilution:

Relaxing: 10 drops lavender, 6 drops vetiver, 6 drops sandalwood, 4 drops ylang ylang
Skin nourishing: 10 drops palmarosa, 8 drops myrrh, 6 drops ylang ylang
Energizing: 6 drops peppermint, 6 drops frankincense, 6 drops orange, 6 drops lemon
Homemade Essential Oil Body Lotion Recipes

Here are three different ways to make aromatherapy lotion at home.

DIY Aromatherapy Body Lotion 

To make this essential oil lotion recipe, you need the following tools:
Blender
Rubber Spatula
Chopstick
Heat-resistant 1-cup glass measuring cup
Small saucepan
Dark glass bottles or jars
Wide-mouth funnel (optional)
Make sure all tools are clean, ideally sterilized with boiling water.
The lotion ingredients are:
3/4 cup carrier oil
1/2 ounce (about 2 tablespoons) shaved beeswax
1 cup lukewarm distilled water
30 drops essential oil(s) of your choice
Place the carrier oil into the glass measuring cup. Add the beeswax.
Place the cup in a small saucepan of simmering water that reaches halfway up the cup.
Heat until the beeswax just melts, and then remove the cup from the saucepan.
Let mixture cool for a few minutes (until you can comfortably place your finger in the mixture) but not until the beeswax hardens.
Place the lid on the blender and remove the lid's center ring.
Pour the distilled water into the blender, optionally using the funnel to prevent splatter.
Turn the blender on high. 
Slowly add the oil/beeswax mixture until the mixture becomes too stiff to make more oil or until all the water is incorporated (which doesn't always happen). If needed, as the mixture begins to harden, use a chopstick to stir it, making sure you keep the chopstick away from the blender's blades.
If the blender contains excess water, pour it off.
Add the essential oils, and turn on the blender just long enough to blend.
Pour the lotion into bottles or jars.
Store this lotion the refrigerator for longest shelf life, up to six months.
Source: Aromatherapy: A Complete Guide to the Healing Art
Ultra-Moisturizing Essential Oil Body Lotion

This recipe makes a thick lotion, almost like a body butter. Apply the lotion to your body and face as desired.

1/2 cup shea butter
2 tablespoons carrier oil
15 drops drops lavender essential oil
10 drops rosemary essential oil
3 drops carrot seed essential oil
3 drops tea tree essential oil
In a saucepan, over medium-low heat, melt the shea butter. Stir in the nourishing skin oil. Turn off the heat.
Pour the mixture into a bowl. Place the bowl in the freezer and let the mixture cool until solid (not hard). This takes about 15 to 20 minutes. Don't let the mixture freeze.
Remove the bowl from the freezer.
Add the essential oils. Use the whisk attachment on your mixer to whip the mixture for one to two minutes until it's soft and looks like buttery whip cream. Don't overwhip.
Scoop the mixture into a jar and store, covered, at room temperature.
Source: Live Simply

Moisturizing Essential Oil Body Lotion

You can keep this lotion on the bathroom counter for a couple of weeks. For longer life, store the lotion in the refrigerator, where it will remain good for up to six weeks.

3/4 ounce grated beeswax
1/2 cup almond oil or grapeseed oil
1 tablespoon cocoa butter
1 cup aloe vera gel
1 teaspoon vitamin E oil
10 drops essential oils of choice
Melt beeswax, almond or grapeseed oil, and cocoa butter in a double boiler over low heat.
Pour the melted mixture into a blender and cool to room temperature. This step is vital to prevent separation.
In a medium-sized bowl, combine aloe vera gel, vitamin E oil, and essential oils.
When the melted mixture is cool, with the blender on low speed, slowly and continuously pour in aloe vera mixture. Blend until the mixture has the look and feel of lotion. Use a rubber spatula on the sides of the blender to incorporate all the ingredients.
Pour the lotion into sterilized jars.

Note: Instead of a blender, you could also use a mixing bowl and a handheld electric mixer.

Source: Frugally Sustainable

Photo Credit: NWABR/Flickr/CC