A Guide To Carrot Seed Essential Oil and Its Benefits and Uses

Carrot seed essential oil (Daucus carota) is used for visions and the realms that assist in vision quests, according to Aromatherapy For the Soul. The oil is also commonly recommended to nourish mature skin.

Carrot seed essential oil is different from carrot seed oil or carrot oil. Carrot seed oil or carrot oil is pressed from carrot seeds. You can use it as a carrier oil. Carrot seed essential oil is steam-distilled from the seeds. Know what you're buying, as how you use an essential oil and a carrier oil are different.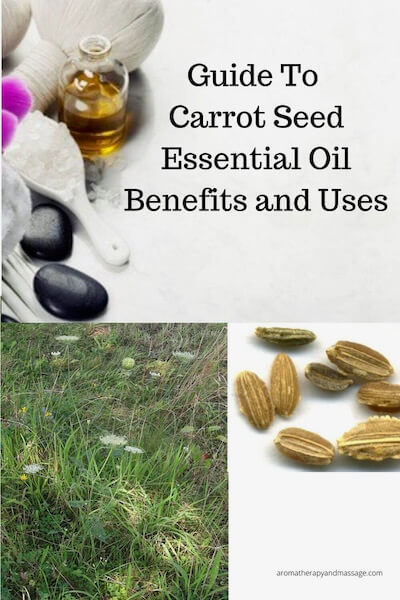 Basic Carrot Seed Facts
Plant family: Apiaceae/Umbelliferae

Production: Steam distilled from the dried seeds of the common carrot plant.

Aroma: Fruity, woody, a bit earthy.

Perfume/Aromatic note: Middle

Is carrot seed safe to use during pregnancy? No, and do not use while breastfeeding, according to multiple sources.

Is carrot seed essential oil safe for children? Probably, though maybe not for babies, properly diluted. Consult a professional.

Main components:

carotol                    36.1–73.1%
alpha-pinene            0.9–11.2%
dauca-4,8-diene       1.6–5.9%
beta-caryophyllene   0.7–5.6%
(E)-Dauc-8-en-4B-ol 1.7–4.1%

Source: Essential Oil Safety, 2nd Edition

Carrot Seed Aromatherapy Benefits
Aromatherapy: A Complete Guide to the Healing Art: Carrot seed stimulates the liver and lymphatic function, improves circulation, and eases digestive problems. The essential oil also improves skin tone and is especially useful for dry or mature skin. Use the oil for skin conditions such as wrinkles, dermatitis, eczema, rashes, skin discoloration, and sun damage.

Aromatherapy for Dummies: Use carrot seed for care of damaged or dry skin and hair, dermatitis, eczema, or rashes and to reduce wrinkles. The oil may also help improve circulation and liver function.

The Healing Intelligence of Essential Oils: Carrot seed has liver stimulating properties.

The Complete Book of Essential Oils and Aromatherapy: Use carrot seed essential oil for arthritis, rheumatism, indigestion, water retention, eczema, ulcers psoriasis, acne, and pimples.

375 Essential Oils and Hydrosols: Carrot seed is a tonic and stimulant for the liver.

The Encyclopedia of Essential Oils (updated edition): In skin care use carrot seed to revitalize and tone skin and for mature complexions and wrinkles. The oil may also help relieve dermatitis, eczema, psoriasis, and rashes. The oil may also be beneficial for relieving arthritis, gout, edema, colic, indigestion, liver congestion, and menstrual problems.

Aromatica: A Clinical Guide to Essential Oil Therapeutics, Volume 2: Psychologically, carrot seed stabilizes the mind and promotes integration. It also promotes stability, strength, and cognitive flexibility. Physically, the essential oil restores hypotonic/ weak terrain conditions. In Traditional Chinese Medicine the essential function of the oil is to nourish the Blood, resolve damp, and strengthen the Shen.

Subtle Aromatherapy: Carrot seed strengthens inner vision and lets you perceive the highest truth in times of doubt or confusion. The oils removes blocks that prevent the free flow of energy, especially between the third (solar plexus) and fourth (heart) chakras.

Carrot Seed Essential Oil Uses and Blends
Reviving Body Oil

4 tablespoons carrier oil
10 drops carrot seed essential oil
6 drops basil ct. linalol essential oil
8 drops sweet orange essential oil
Combine the ingredients in a 2-ounce (60 ml) glass bottle. Shake gently. Use as a body moisturizer.
Source: Aromahead

Face Cleanser

1/4 cup honey
1/2 cup glycerin

1 tablespoon castile soap
20 drops carrot seed essential oil
Blend ingredients in a dark glass container. Use daily to clean your face. Follow with a good moisturizer.

Source Rocky Mountain Oils

Restorative Moisturizer

4 tablespoons (2 ounces) organic unscented lotion
10 drops carrot seed essential oil
5 drops neroli essential oil
2-ounce (30 ml) glass or PET plastic jar with a lid

Fill the empty jar with unscented lotion.
Drop essential oils directly into lotion.
Stir for at least one minute to blend.
Source: Essential Living

Skin Serum for Mature Skin

1 tablespoon rosehip oil
1 tablespoon apricot kernel oil
6 drops carrot seed essential oil
5 drops frankincense essential oil
1 drop helichrysum essential oil
30ml dropper bottle
Add the rosehip and apricot kernel oils to the dropper bottle.
Drop in the essential oils.
Close the bottle and gently shake to blend the oils.
To use: Massage 10 to 20 drops of the skin serum on your face and neck before bed.

Adapted from Cheryl Murphy, Certified Aromatherapist. "The Apiaceae Plant Family," NAHA Aromatherapy Journal, Spring 2017.1, p. 16.

Photo Credits: Carrot Seeds — John Alan Elson, CC BY-SA 3.0, via Wikimedia Commons. Carrot plant — Rasbak - Own work, CC BY-SA 3.0.