Guide To Cannabis Essential Oil and Its Benefits and Uses

Cannabis essential oil, also called hemp essential oil, is produced by steam distilling the flowers and upper leaves of the Cannabis sativa plant. The essential oil does not contain THC (tetrahydrocannabinol), so you can't get high, and does not contain detectable amounts of therapeutic CBD.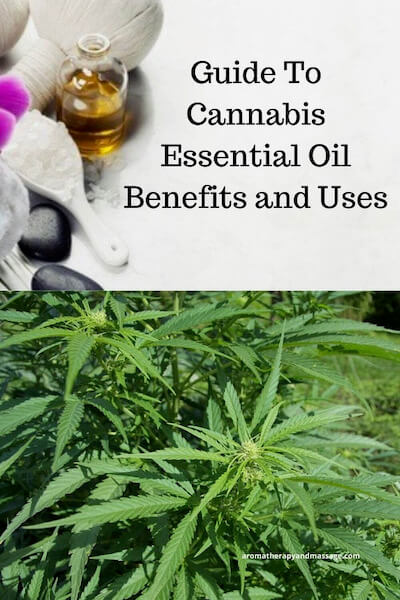 Do not confuse the essential oil with the vegetable oil called hemp seed oil, hemp oil, or cannabis oil. These oils are made by cold pressing the plant's seeds. You can use them as carrier oils for aromatherapy. CBD oil is something entirely different from the essential oil or the seed oil.
Basic Cannabis Facts
Plant family: Cannabaceae

Production: Steam distilled from the flowering tops of the Cannabis sativa plant.

Aroma: Sharp, herbaceous. Some people like the scent and others don't.

Perfume/Aromatic note: Middle.

Is cannabis essential oil safe to use during pregnancy? Consult a professional.

Is cannabis essential oil safe for children? For ages 10+, according to Revive Kid-Safe Oils. Consult a professional for details.

Cautions: If the oil becomes oxidized, it may cause skin sensitization.

Main components of essential oils commercially produced in France and Switzerland:

beta-myrcene         21.1–31.1%
beta-caryophyllene  13.7–19.4%
(E)-beta-ocimene    2.1–10.2%
terpinolene            1.6–9.1%

Source: Essential Oil Safety, 2nd Edition

Cannabis Essential Oil Benefits and Uses
"Hemp essential oil positions you to view things from a new perspective," writes aromatherapist Elizabeth Ashley in Cannabis: CBD Rich Hemp Oil, Hemp Essential Oil and Hemp Seed Oil. 
 
Essential Oil Academy: This essential oil helps reduce pain, relieve stress, improve sleep, and promote a healthier appetite.

375 Essential Oils and Hydrosols: The oil is indicated for respiratory and digestive inflammation.

Essential Oils: A Handbook for Aromatherapy Practice: This oil may help relieve pain and inflammation.

The Healing Art of Essential Oils: Cannabis flower essential oil has been used to reduce stress and anxiety, relieve depression and insomnia, regulate cardiovascular function, rejuvenate the skin, relieve eczema, decrease arthritis pain, and stimulate eye health for better vision.

Revive Essential Oils: Hemp essential oil is relaxing, offers minor pain relief, and supports the immune system. Three ways to use the essential oil:

For a rub for tired muscles, add one or two drops essential oil to one teaspoon of carrier oil.
For deep relaxation, mix one drop essential oil with two drops of carrier oil and apply to temples and neck.
To moisturize skin, blend a few drops essential oil with hemp seed oil (or other carrier oil).
Eden's Garden: Hemp essential oil helps relieve the stresses and strains of over-exertion and daily wear-and-tear. The oil also supports relief of mild skin conditions and can be used in lotions, balms, salves, and massage oils. Suggested DIY Facial Oil:
1-ounce bottle
3 drops lavender essential oil
2 drops hemp essential oil
1 drop frankincense essential oil

Add enough hemp seed carrier oil to the bottle to fill it two-thirds full.
Add the essential oils.
Cap bottle and then shake well.
To use, wash and dry your face, and then dab a few drops of the blend on your face, avoiding the eye area.
Mountain Rose Herbs: To make a skin-nourishing moisturizer for dry and combination skin, dilute hemp essential oil in hemp carrier oil. You can also add the essential to lotions or creams to support smooth, healthy skin. Suggested essential oils to blend with hemp:

For hair and scalp care: rosemary, cedarwood, or sandalwood.
To support relaxation and restful sleep: lavender or clary sage.
For a clean and harmonizing diffuser blend: tangerine (or another favorite citrus oil) and pine.