How to Use Essential Oils for Flu Relief and Prevention

You can use essential oils for flu prevention and to help relieve flu symptoms and speed the healing process if you become sick.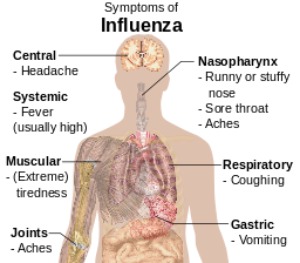 Flu Prevention
Prevention is the best cure for flu. Wash your hands frequently and stay generally healthy by eating nutritiously, exercising regularly, and avoiding unhealthy habits like smoking and negative thinking.
As part of prevention, you can make your own disinfectant hand lotion:
10 drops Eucalyptus globulus essential oil (for children, use Eucalyptus radiata)
10 drops tea tree (Melaleuca alternifolia) essential oil
5 drops peppermint (Mentha piperita) essential oil
4 ounces (1/2 cup) unscented hand lotion
Blend essential oils into the lotion and use as desired.
You can also diffuse essential oils regularly to help stop the spread of flu viruses.

Essential Oils for Flu Relief

The Complete Book of Essential Oils and Aromatherapy suggests using any of the following essential oils at the first sign of flu:
Eucalyptus radiata
Geranium
Niaouli

(

Melaleuca quinquenervia)
Palmarosa
Ravensara (Ravensara aromatica)
Ravintsara (Cinnamomum camphora)
You can diffuse any of the oils. Or make a bath or massage blend by diluting a few drops of an essential oil in 1/2 teaspoon carrier oil.

Aromatherapy Flu Bath Recipes for Adults

Use the following bath recipe to help support your immune system and prevent flu or to help relieve body aches if you have the flu:
15 drops ravensara essential oil
10 drops rosemary essential oil
8 drops thyme essential oil
8 drops eucalyptus (Eucalyptus radiata or Eucalyptus globulus) essential oil
2 teaspoons carrier oil
Epsom salt
Blend the essential oils into the carrier oil. 
Pour the Epsom salt into a tub of warm/hot water.
Stir the oil blend into the bath.
Soak in the bath for at least 20 minutes, adding more hot water as needed for steaminess. 
When you get out of the bath, wrap yourself warmly, and have a hot soup. 
Here's another flu-relief bath for adults:
1 drop wintergreen essential oil

2 drops eucalyptus essential oil

3 drops blue cypress essential oil

6 drops frankincense essential oil
6 drops spruce (black spruce or Idado blue spruce) essential oil
15 drops ravensara essential oil
1/4 cup Epsom salt or baking soda
Stir the  essential oils into the salt or baking soda. Add to hot bath and soak until the water cools.
Source: Essential Oils Desk Reference
Diffuser Blends for Flu Relief

If you do come down with the flu, use the following blend (it's safe for kids) in an aromatherapy diffuser while you are resting:
2 drops tea tree
2 drops lemon 
2 drops pine 
Source: Massage & Aromatherapy: Simple Home Techniques
OR

4 drops clove
3 drops cinnamon 
5 drops lemon
one ounce water

Caution: Do not use if pregnant. Possible irritation to the mucus membranes.

Source: Sedona Aromatherapie

Children's Use of Essential Oils for Flu

Healing With Aromatherapy recommends that at the first sign of flu in a child, have the child take a moderately hot bath with 3 to 6 drops of added tea tree essential oil. Then, tuck the child into a warm bed.
Aromatherapy for flu symptoms in children:

2 drops lavender essential oil
1 to 2 drops Eucalyptus radiata essential oil
2 drops roman chamomile essential oil
2 tablespoons carrier oil
Gently massage the blend into the child's chest, moving from the center of the chest out to the armpits. You can also massage the blend into other areas of discomfort.
Here's another children's blend you can massage over their lungs (you can also use this blend for adults):
5 drops Eucalyptus radiata essential oil
5 drops tea tree essential oil
5 drops lavender essential oil
2 tablespoons carrier oil
Photo Credit: Mikael Häggström [Public Domain] via Wikimedia Commons