Guide To Wintergreen Essential Oil Benefits and Uses

Some sources recommend not using wintergreen essential oil (Gaultheria fragrantissima or Gaultheria procumbens) at home, while others say it's OK to use the oil highly diluted—a dermal maximum of 2.4%—as long as you are aware of all the cautions.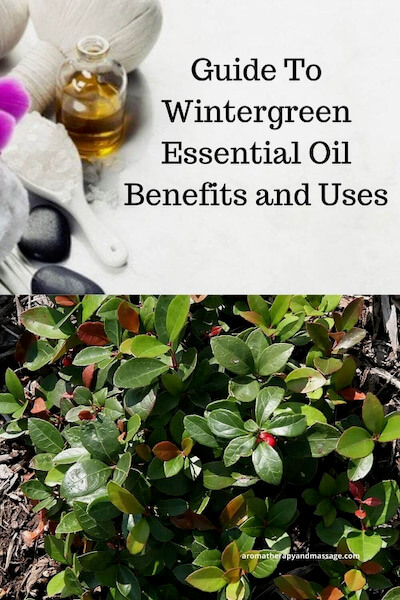 Basic Wintergreen Facts
Plant family: Ericaceae

Production: Steam distilled from the leaves of the wintergreen herb. The leaves are macerated in water overnight before distillation.

Aroma: Strong, crisp, mint-like.

Perfume/Aromatic note: Middle to top.

Is wintergreen safe to use during pregnancy? No, and do not use while breastfeeding.

Is wintergreen essential oil safe for children? Do not use wintergreen with children under age 12 because methyl salicylate increases the risk of developing Reye's syndrome.

Cautions: Do not use wintergreen if you take anticoagulant medication, are planning surgery, or have hemophilia, another bleeding disorder, or a salicylate sensitivity. The essential oil is a potential skin irritant.

Main component: Methyl Salicylate 96–99%.

Wintergreen is often adulterated with synthetic methyl salicylate.

Source: Essential Oil Safety, 2nd Edition

Wintergreen Aromatherapy Benefits
375 Essential Oils and Hydrosols: Use wintergreen sparingly in massage oil blends for rheumatism, arthritis, and muscle aches and pain.

Aromatica: A Clinical Guide to Essential Oil Therapeutics, Volume 2: Psychologically, wintergreen promotes willpower, courage, self-confidence, stability, and integration. Physically, the oil is cooling and relaxing and may help relieve rheumatic, arthritic, and neuralgic conditions that include acute pain and cramping. In Traditional Chinese Medicine the essential function of this oil is to clear heat, activate Blood and Qi, harmonize the Shen, and relieve pain.

The Essential Guide to Aromatherapy and Vibrational Healing: Spiritually, wintergreen helps release patterns of family and personal karma at a spiritual level. Use it to help you relax and release during special healing sessions and regression therapy. Mentally, the oil clears your mind to help release repetitive negative thoughts, mental conflict, and misperceptions. Emotionally, the oil's energy helps remove pain.

Aromatic Studies: Uses for wintergreen essential oil include in lotions, creams, oils, or gels to help relieve muscle tension, aches, and pains, joint stiffness and pain, rheumatoid arthritis pain, fibromyalgia pain, or chronic lower back pain.
The Complete Guide to Aromatherapy, Third Edition, Vol. 1: To relieve arthritis and rheumatism pain, consider blending wintergreen with essential oils such as black pepper, clove, ginger, peppermint, or rosemary.
Wintergreen Essential Oil Uses and Blends
Penetrating Pain Relief
Blend the following essential oils in a 5-ml stock bottle:
17 drops peppermint
17 drops wintergreen
6 drops blue tansy

5 drops helichrysum italicum
3 drops Roman chamomile

For use, dilute to 1% — that is 2 drops of the blend in 10 ml (2 teaspoons) carrier oil. Adapted from Plant Therapy.

Arthritis relief: Blend 2 drops each of wintergreen, cypress, and lemongrass essential oils into one tablespoon of unscented lotion. Massage into affected areas.
Foaming Hand Soap

7 ounces (210 ml) castile soap
10 drops wintergreen essential oil
20 drops black spruce essential oil
30 drops peppermint essential oil
40 drops spearmint essential oil
8-ounce (240 ml) foam soap bottle

Add the castile soap to the foam soap bottle. Drop in the essential oils. Close the foam pump top and shake well. Use as you would any hand soap.

Source: Aromahead

Photo Credit: Photo by David J. Stang, CC BY-SA 4.0, via Wikimedia Commons