Traditional Thai Massage (With Videos)

Traditional Thai massage combines aspects of yoga, Ayurveda, meditation, and massage. In particular, practitioners use their hands, feet, knees, and legs to move you through a series of stretches that resemble yoga positions, while also applying deep pressure to your muscles.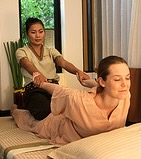 Traditional Thai massage position opens the chest and front of the body.
As one of the oldest forms of manual medicine, Thai bodywork (known as naud phaen boran or Nuad Bo'Rarn) dates back about 2,500 years in Thailand. However, the roots of the practice came from India with the Buddhist doctor Jivaka Kumar Bhaccha.
The massage developed in two main styles: Southern Style, taught at Wat Pho in Bangkok, and Northern Style, taught at the Massage Hospital of the Foundation of Shivago Komarpaj in Chang Mai.
Video Demo
Kam Thye Chow, author of Thai Yoga Massage: A Dynamic Therapy for Physical Well-Being and Spiritual Energy, gives a massage demo.

More Background
Nuad Bo'Rarn is one of the four main components of traditional Thai medicine (the others are nutrition, herbal medicine, and spiritual practices). The benefits of Thai yoga massage include reducing stress, increasing energy and flexibility, improving range of motion, improving circulation, and centering the mind and body. 
The basis of this bodywork is energetic, not physical. The purpose of Thai techniques is to clear blockages in the energy lines called sen (similar to Chinese meridians) and to stimulate specific points of energy called nadis.
The Art of Traditional Thai Massage describes the art as a spiritual practice closely connected with the teachings of the Buddha. Giving this massage was considered a physical application of metta or "loving kindness." Good Thai bodywork practitioners work in a meditative mood, remaining spiritually aware, so they have the ability to treat people according to their different needs.
The massage is done on a padded mat on the floor with you wearing clothing in which you can move easily. No oil is also used and sessions can last from one to three hours.
Traditional Thai Massage Videos

The following video is the introduction to Mastering Thai Massage with instructor Richard Gold from Real Bodywork.
Introduction to Thai massage from instructor Jill Burynski.
A full one-hour massage.


Excerpt from Thai Yoga Vinyasa – a full 90-minute step-by-step Thai sequence from instructor Gabriel Azoulay.
More information: Institute of Thai Massage-USA

Photo Credit: Tara Angkor Hotel (Flickr) [CC-BY-2.0], via Wikimedia Commons