Guide To Tonka Bean Essential Oil (Absolute) and Its Benefits and Uses

The tonka bean (Dipteryx odorata (Aubl.) Willd) tree, also called cumaru or kumaru, is a large tropical tree native to Central and South America. Tonka bean essential oil is a misnomer — the oil is an absolute solvent-extracted from dried tonka beans.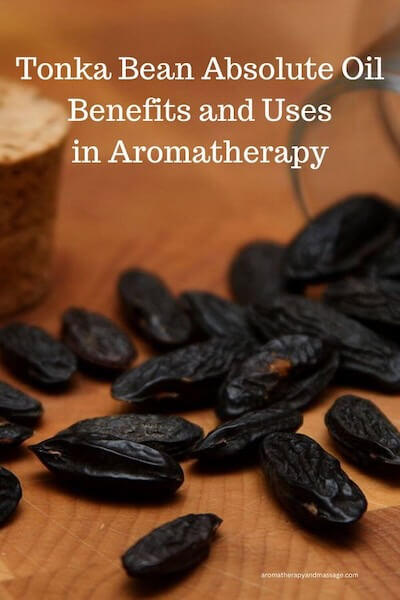 The tree produces a fruit that contains a single black seed, or bean. Making tonka bean absolute starts with removing the beans from the ripe fruits. The beans are dried, and then soaked in alcohol for 12 to 24 hours to make them swell. Next, the beans dry and shrink, while accumulating a whitish powder of crystallized coumarin. Producing the absolute involves coarsely pulverizing the beans and then using a solvent followed by an alcohol wash. (Source: Eden Botanicals)

Pure tonka bean absolute is thick at room temperature and you need to warm it before use. Some suppliers sell the absolute already diluted in carrier oil or alcohol — know what you are buying.
Plant family: Fabaceae
Aroma: Rich, sweet, warm, subtle, hay-like with herbaceous, vanilla and coconut-like notes, according to Listening to Scent by aromatherapist Jennifer Peace Rhind. Some sources describe tonka bean scent as similar to vanilla.
Perfume/Aromatic note: Base to middle
Is tonka bean safe to use during pregnancy? Consult a professional.
Is tonka bean safe for children? Consult a professional.
Main components:

Coumarin 38.7–58.7

%

Ethyl melilotate 3.9–4

.3%
Source: Essential Oil Safety, 2nd Edition
Cautions: Some older aromatherapy books indicate tonka bean is a dermal toxin due to the coumarin content. However, Essential Oil Safety states dermal (skin) application of coumarin is not hazardous. The absolute is concentrated and best used sparingly.
Tonka Bean Essential Oil Benefits and Uses
The Encyclopedia of Essential Oils (updated edition): The absolute is a fixative in perfumes. It blends well with clary sage, bergamot, citronella, helichrysum, lavender, lavandin, and oakmoss.
Complete Aromatherapy Handbook: Essential Oils for Radiant Health: You can use tonka bean to create perfumes, bath oils, and massage oils. For a sensuous combination, blend tonka absolute with cumin, jasmine, patchouli, or ylang ylang. To create euphoria and help relieve depression, combine tonka absolute with vanilla and geranium.
Shay and Company: Tonka bean absolute is relaxing and may help reduce anxiety and depression, create a sense of calm, promote healthy sleep, and support the immune system.
Plant Therapy: You can diffuse the following tonka bean essential oil blend or add it to carrier oil to create scented body oil or a natural tonka bean perfume.
4 drops tonka bean absolute
3 drops sweet orange essential oil
1 drop lavandin essential oil
or
4 drops tonka bean absolute
3 drops bergamot essential oil
1 drop patchouli essential oil
You can also buy tonka beans and infuse them in oil to make a fragrance. However, note that the beans are technically banned in the U.S., although they are imported for use in tobacco and perfumery. The beans are banned because eating too many (at least 30, according to most sources) can be toxic and even deadly. However, Alpha Aromatics points out that's about the same amount where nutmeg and other everyday spices are considered potentially toxic. In many European and other countries, the beans are regularly used in cooking.

For perfumes that contain tonka bean fragrance, see Fragrantica.

Photo Credit: Mecredis / Fred Benenson, CC BY-SA 3.0, via Wikimedia Commons