Guide To Tagetes Essential Oil and Its Benefits and Uses

The Tagetes genus includes about 50 species of annual herbs. One of the most common species used to produce tagetes essential oil is Tagetes minuta (also called Tagetes glandulifera Schrank). Other species used to make essential oil include Tagetes erecta and Tagetes patula.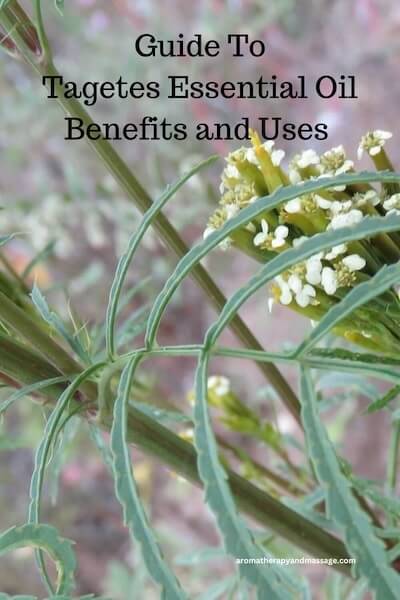 Tagetes is a type of marigold. However, do not confuse tagetes essential oil with pot marigold oil (Calendula officinalis), which has different properties.
Plant family: Asteraceae/Compositae
Production: Steam distilled from the bright orange, daisy-like flowers and flowering tops of the annual herb. An absolute is also available.
Aroma: Fruity with warm, sweet, pungent characteristics that can be harsh. The
subsidiary notes and nuances are green, apple, herbaceous, and minty, according to Listening to Scent.
Perfume/Aromatic note: Top
Is tagetes safe to use during pregnancy? No, according to multiple sources.
Is tagetes essential oil safe for children? Consult a professional.
Cautions: Tagetes may cause skin sensitization. The oil does cause photosensitivity. Avoid exposing skin to UV rays for 12 to 24 hours after applying the oil. Essential Oil Safety, 2nd Edition, recommends a dermal maximum of 0.01% to avoid a photosensitive reaction.
Main components of the Egyptian essential oil:
(Z)-beta-ocimene 31.0–43.3%
Dihydrotagetone  3.0–22.0%
(Z)-tagetone      4.8–10.7%
(Z)-tagetenone   4.8–10.3%
Components of the essential oil from India and South Africa are different, as are components of the absolute. See Essential Oil Safety, 2nd Edition.
Tagetes Essential Oil Aromatherapy Benefits

The Complete Book of Essential Oils and Aromatherapy and The Encyclopedia of Essential Oils (updated edition): Use tagetes to help relieve bunions, calluses, corns, and fungus, including athlete's foot.
375 Essential Oils and Hydrosols: Tagetes is beneficial for the respiratory system and can help relieve fungus.
The Complete Guide to Aromatherapy, Third Edition, Vol. 1: For use on foot fungus, blend tagetes with myrrh, patchouli, or tea tree essential oil.
Stillpoint Aromatics: Use tagetes for the second chakra to support relationships and creation energy, for the third chakra to support personal power, and for the fourth chakra to support unconditional love. This oil soothes the nervous system and helps relieve anger, anxiety, depression, panic, stress, and other psychological imbalances.

Nature in Bottle: Tagetes may improve sleep quality and reduce anxiety. The oil helps dispel harmful energy, promote mental clarity, and support personal awareness.
Mixing Essential Oils for Magic: Tagetes oil encourages healing for personal growth and transformation. The oil helps you define your purpose for divination, clairvoyance, and dreamwork and also helps develop psychic skills. Use the oil for angel magic, to provide spiritual protection, and in spells to attract abundance, comfort, happiness and prosperity.
A few sources, including Essential Oils Natural Remedies: The-Complete A-Z Reference, suggest using tagetes in a diffuser to repel insects.
Tagetes Essential Oil Uses and Blends

Tagetes oil is very powerful and best used sparingly.
Fungus Relief

Fungus-Relieving Blend
4 drops tagetes essential oil
4 drops lavender essential oil
8 drops manuka essential oil
2 tablespoons rosehip seed oil
Blend the oils in a small bottle. Apply a little of the blend directly to areas affected by fungus.
Source: Miracle Botanicals

Fungus-Relieving Foot Bath
1 drop tagetes essential oil
2 drops lemon essential oil
4 drops spike lavender essential oil
28 ml (slightly less than 2 tablespoons) neem oil
Blend oils in a 30 ml dark glass bottle.
Add up to 5 ml (about 1 teaspoon) of the aromatherapy blend to a warm, not hot, water foot bath. Stir to disperse the oils. Soak your feet.
Source: Base Formula
Respiratory Support
For the respiratory system, Mountain Rose Herbs suggests diffusing a blend of tagetes minuta, eucalyptus, and peppermint essential oils or a blend of cedarwood, lavender, rosemary and tagetes to encourage open airways.

Diffuser Blend for Respiratory Support
1 drop tagetes
2 drops cajeput essential oil
4 drops myrrh essential oil
Chest & Back Rub for Colds
1 drop tagetes
2 drops cajeput essential oil
4 drops spike lavender essential oil
14 ml (slightly less than 1 tablespoon) fragrance-free lotion
Blend the essential oils into the lotion. Massage a little of the blend onto the chest and upper back twice a day to ease cold symptoms.
Source: Base Formula
Photo Credit: Vinayaraj, CC BY-SA 4.0, via Wikimedia Commons