A Guide To Peru Balsam Essential Oil and Its Benefits and Uses

The soft, warm fragrance of peru balsam essential oil (Myroxylon balsamum var. pereirae) fills cold, untouchable, and unreachable inner spaces, letting the heart open without recrimination or judgment, according to aromatherapist Valerie Ann Worwood in Aromatherapy For the Soul. She goes on to say the emotional benefits of balsam of peru are to encourage warmth, calm, comfort, peacefulness, and a soothing feeling.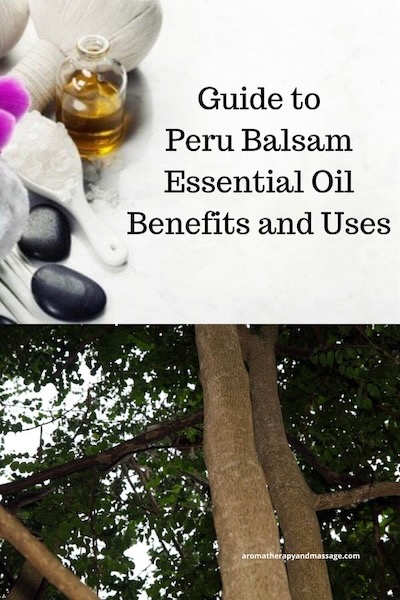 Basic Peru Balsam Facts
Plant family: Fabaceae

Production: Steam distilled from the balsam, which solidifies into a semi-solid mass after being collected from the tree. The collection process involves removing the tree bark, making incisions in the tree, scorching the exposed sapwood, wrapping it with a cloth that's left on for eight to ten days to absorb the balsam, and finally boiling the cloth in water to collect the balsam. The tree is native to El Salvador, Honduras, and Guatemala, not to Peru.

Aroma: Balsamic, sweet, rich, and soft, with vanilla, cinnamon-like, and pungent, floral, fruity, blackcurrant-like nuances, according to Listening to Scent.

Perfume/Aromatic note: Base

Is peru balsam safe to use during pregnancy? No, according to Plant Therapy.

Is peru balsam essential oil safe for children? Do not use with children under age 2.

Cautions: Do not use on damaged skin. May cause skin sensitization in hypersensitive individuals.

This oil is very thick and may clog nebulizers.

Main components:

benzyl benzoate      59.0–86.2%
(E)-benzyl cinnamate 0.4–30.1%
benzoic acid            1.4–6.3%
(E)-cinnamic acid      0–5.8%

Source: Essential Oil Safety, 2nd Edition
Peru Balsam Aromatherapy Benefits

375 Essential Oils and Hydrosols: Primary uses of balsam peru are skin care, muscle massage for circulation, and inhalation to support the respiratory and immune systems.

The Complete Book of Essential Oils and Aromatherapy: Use balsam de peru to help relieve skin conditions, rashes, wounds, scabies, ringworm, bed sores, cuts, hemorrhoids, head lice, dandruff, coughs, and respiratory conditions.

The Encyclopedia of Essential Oils (updated edition): In skin care, use balsam of peru to help relieve dry & chapped skin, eczema, rashes, sores, and wounds. The oil may also help relieve rheumatism, coughs, colds, nervous tension, and stress. This essential oil has a warming, opening, comforting quality and may help increase low blood pressure.

The Complete Aromatherapy and Essential Oils Handbook for Everyday Wellness: Use peru balsam to help relieve skin inflammation, dermatitis, eczema, rashes, sores, dry and chapped skin, coughs, colds, and excess mucous. For skin use, do not use more than one drop balsam of peru in three teaspoons carrier oil or lotion and avoid prolonged use. The oil may also raise low blood pressure, ease muscle pain, and increase energy. Balsam of peru softens, comforts, and opens a heart closed by stress and grief.

The Complete Guide to Aromatherapy, Third Edition, Vol. 1: Suggested essential oils to blend with balsam peru:

To alleviate dry, chapped skin: helichrysum, lavender, or sandalwood.
To lessen symptoms of anxiety, nervous tension, or stress: bergamot, frankincense, lavender, sweet orange, sandalwood, or ylang ylang.
In perfumes: delicate florals, ylang ylang, jasmine

Plant Therapy: Peru balsam helps calm overwhelming emotions and nervous tension and also may relieve skin issues such as dry, cracked skin. Diffusing the oil can help clear congestion.

Stillpoint Aromatics: Energetically, use peru balsam to support the first, fourth, and seventh chakras.

Peru Balsam Essential Oil Uses and Blends

Respiratory Support Inhaler
Add the following essential oils to an aromatherapy inhaler and inhale as needed:

5 drops peru balsam
5 drops eucalyptus radiata essential oil
5 drops niaouli essential oil
Body Lotion

4-ounce lotion pump bottle
3 drops peru balsam essential oil
3 drops patchouli or lavender essential oil
4 ounces unscented body lotion
Add essential oils to lotion bottle. Fill with unscented body lotion. Close bottle and then shake gently to mix well. Use as desired.
Source: Eden's Garden

Nourishing Body Oil

2 drops peru balsam
3 drops lavender essential oil
2 drops geranium essential oil
1 tablespoon carrier oil

Diffuser Blend to Calm Kids

13 drops peru balsam      
10 drops orange essential oil              
2 drops vetiver essential oil
Source: Suzanne Banks 

Photo Credit: Photo by David J. Stang, CC BY-SA 4.0, via Wikimedia Commons