Guide To Palmarosa Essential Oil Benefits and Uses

"The fragrance of palmarosa hovers within the outer boundaries of the physical form," writes aromatherapist Valerie Ann Worwood in Aromatherapy For the Soul. "Its strength of purpose enables it to persuade the mind to be gentle and to love the form within which it travels." She also states the emotional benefits of palmarosa essential oil (Cymbopogon martinii var. motia) are to encourage mildness, growth, loyalty, and enthusiasm.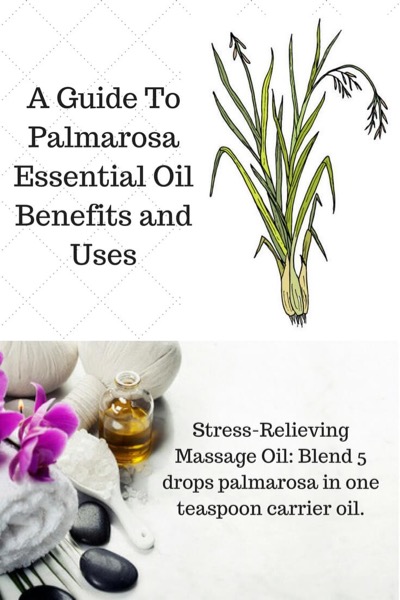 Basic Palmarosa Facts
Plant family: Poaceae/Gramineae

Production: Steam distilled from the leaves of the Cymbopogon martinii var. motia plant, which is a perennial grass. This grass also has another variation—Cymbopogon martinii var. sofia, which is used to distill gingergrass essential oil.   

Aroma: Sweet, rosy, floral with a lemony, woody undertone.

Perfume/Aromatic note: Middle

Is palmarosa safe to use during pregnancy? None of my aromatherapy books gave a definitive answer. Consult a professional.

Is palmarosa safe for children? Yes. Dilute as appropriate.

Main components:
geraniol            74.5–81.0%
geranyl acetate   0.5–10.7%
Source: Essential Oil Safety, 2nd Ed.

Palmarosa Aromatherapy Benefits

Aromatherapy: A Complete Guide to the Healing Art states palmarosa can relieve stress and nervous exhaustion, balance oil production for skin and hair, is useful for reducing acne and varicose veins.

The Heart of Aromatherapy: You can use palmarosa oil for daily skin care, to rejuvenate damaged skin, to sooth minor skin irritations, to relieve sore muscles and joints, and for emotional comfort and relaxation.

The Complete Book of Essential Oils and Aromatherapy: Uses for palmarosa essential oil include excess mucous, gastrointestinal problems, scarring, acne, pimples, boils, fungus, general fatigue, muscle aches, stress, irritability, restlessness, and insect bites and stings.

The Encyclopedia of Essential Oils (updated edition): Palmarosa is useful in skin care, may help some digestive problems, and can help relieve nervous exhaustion and stress-related conditions.
Aromatherapy For Healing the Spirit: In Traditional Chinese Medicine the energy of palmarosa oil is cool and moist, clearing heat and strengthening yin energy. The oil is helpful for dry, undernourished skin conditions, eczema, psoriasis, and dermatitis. Palmarosa also reinforces Heart-yin, calms the Mind (Shen), encourages free-flowing adaptability, and supports a feeling of security.
Aromatica: A Clinical Guide to Essential Oil Therapeutics, Volume I: Psychologically, palmarosa promotes emotional openness, insight, support, and security. Physically, the essential oil restores hypotonic/weak conditions and acts to balance. In Traditional Chinese Medicine the essential function of palmarosa is to nourish Heart Blood and to strengthen the spleen and the Shen. Suggested essential oils to blend with palmrosa:

To help relieve depression: lavender.
To help recover from burnout: clary sage.
To reduce fungus: geranium.
The Essential Guide to Aromatherapy and Vibrational Healing: Spiritually, this essential oil clears your auric field and is useful in meditation to expand your sphere of love. The essential oil also decompresses and releases pressure in your mind. Emotionally, the oil helps relieve anxiety and stress and you can use the oil to help you let go of problems you really want to release.

Aromatherapy and Subtle Energy Techniques: Palmarosa calms and supports all levels of healing. The oil is especially useful for the third chakra to promote self-acceptance and personal growth.
Mixing Essential Oils for Magic: Palmarosa's stimulating properties clear the mind, enhance the ability to focus for making decisions, encourages personal growth, and grounds and centers energy.

Palmarosa Essential Oil Uses and Blends

Three uses of palmarosa:
For a romantic bath, blend 3 drops palmarosa and 2 drops rose essential oil in a teaspoon of milk or carrier oil. Stir the blend into your bath.

Make a hair mask for oily hair:

2 drops palmarosa essential oil
2 drops cedarwood essential oil
4 drops lemon essential oil
1 tablespoon warmed olive or jojoba oil
Blend ingredients. Massage the blend into your hair. Wrap your hair in a towel (or in plastic wrap covered with a towel). Leave for 1 hour or overnight, and then wash your hair as usual. Adapted from Suzanne Banks.

Make a skin-friendly, relaxing linen spray to keep away dust mites:
For best results, first wash linens in hot water. Then use the spray several times a day. Adapted from Aromahead.

Make a natural insect repellent:

Combine the ingredients in a spray bottle. Spritz over your body as needed, avoiding your eyes and sensitive areas. Adapted from Base Formula.

Photo Credit: foxyliam / 123RF Stock Photo