Guide To Oakmoss Essential Oil (Absolute) and Its Benefits and Uses
Oakmoss (Evernia prunastri) is a light green lichen that mostly grows on oak trees. The dried lichen is processed with a solvent to produce an absolute — the term oakmoss essential oil is technically inaccurate.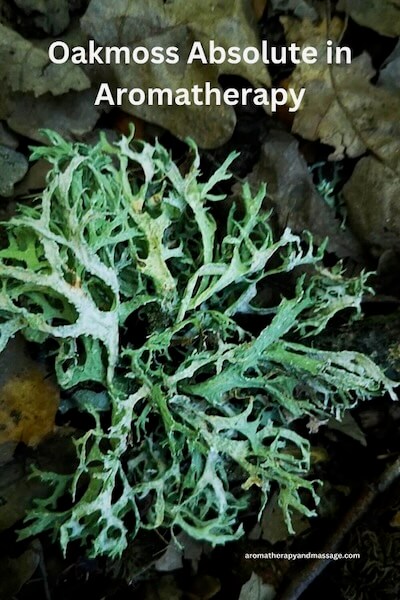 Plant family: Parmeliaceae/Usneaceae
Aroma: Smooth, rich, warm, sweet with subsidiary notes and nuances of earthy, woody, resinous, honey-like, hay-like, according to Listening to Scent.
Perfume/Aromatic note: Base
Is oakmoss safe to use during pregnancy? Probably not. Consult a professional.
Is oakmoss safe for children? Do not use with children age 2 and under.
Main components:
Methyl B-orcinolcarboxylate 18.6–25.5%
Ethyl Everninate               0.2–3.7%
Ethyl Hematonmate           1.4–3.0%
Ethyl Chlorohematommate   1.0–1.3%
Source: Essential Oil Safety, 2nd Edition
Cautions: High risk of skin sensitization. Avoid use on hypersensitive/diseased/damaged skin. Recommended dermal maximum of 0.1%. Best avoided in baths.
May not be appropriate for a person with epilepsy.
Oakmoss is commonly adulterated, often with other lichens or algae — buy from a trusted supplier and know what you are buying.
Oakmoss absolute is available in IFRA (International Fragrance Association) compliant and noncompliant versions. IFRA-compliant oils contain less than 100 ppm of atranol and chloroatranol, reducing the risk of skin irritation. However, a few suppliers sell noncompliant versions because they have a more mossy aroma that's preferred by many perfumers, according to Camden-Grey Essential Oils.

Oakmoss Essential Oil Benefits and Uses
The Complete Guide to Aromatherapy, Third Edition, Vol. 1: The primary use of oakmoss absolute is an a fixative in perfumes. Oakmoss can give floral fragrances body and naturalness, with rich, pleasant undertones.
Listening to Scent: Oakmoss is very important in chypre fragrances. The absolute is combined with labdanum, sandalwood, and musk for the base note (patchouli and clary sage are also often included), a floral oil (rose or jasmine) for the middle note, and bergamot and other citrus oils for top notes.
Aromatherapy For the Soul: Oakmoss absolute helps you connect with the earth plane and to realize you are here for a reason.
Aromatherapy: A Complete Guide to the Healing Art: Oakmoss creates a sense of home, attachment, and belonging.
375 Essential Oils and Hydrosols: The properties of oakmoss are more emotional and spiritual than physical. You can also add the absolute to respiratory oil blends to help relieve congested sinuses.
Nature in Bottle: Oakmoss oil may promote overall skin health, especially helping scars or minor skin injuries heal. This cooling oil may help relieve hot, inflamed swelling and calm muscle spasms. Emotionally and energetically, this absolute uplifts and calms. It may help clear emotional trauma and assist in positively releasing repressed anger and productively dealing with rage.
Aromatherapy and Subtle Energy Techniques: Oakmoss grounds and promotes a sense of security. The oil is especially beneficial for the first chakra, promoting a sense pf prosperity, safety, and security and helping integrate earthly and spiritual realms.
Mixing Essential Oils for Magic: Oakmoss has an especially grounding energy, which supports psychic and spiritual journey work, as well as divination and clairvoyance. Use the oil to honor loved ones at Samhain and to contact other realms or connect with forest spirits.

Photo Credit: pol parrhesia, CC0, via Wikimedia Commons