Guide To Nutmeg Essential Oil Benefits and Uses

"Nutmeg brings hopes, dreams, and proud to their rightful home," writes aromatherapist Valerie Ann Worwood in Aromatherapy For the Soul. She states the emotional benefits of nutmeg essential oil (Myristica fragrans) are to encourage calm, peace, patience, dreams, unity, comfort, and stillness.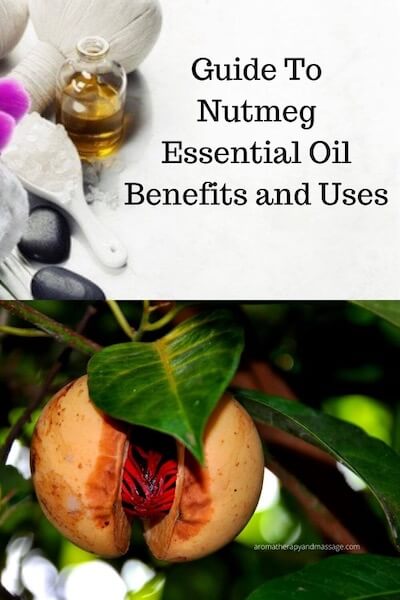 Basic Nutmeg Facts
Plant family: Myristicaceae

Production: Steam distilled from the dried ripe seed. Nutmeg seeds are encased in a bright red covering called an aril inside a small yellow fruit. Mature fruit splits in half to reveal the aril. Nutmeg oil is also available as a CO2 extract.

Aroma: Spicy, woody, warm.

Perfume/Aromatic note: Middle

Is nutmeg safe to use during pregnancy? No.

Is nutmeg essential oil safe for children? Generally not recommended for children under age 5.

Cautions: Nutmeg may have psychotropic effects if used in large amounts. Some sources indicate this essential oil may be carcinogenic, but according to Essential Oil Safety, 2nd Ed., "...existing data suggest that the oil is not carcinogenic or that it is anti-carcinogenic."

Main components:
East Indian nutmeg:

sabinene        14.0–44.1%
alpha-pinene   18.0–26.55
beta-pinene     8.7–17.7%
myristicin        3.3–13.5%
terpinene-4-ol  1.0–10.9%
Maximum recommended skin use: 0.8%

West Indian nutmeg:

sabinene        42.0–57.0%
alpha-pinene   1.6–12.6%
beta-pinene     7.8–12.1%
myristicin        0.5–0.9%
terpinene-4-ol  3.0–6.4%
Maximum recommended skin use: 5.0%

Source: Essential Oil Safety, 2nd Edition

Nutmeg Aromatherapy Benefits
The Complete Book of Essential Oils and Aromatherapy: Nutmeg may help relieve gastrointestinal spasm, nausea, upset stomach, rheumatism, arthritis, muscle aches/pains/injuries, menstrual cramps, insomnia, restlessness, nervousness, or tension.

375 Essential Oils and Hydrosols: In a massage oil, nutmeg can help relieve extreme tiredness and achy joints.

The Encyclopedia of Essential Oils (updated edition): Uses of nutmeg essential oil include helping relieve arthritis, gout, muscle aches and pains, poor circulation, rheumatism, flatulence, indigestion, nausea, sluggish digestion, neuralgia, and nervous fatigue.

The Complete Aromatherapy and Essential Oils Handbook for Everyday Wellness: Nutmeg oil benefits the hair when added to hair tonics and shampoos. The most powerful use of nutmeg is its toning action on the digestive system.

Aromatica: A Clinical Guide to Essential Oil Therapeutics, Volume 2: Psychologically, nutmeg promotes courage, self-confidence, grounding, and strength. Physically, the essential oil warms cold, stimulates hypotonic/weak, and decongests congestive/damp terrain conditions. In Traditional Chinese Medicine the essential function of the oil is to tonify and raise the Yang, warm the interior, and strengthen the Shen.
Essential Oils Handbook for Aromatherapy Practice: In ayurvedic aromatherapy, nutmeg is pungent, bitter, astringent, and hot. The oil reduces vata and kapha and increases pitta.

Top 10 Culinary Essential Oils from ACHS: Diffusing nutmeg can mask the odor of sulfur, which is useful in the kitchen when cooking cabbage.

Aromatherapy and Subtle Energy Techniques: Nutmeg warms, comforts, and enhances creative responses to life. The oil is especially useful for the second chakra to promote creativity and encourage emotional warmth and comfort in relationships.

Mixing Essential Oils for Magic: Nutmeg increases awareness, supports dreamwork, stimulates psychic energy, supports clairvoyance, and promotes focus for divination.

Nutmeg Essential Oil Uses and Blends
Rocky Mountain Oils suggests diffusing nutmeg to help release overwhelming feelings. You can also add the oil to DIY soaps, lotions, and detergents, or use it to make an invigorating, warming massage oil.
Suggested blend to relieve upset stomach, bloating, gas, or other digestive complaints:
5 drops nutmeg
5 drops ginger essential oil
5 drops peppermint essential oil
1 cup carrier oil
Blend oils in an 8-ounce glass container.
To use, warm a little of the blend between your hands. Gently massage the oil onto the abdomen. Use as often as needed. Store blend in a cool, dark place.

Aromatherapy: A Holistic Guide to Natural Healing with Essential Oils suggests the following massage oil to improve circulation:

2 tablespoons carrier oil
3 drops nutmeg essential oil
4 drops lemon essential oil
6 drops rosemary essential oil
12 drops cypress essential oil

To help relieve menstrual cramps, the same book suggests this Epsom salt bath:

1/2 to 1 cup Epsom salt
2 drops nutmeg
2  drops peppermint essential oil
2 drops cypress essential oil
5 drops lavender essential oil

You could also use the essential oils in 1 tablespoon carrier oil to make a massage blend to use on your abdomen and lower back.

For digestive discomfort, try this massage oil on your abdomen:

2 teaspoons carrier oil
1 drop nutmeg
2 drops peppermint essential oil
4 drops orange essential oil

To help with sleep, make a personal inhaler with:

5 drops nutmeg
5 drops vetiver essential oil
5 drops cedarwood essential oil
Source: Eden's Garden

Photo Credit: Fpalli, CC BY-SA 3.0, via Wikimedia Commons