Guide To Nagarmotha Essential Oil and Its Benefits and Uses

Nagarmotha essential oil, also called cypriol or cyperus, is produced from several of the about 700 species of sedges (grass-like plants) called cyperus. Most commonly, you'll find nagarmotha oil made from Cyperus scariosus, Cyperus rotundus, or Cyperus mitis Seud.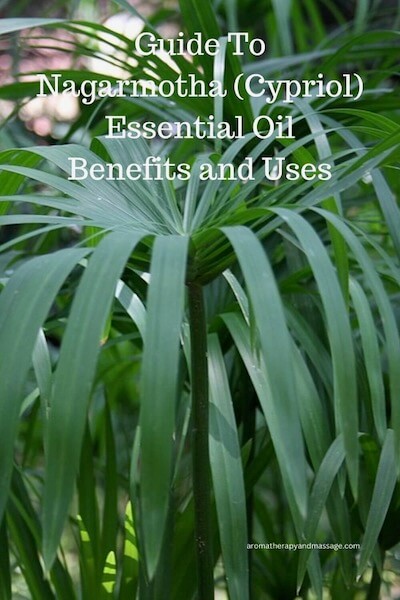 "Nagarmotha is a deep scent that will ground you, bringing simplicity and stillness," writes aromatherapist Helen Nagle-Smith in Working With Unusual Oils.
Plant family: Cupressaceae
Production: Steam or hydro distilled from the dried rhizomes (roots) of the plant.
Aroma: Wood, spicy, and sweet with rich earth undertones.
Perfume/Aromatic note: Base (sometimes used as a substitute for patchouli)
Is nagarmotha safe to use during pregnancy? Probably not. Consult a professional.
Is nagarmotha essential oil safe for children? Consult a professional.
Cautions: None known.
Main components of Cyperus mitis Seud.:

cyperene          15.8–24.4%
isopatchoulenone 2.3–16.5%
corymbolone      3.2–11.9%
Source: Essential Oil Safety, 2nd Edition
Nagarmotha Essential Oil Benefits and Uses
Ayurveda & Aromatherapy: Cyperus rotundus has a heating and drying energy that may help tone skin and muscle, dry mucous, and calm the mind. The oil decreases vata dosha.
Stillpoint Aromatics: Cyperus rotundus is useful for the first chakra for survival and support, the second chakra for relationships and creation energy, the third chakra for personal power, and the seventh chakra for balancing, clarity, grounding, introspective, meditative, purifying.
Aromatherapy and Subtle Energy Techniques: Cyperus scariosus helps you find a positive perspective in difficult times and situations. The oil is especially beneficial for the sixth chakra to help you see clearly when experiencing difficult emotions.
Eden's Botanicals: The scent of Cyperus scariosus can create a peaceful ambience and is highly suited for meditation practices.
LG Botanicals: Cyperus scariosus is an emotionally calming essential oil. It may help relieve respiratory congestion, digestive issues, or menstrual cramps (used in a compress on the abdomen).
Nature in Bottle: Cyperus scariosus essential oil works well in skin care blends for dry, damaged, environmentally stressed, and mature skin. You can also use the oil in body butters and lotions for all skin types to nourish and promote skin health. This essential oil may help manage minor pain and inflammation, especially related to arthritis and may also support the lungs and clear breathing.
Nagarmotha essential oil has a calming and soothing effect that helps reduce nervousness, anxiety, and depression and also promotes restful sleep. The oil supports reflection and introspection, encourages emotional healing, and induces peace and calm, particularly during meditation.
Working With Unusual Oils: Use nagarmotha essential oil to reduce arthritis pain, in sleep blends when you are experiencing pain, to help relive respiratory issues, for digestive aliments that include lack of appetite, and to support healthy skin and hair. The oil is especially good for mature skin. This essential oil supports spiritual and meditative reflection and helps in finding peace, comfort, stillness, and space, while reducing overthinking. Suggested essential oils to blend with nagarmotha:

For respiratory issues: Fragonia
To support sleep: clary sage, cedarwood, patchouli, neroli, or petitgrain mandarin
For meditation: frankincense, palo santo, sandalwood, or spikenard
To promote joy or body-mind connection: jasmine or ylang ylang
Aromatherapeutic Blending offers the following suggestions of essentials oil to blend with Cyperus scariosus:

To relieve agitation or a restless mind: atlas or Himalayan cedarwood
To lessen stress, tension, depression. and anxiety: champaca
To relieve tension and stress: kaffir lime leaf
To reduce stress, tension, depression, insomnia: nutmeg
To relieve low mood, depression, poor self-esteem, lack of confidence, anxiety: jasmine
To lessen depression, apprehension, nervousness: turmeric
For relaxation and well-being: clove
To support general well-being: ginger or turmeric
To help maintain health and reduce stress: plai
To help relieve inflammation and pain: cypress or palmarosa
To help relieve tension and spasm: lime
Photo Credit of Cyperus Scariosus: Primejyothi, CC BY-SA 3.0, via Wikimedia Commons